Fun and Games by David Michael Slater – Book Review
Fun and Games by David Michael Slater – Book Review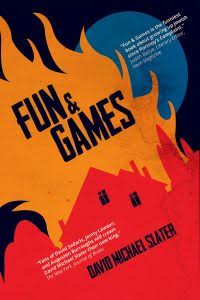 Fun and Games
Author – David Michael Slater
Publisher – Library Tales Pub
Pages – 258
Release Date – 17th November 2016
ISBN-13 – 978-1943549580
Format – ebook, paperback
Reviewer – Kerstin
I received a free copy of this book
Post Contains Affiliate Links

The 1980's: it's the time of Dungeons & Dragons, banana clips, and Atari. Jonathan Schwartz is growing up in a family like no other. His sisters, Nadia, the dark genius, and Olivia, the gorgeous tease and temptress, manipulate Jon and his friends for their own entertainment. And his Holocaust survivor grandparents? Their coping techniques are beyond embarrassing.
A disastrous visit to Jon's class by his grandmother unhinges his famous father, setting off a chain of events that threatens to send the dysfunctional Schwartz clan up in flames once and for all.
Fun & Games is a heartbreaking and hilarious story of faith, family secrets, betrayal, and loss—but it's also a tale of friendship, love, and side-splitting shenanigans.

The newest book of David Michael Slater tells us the story about a Jewish family named Schwartz from Pittsburgh and is placed in the early 80s.
Jonathan Schwartz, the main character, is 14 and the youngest of three children of Deane and Michael. Besides being part of the weirdest family tree I have ever heard of, Jonathan has quite difficult relationships with his two sisters Olivia and Nadia. Therefore he spends most of the time competing with his three friends Jake, Cory and Milo in their self-created "Purity Test".
Michael is a writer and has always ignored his heritage until the Bar Mitzvah of Jonathan is becoming a topic and after a heated meeting with the Rabbi he heads off to Israel, officially to research for his new book.
After the departure of their father, Michael, lots of things run out of hand and 911 is dialled quite frequently in the Schwartzens' household. Jonathan finds himself in the middle of mayhem where the rest of his family is more and more breaking apart, and in addition to that he has to struggle with all the ups and downs of growing up.
In the beginning I some difficulties with the unfamiliar writing style. I then found myself deeply impressed and touched by the story of Jonathan and his family.
David Michael Slater has written a book about a Jewish family who are still dealing with the impact of the Holocaust but he has made it somehow made a serious topic easy to understand and read about. The plot is really entertaining and contains lots of unexpected twists make this book one I am not going to forget anytime soon.
I can't really describe my feelings while reading it – it is funny, it is weird, it is sad, it is surprising, and of course there is always the thing with the family members struggling with their heritage and future perspectives.
What I can do though is highly recommending Fun and Games!
Book Reviewed by Kerstin
Purchase Links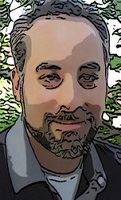 David Michael Slater is an acclaimed author of books for children, teens, and adults. His books include Cheese Louise!; Jock & Spock; Ned Loses His Head; the controversial teen series, Forbidden Books, which is being developed for film; and the recent adult comic-drama, Fun & Games, which the New York Journal of Books called "hilarious."
David teaches in Reno, Nevada, where he lives with his wife and son.
Author Links