Phoebe Smith's Private Blog by Lynda Renham – Book Review
Phoebe Smith's Private Blog by Lynda Renham – Book Review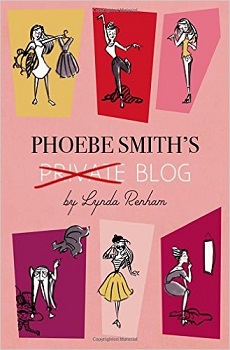 Phoebe Smith's Private Blog
Author – Lynda Renham
Publisher – Raucous Publishing
Pages – 310
Release Date – 30th November 2016
Format – ebook
Reviewer – Stacey
I received a free copy of this book
Post Contains Affiliate Links

Fashion conscious Phoebe Smith wants only one thing: a date for the works party in six weeks' time. She embarks on a journey to find her man and keeps a private blog of all her disastrous encounters. But when her four-year-old nephew gets into her account, her problems only just begin.
With Tinder calamities, a male escort and a pork pie addiction, Phoebe tackles her biggest problem: the just too irritating Harry Bloom. Come with Phoebe on her search for the perfect man and see who will accompany her to the party in this hilarious romantic comedy novel.

Phoebe is nursing a hangover, and the events of the night before, where she threw up all over her ex, Ashby, the one she had been trying to get back with. It is at this point that she decides to write a blog, but not one that everyone can see. Just one for her, like a private diary.
Throughout the story we stand shoulder to shoulder with Phoebe, as she tries to bag herself a man. Not only to make her ex jealous, but to hopefully find 'the one'. Her friends set her up on Tinder, and off she goes, on many disastrous dates, including one that sees her micro-gliding, with a man who has a 'word count' of how much she can talk.
Phoebe also has to try and deal with the fact that the home that she rents, is being sold, and that Harry, who happens to be the son of the company boss buying her flat, lives next door – him, his barking dog, his loud drums, and his horse-faced girlfriend (although she only visits).
By writing all her feelings in her blog, regarding her family, ex, neighbour, and the dreadful dates, she helps to make herself feel a little better about her dire situation. But when her nephew comes to stay, the little rascal manages to let the whole world see her posts. Now Phoebe needs a big hole to jump into and hide.
Phoebe Smith's Private Blog, is Lynda Renham's fifteenth novel, and I have been fortunate to read all of them bar one. What I love about Lynda's books is how full they are of humour, and laugh out loud bizarre situations. Yet they also have characters that are very realistic.
Her books are not full of mystery or suspense. They are out and out, pure chick lit at its finest, and they give you that joyous, feel-good feeling.
This book is just as romantic, funny, daft and has strong lovable, loyal characters as all of her other books. Phoebe is a bit of a cross between an airhead, a push-over and a rottweiler. She seems to take everyone at face value and is forever hopeful that she will meet Mr. Right. She sets her sights so high for her dates, that she can't help but be disappointed, though I think everyone would be disappointed with her choice in men.
Harry is the mistakenly bad guy. The one that you swoon over, with his charm and good looks. Phoebe also has a great bunch of friends and relatives too, that add depth to the story.
This is a light-hearted, predictable chick lit, that fans of Bridget Jones's Diary will enjoy, as you get to read Phoebe's blog posts. You'll find yourself being quite sympathetic with why people are upset when it goes live, as Phoebe is quite cruel about some of them.
A wonderful pick-you-up book Phoebe Smith's Private Blog is. One that you will laugh along with the whole way through.
Book Reviewed by Stacey
Purchase Links


Lynda Renham is famous for her romantic comedy novels. She has been called A Comedian in a Book, Chicklit Royalty and A Comic Genius.
Her writing style has been likened to Sophie Kinsella but is refreshingly down to earth with characters that become your friends. Lynda is a prolific writer, blogger and when not writing can usually be found wasting her time on Facebook.
Lynda lives in Oxfordshire with her second husband and cat.
Our interview with Lynda – 'The Writing Life of: Lynda Renham'
Author Links