Meet Me at Beachcomber Bay by Jill Mansell – Book Review
Meet Me at Beachcomber Bay by Jill Mansell – Book Review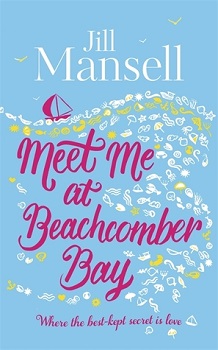 Meet Me at Beachcomber Bay
Author – Jill Mansell
Publisher – Headline Review
Pages – 416
Release Date – 12th January 2017
ISBN-13 – 978-1472208910
Format – ebook, paperback, hardcover, audio
Reviewer – Jodie K
I received a free copy of this book
Post Contains Affiliate Links

Love is in the air in St Carys, but you'd never know it – the people of this seaside town are very good at keeping secrets…
The man Clemency loves belongs to someone else. She has to hide her true feelings – but when she ropes in an unsuspecting friend to help, wires start to get crossed.
For the first time in Ronan's life his charm has failed him in winning over the woman he wants. Loving her from afar appears to be his only option.
Belle seems to have the perfect boyfriend, but something isn't quite right. And now a long-buried secret is slowly rising to the surface.
The truth has a funny way of revealing itself, and when it does St Carys will be a very different place indeed…

Meet me at beachcomber bay was your stereotypical chick lit – upbeat, light hearted, and a bit of an emotional rollercoaster.
You're instantly rooting for the likeable and highly relatable protagonist Clemency, but for me it is the other relationships and character developments in the book that really set the bar high with this novel. Whereas other chick lit novels will focus solely on one character journey, possibly branching out into another one of two character plot lines, Jill Mansell has somehow managed to expertly curate an entire small town of individuals into one storyline. Everyone is connected, but everyone has their secrets.
Of course, it wouldn't be a true chick lit without a happy ending and I definitely was not left disappointed with this ending. I would spoiler alert this but come on, when have you ever *actually* read a chick lit where she DOESN'T get the guy?!
One element of the novel that I wasn't immediately keen on at first was Belle – her character seemed too demanding, too immature to be anywhere near realistic in comparison to her step sister Clemency. However, about three quarters of the way through the book, where Belle's personal development climaxes, my opinion on her completely changed. Her actions suddenly made sense and were in fact, I realised, completely and utterly believable.
Overall, if you're after an easy page turner that will make you chuckle and near cry then this is a book for you! I cannot think of any reason to knock a star off this review – it's a pure 5/5 for any chick lit fan!
Book Reviewed by Jodie K
Purchase Links


Jill Mansell lives with her partner and children in Bristol, and writes full time. Actually that's not true; she watches TV, eats fruit gums, admires the rugby players training in the sports field behind her house, and spends hours on the internet marvelling at how many other writers have blogs. Only when she's completely run out of displacement activities does she write.
Jill Mansell's books have sold over ten million copies and her titles include: Making your Mind up, Fast Friends, Good at Games, Sheer Mischief and Solo, among many others.
Author Links