The Good Friend by Jo Baldwin – Book Review
The Good Friend by Jo Baldwin – Book Review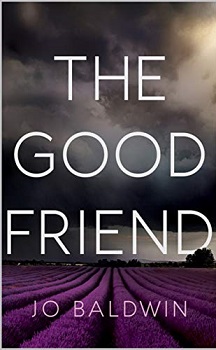 The Good Friend
Author – Jo Baldwin
Publisher – RedDoor Publishing
Pages – 304
Released – 21st February 2019
ISBN-13 – 978-1910453667
Format – ebook, paperback
Reviewer – Stacey
Rating – 4 Stars
I received a free copy of this book.
This post contains affiliate links.
If only she knew what sort of friend I really am . . .
Once upon a time, Jenny and Kath were best friends. Or were they?
Their reunion after eight years apart – when Jenny pays a visit from Australia where she's settled – begins as idyllic. But all too soon, things begin to unravel and once the past is uncovered, there's no going back.
This beautifully written, gripping and unforgettable psychological drama about love, lies and obsession will keep you reading long in to the night.
Keep your friends close, but your best friends closer.

Jenny and Kath have been best friends since they were teenagers attending the same school in the UK. They were as thick as thieves. Then Jenny moved with her father to Australia to concentrate on her swimming career which had earned her three gold medals and the two hadn't seen each other in eight years.
Since then Kath had gotten married and move to France and now had a young daughter Rosa. Jenny and her father have never really seen eye to eye and during one particular argument about Jenny wanting to return to the UK he shouts 'Good thing I listened to that friend of yours and moved us out here.' Jenny wants to know what he means but he won't say any more.
Deciding she needs to know the truth Jenny decides to stop at Kath's house on the way to the UK and find out what her father meant. Kath is happy to see her and the two soon become best buddies again but underneath the surface, something just doesn't feel right.
Tom, Kath's husband isn't very happy to see Jenny though as Jenny and Tom used to be a couple until she moved to Australia. With the truth coming out could Kath be hiding more than the words she told to Jenny's dad?
The Good Friend is author Jo Baldwin's debut novel and what a novel it is. The writing is perfect, flows naturally and absorbs you into the world of two people who have been through a lot and yet have managed to stay friends, even with the distance apart and Kath marrying Jenny's ex.
From the moment the two reconnect you get the sense that something is not quite right with Kath and through snippets of information from their childhood you start to see that this is a woman that didn't have the best upbringing and often felt over-shadowed or left out.
As the book progressed and you become more entangled in not only the life of the women but with Tom and little Rosa too. There are times when you will feel unsettled by Kath's behaviour and question whether she is or ever was Jenny's friend. She is very callous and manipulative especially the way she treats her daughter sometimes.
The pace of the book is quite slow giving you a chance to fully immerse yourself in the plot and get to know each of the characters individually and enjoy the rural French countryside. There are no big surprises along the way except for the ending which has left me wondering whether Jo Baldwin is contemplating writing a sequel.
Reviewed by Stacey
---
Purchase online from:
---
About the Author

Since completing a degree in French, Jo Baldwin has spent a large proportion of her life in France, first in Paris where she worked in magazine publishing, and later in the Languedoc where she has a holiday home. Jo now lives in Oxford with her husband and three children and works in educational publishing.



---
The above links are affiliate links. I receive a very small percentage from each item you purchase via these link, which is at no extra cost to you. If you are thinking about purchasing the book, please think about using one of the links. All money received goes back into the blog and helps to keep it running. Thank you.