A Country Escape by Katie Fforde – Book Review
A Country Escape by Katie Fforde – Book Review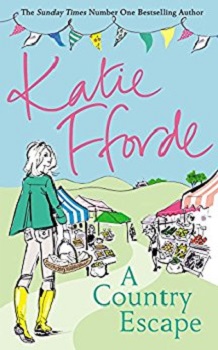 A Country Escape
Author – Katie Fforde
Publisher – Century
Pages – 384
Released – 22nd February 2018
ISBN-13 – 978-1780890890
Format – ebook, paperback, hardcover, audio
Reviewer – Selina
Rating – 5 Stars
I received a free copy of this book.
This post contains affiliate links.
Fran has always wanted to be a farmer. And now it looks as if her childhood dream is about to come true.
She has just moved in to a beautiful but very run-down farm in the Cotswolds, currently owned by an old aunt who has told Fran that if she manages to turn the place around in a year, the farm will be hers.
But Fran knows nothing about farming. She might even be afraid of cows.
She's going to need a lot of help from her best friend Issi, and also from her wealthy and very eligible neighbour – who might just have his own reasons for being so supportive.
Is it the farm he is interested in? Or Fran herself?

I am a huge fan of Katie Fforde and was delighted to read A Country Escape.
We meet Fran who moves to her Aunt Amy's Hill Top Farm in the Cotswolds. The farm is run down and can no longer be managed by Amy as she is now in a care home. Although there is a farm hand called Tig, he is still unable to handle everything on his own.
Fran's task now is to run the farm for a year and if she makes a profit from it she gets to inherit it after Amy passes on.
Along with Fran, in the running for the farm is Roy, Amy's other distant relative who has come over from Australia just to see if he can get his hands on the farm and for the money, not to actually use the farm. But can Aunt Amy see through his ways or is she blindsided by his charm?
Fran has a lot of help from farm hand Tig, her best friend Issi and neighbour Anthony. All of which are wonderful characters you can't help falling in love with.
Will Fran make a go of the farm and succeed at her new adventure of cheese making or will Roy get his hands on it for future development and his inheritance?
As we follow Fran and her journey on the farm we are treated to a few surprises along the way as well as some romance going on too which may be not just for best friend Issi but for Fran herself.
Katie Fforde has a way of drawing the reader into every scene and putting us right in the moment with her descriptive surroundings, I even felt I was on the farm at times with Fran helping her out and smelling that delicious cheese she was making.
This has to be one of my favourite books by Katie Fforde and I now can not wait for her next release.
Reviewed by Selina
---
Purchase online from:
---
About the Author

Sunday Times best-selling romantic novelist Katie Fforde has always been a huge advocate for family life and the home, settling and raising a family in the heart of the Cotswolds. Hearty meals and the smell of something in the Rayburn to welcome and share amongst family and friends has always been part of it.
It is this deep routed sense of the home and especially the kitchen, that has lit Katie's passion for homewares.
Her children, now all grown up and raising their own families, share the same passion and being the creative types they are, have always chatted with Katie (usually over food and wine) discussing ideas and dreams of creating their own range of homewares.
The idea was to encapsulate the Cotswold lifestyle in a contemporary yet quintessentially English style that ties into Katie's books and her way of life.
It has been a challenging yet exciting journey, but it now feels that the visions and chats have come to fruition and Katie Fforde Designs has finally arrived.
With importance being placed on every product being British made and of the highest quality, wherever possible we have worked with local businesses. Every company involved has been the best we could find. The end results are some special and unique products. We hope that they will bring you as much pleasure as we had in their creation.





---
The above links are affiliate links. I receive a very small percentage from each item you purchase via these link, which is at no extra cost to you. If you are thinking about purchasing the book, please think about using one of the links. All money received goes back into the blog and helps to keep it running. Thank you.