The Writing Life of: M. Tara Crowl
M. Tara Crowl
Today I have the honour of interviewing author M. Tara Crowl about her writing life, and about her latest book, Eden's Escape which was released on the 6th September 2016.
So without further ado, let's say hello to M. Tara Crowl. Post contains affiliate links.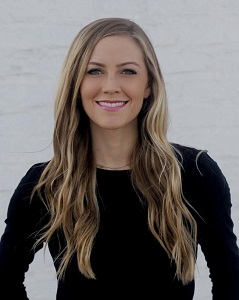 I was raised in a town called Murfreesboro in the very center of Tennessee. As a kid, I was constantly walking into things because my eyes were on a book. I loved books so much that I dreamed about writing my own.
After high school, I moved to LA to study film at the University of Southern California. My first job after college was assisting an independent movie producer and a literary manager, then I moved to the motion picture literary department of a talent agency. I loved being a part of the process of shaping scripts into stories that would come to life onscreen.
But eventually, I realized that I still wanted to write my own stories. I'd grown up, but my childhood dream hadn't. So I moved to Sydney for a Master's program in writing at Macquarie University. While I was in Australia, my world grew in beautiful, bright, and unexpected ways.
A year later, I moved to New York City and finished the book I'd started writing in Sydney. That book is called Eden's Wish, and it was released by Disney-Hyperion on September 1, 2015. The second book in the series, Eden's Escape, was released in September 2016.
---
1) Do you remember the moment you decided that you would like to become a writer?
Initially, it happened when I was a kid. Growing up in Tennessee, I was always reading, and from as far back I can remember, I wanted to write books. But I changed my mind in high school, and decided that I wanted to make movies instead. After graduation, I moved to LA to attend film school at the University of Southern California.
After college, I worked in Hollywood for two years in roles that allowed me to read and help develop screenplays. Although I loved what I was doing, it also made me realize that I was never going to be satisfied if I didn't try to write my own stories. It turned out that even though I'd pushed it aside, my childhood dream was still alive. So I left LA and moved to Sydney, Australia for a Master's program in Creative Writing at Macquarie University. That was a huge decision, and one that I'm so grateful I made.
2) How did you go about following your dream?
I completed the Master's program at Macquarie, and for my thesis, I wrote the beginning of what would eventually become Eden's Wish: a middle-grade novel about a twelve-year-old genie who wants to be a regular girl and live on Earth. Then I moved to New York City, determined to finish the book. I did, while working lots of jobs in the meantime—catering jobs, temp jobs in offices, tutoring jobs, whatever I could find.
Once I'd finished a draft, I went about finding an agent. I did another round of revisions with her, and then she took it to publishers and sold it to Disney-Hyperion in a two-book deal. I was shocked, amazed, and grateful—and still am!
3) Which authors inspire you?
Roald Dahl, Patricia Highsmith, Madeleine L'Engle, J.K. Rowling, Kate DiCamillo—among many others.
4) What is your working day like? Do you aim for a certain amount of pages/words per day?
My husband owns a restaurant in our neighborhood, and I work there in addition to writing. Depending on the day, we usually walk to the restaurant together in the morning, have breakfast, then I do office work there until mid-afternoon. Then, I walk home and start my other work, which is writing or other book-related stuff. I don't have a daily word / page goal at the moment, but I do think it's a smart way to work.
5) Do you have any strange habits or rituals whilst writing?
Not really, but I do need it to be quiet. I love having music on while I'm brainstorming, and I don't mind music or other background noise during some stages of editing, but while I'm actually writing, I've got to have total silence.
6) Do you write Longhand, Typewriter, Computer?
Computer! I'm constantly changing things as I go. If computers didn't exist, I would waste so much paper!
7) Do you have a favourite character(s) in any of your books?
My favorite character has to be my protagonist, Eden. She's brave, funny, smart, and adventurous. But there are dozens of immortal genie alumni with whom Eden comes into contact with on Earth, and I've grown very fond of some of them.
Pepper, Eden's guardian in Eden's Escape, is definitely one of my favorites. She's lived in New York City for hundreds of years, and carried out seven different careers as a theater actress. She's effervescent, and I find her irresistible.
Delta is a kooky alum who lives a ramshackle house in Paris with a ton of pets—some of whom are apt to be invisible at any given time.
And Sylvana is the charming, cunning head of Electra, an evil organization of power-hungry genie alumni. She's a suave villain who's so much fun to write.
8) Do you plot your books completely beforehand, or do you let your imagination flow whilst in the writing process?
I have a general plan for where a book is going to go, and I usually outline a few chapters ahead, but I try to let the story flow organically. I think it's important to let it breathe and come into its own instead of boxing it into what you think it should be.
Concerning your latest book: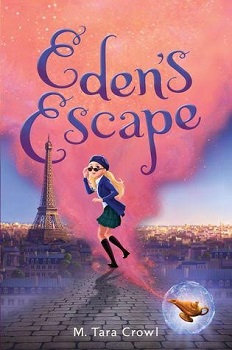 Eden's Escape


Eden of the Lamp
Author – M. Tara Crowl
Publisher – Disney-Hyperion
Pages – 320
Release Date – 8th September 2016
ISBN 13 – 978-1484711866
Format – Hardcover
Eden's new life on earth begins in New York City under the guidance of her new guardian: Pepper, a petite, bubbly genie alum who's also a Broadway actress. Before she has a chance to settle in, though, Eden is whisked away for a granting–only to find herself trapped in a laboratory.
David Brightly, owner of the world's leading tech company, cares more about tapping into the lamp's power than making a wish and starts performing tests on Eden. With Brightly's plasma shield around the lamp, Eden has no way home. Left without a choice, she escapes the lab and goes on the run.
After her daring exit, Eden finds herself on the streets of Paris–home to Electra's headquarters. Left in a strange city with a price on her head (courtesy of scheming Brightly), Eden has to keep her wits about her. She dons a chic disguise and flits around Paris incognito, investigating Brightly Tech.
Assisted by Pepper and her old adversary Bola, as well as some new friends, Eden embarks on a quest to retrieve the lamp and protect the secrets of the genie legacy.
9) How long did it take to get from the ideas stage, to the date of publication?
Eden's Escape was written under contract with Disney-Hyperion, so I had a set timeline, which wasn't the case for Eden's Wish.
I actually came up with the idea for it in 2013, just before Eden's Wish sold to the publisher. I was visiting Paris, and I kept thinking how much fun it would be to write a second Eden book and take her there. That was when the idea first began to be formed.
In fall 2014, I went back to Paris for a few weeks to research and write. I wrote it over the next year, completing the draft in fall 2015. Then I did revisions with the publisher, and it was released a couple months ago, in September 2016. So altogether, from the first stages of the idea to the date of publication, three years passed.
10) Did you suffer from writer's block at any stage? How did you overcome it?
Yes, I got stuck for a while. It wasn't that I couldn't come up with any ideas—it was more that I couldn't settle on one direction for the plot, so I kept writing pages and then throwing them out. Honestly, I was able to overcome it when I realized that I simply had to in order to hit my deadline. I didn't have time to keep trying out different alternatives. A deadline can be a powerful thing!
11) How did you come up with the name(s)for your lead character(s)?
Mostly, I just liked the name, and it fit the character I had in mind. I also liked that there was a link between the name Eden and the "paradise" inside the lamp, where her masters try to keep her safe from Earth's dangers. On top of that, I thought it was a cool nod to Barbara Eden, who played the genie in I Dream of Jeannie.
12) Can you give us an insight into your main character (s), What makes them tick?
Eden is a twelve-year-old genie who has grown up in an oil lamp. She can only leave the lamp when someone rubs it, at which point she's summoned to Earth to grant three wishes for them. While every other genie in history has been happy and honored to complete her genie duties (at least, that's what she thinks), Eden isn't so sure she's meant to be a genie. She's fallen love with the world, and she's desperate to live there. But before she can do that, she has to complete her career as a genie, meaning she has to grant 999 wishes before making a thousandth wish for herself.
The things that make Eden tick are the things she doesn't have access to in the lamp. Sunshine, dogs, fresh air, grass, the ocean. But most of all, freedom. That's why, in Eden's Wish, she takes a huge risk and escapes the lamp to chase after those things on Earth.
13)If your book was made into a film, who would you love to play the lead character(s)?
It's hard for Eden, because I don't know any tween actresses! But for her masters, Goldie and Xavier, I think Connie Britton and Pierce Brosnan would be amazing. And I think Margot Robbie would be perfect to play Sylvana.
14) Did you get anyone in particular to read your work before sending it to the publisher i.e family member, friend etc?
No, but I often read out loud to my husband while I'm revising. It helps me catch both errors in the writing, and larger problems with the story.