Deadly Secrets by OMJ Ryan – Book Review
Deadly Secrets by OMJ Ryan – Book Review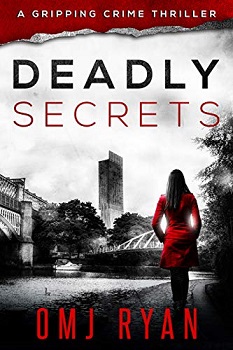 Deadly Secrets
Author – OMJ Ryan
Publisher – Inkubator Books
Pages – 331
Released – 12th May 2019
Format – ebook
Reviewer – Stacey
Rating – 4 Stars
I received a free copy of this book.
This post contains affiliate links.
Millionaire Marty Michaels had the perfect life — until he found a dead girl in his bathroom.
For twenty years, superstar radio host Marty Michaels has used his vast fame and power to make or break the careers of celebrities and politicians.
But Marty discovers that power comes at a price when he wakes in a strange hotel room and finds a murdered girl in the bathroom. He's been setup. Someone wants to destroy him.
Desperate to clear his name, Marty is propelled into a dark world of danger, corruption and depravity, and with the media world he once ruled now baying for his blood — the hunter has become the hunted.
Not knowing who to trust, or where to turn, Marty fights alone against a powerful criminal network as he tries to save his reputation, his job…and his life.

National Radio DJ Marty Michaels wakes with a banging headache. He's not sure where he is, only that he isn't in his own bed. He quickly realises that he's in a hotel room and closer inspection reveals he's at the popular Metropolitan Hotel, a place he knows well, especially as he was drinking in the bar last night. Apart from that, he doesn't remember much more.
As his head gets worse, Marty stumbles into the bathroom where he discovers a woman in the shower. She is slumped at the bottom wearing a gimp mask, a belt around her neck and her hands and feet have been tied – she's also dead.
Marty rings his agent Rob to come to the hotel quickly as he has no recollection of the woman or even entering the hotel room. Before his agent gets there the police arrive and arrest Marty for possession with intent to supply after a large bag of what looks like cocaine is found in the room. The police don't particularly like Marty as he has been looking into police corruption and so as he is led from the hotel a swarm of journalists are there to photograph his every move, tipped off by someone.
When Marty becomes the prime suspect in the murder of the woman he was hoping that his agent and lawyer might be able to get him off, but with things not moving at quick enough pace for him he decides that he has to take matters into his own hands. But why would someone set Marty up and more importantly, who?
Deadly Secrets is a thriller set in my home town of Manchester. The author obviously knows the area well, though I was a little surprised that he chose to fictionalise some of the buildings and place names, whilst keeping the real names of others, I personally would have thought it would be one way or the other, but hey, I'm not an author and it didn't take away my enjoyment from the book.
I can't say that Marty is an exceptionally likeable character. At times I felt sorry for him, this was a man that had done nothing wrong and yet had found himself in a really tough situation and he knew someone was setting him up but no-one would believe him at first. Other times I could have strangled the guy myself. He was arrogant and thought he was above the law, expecting a chief inspector to come running to his aid because he played golf with him, or the radio station to keep him on air whilst he was still a suspect in a murder investigation.
The plot unfolds nicely and the short chapters help to keep the pace moving at a fast speed throughout. I found myself getting involved in the story, needing to know what had actually happened that night and who wanted Marty stitched up so badly that they resorted to murder and pinning it on him.
This is a great thriller with a fabulous cast and obviously set in an amazing city! I look forward to reading more from this author in the future.
Book Reviewer – Stacey
---
Purchase online from:
---
About the Author

Hailing from Yorkshire, OMJ Ryan worked in radio and entertainment for over twenty years, collaborating with household names and accumulating a host of international writing and radio awards. In 2018 he followed his passion to become a full-time novelist, writing stories for people who devour exciting, fast-paced thrillers by the pool, on their commute – or those rare moments of downtime before bed. Owen's mission is to entertain from the first page to the last.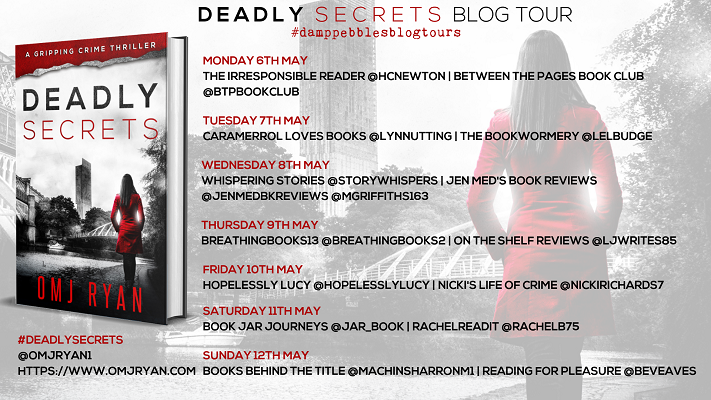 ---
What did you think of the book? Share your thoughts in the comment section below!
---
The above links are affiliate links. I receive a very small percentage from each item you purchase via these link, which is at no extra cost to you. If you are thinking about purchasing the book, please think about using one of the links. All money received goes back into the blog and helps to keep it running. Thank you.