#Toots by Linh Le James – Book Review
#Toots by Linh Le James – Book Review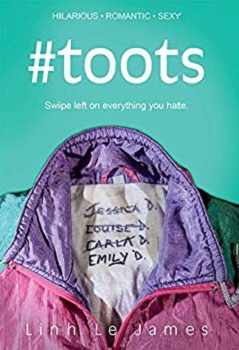 #Toots
Author – Linh Le James
Pages – 376
Released – 18th January 2019
ISBN-13 – 978-1794283626
Format – ebook, paperback
Reviewer – Selina
Rating – 4 Stars
I received a free copy of this book.
This post contains affiliate links.
A British non-romantic comedy built on white lies, pink elephants and grey areas.
LONDON: Four sisters swipe left on everything they hate, one cocktail at a time.
Louise dreams of an exotic lifestyle, miles away from Hackney. Nick comes along. Famous, fit, funny and filthy rich. She will stop at nothing to seduce him. She will fake it till she makes it. All the way to the ka-ching bling ring. But the little white lies soon snowball into a mountain Louise's Louboutins can't climb.
Jess juggles work, two babies, a cheating husband and nannies from hell.
Carla goes on a bender, and wakes up next to her young assistant. Freddie.
Emily is getting over her cheating ex by throwing herself into the dating scene.
When work, dating and proposals…all go wrong, the four sisters' friendship is their only lifeline.

Set in London, #Toots is what the author is using to describe the sisters in the book as it follows four sisters, Louise, Jess, Carla and Emily, all living very different lives but they are always there for one another when they each need a helping hand.
First up is Carla, who is so fed up with being led on by boyfriend Ben that she dumps him only to have a fling with Freddie, her younger work colleague.
Next is Louise, who wants glamour and glitz and will stop at nothing to make handsome, rich, millionaire Nick hers.
Youngest sister Emily has recently been dumped and is heartbroken. Lola, her flatmate, thinks it's time she got over him and tries to encourage her to get back on the scene by online dating.
Lastly, we have Jess. She is married and has children but is obsessed that her husband is cheating on her as he no longer has time for her or the children. Jess finds her life a hard struggle especially as she is working as well.
#Toots will have you laughing out loud in places and also shouting at them on certain storylines. The sisters are all very likeable in their own way and I really enjoyed getting to know them as the story developed. This is a book that jumps around quite a bit and you have to remember which storyline is about which sister.
I Love the idea Linh Le James had of including cocktail recipes to each of the chapters as well.
There is going to be a sequel, so I am happy to read more about the adventures of the sisters when the time comes. Interesting plot and fun too. Very different sisters with different problems make for a great read.
Book Reviewer – Selina
---
Purchase online from:
---
About the Author

Linh is Vietnamese. She was born and grew up in France. After college, she moved to Southern California and lived there for a few years before settling in the UK for 15 years, first in Wales, then in Surrey. In 2018, she packed all of her shoes, her kids, hubby, and the Dog and moved to the UAE.
Storytelling is her passion since childhood.



---
What do you think of the book? Share your thoughts in the comment section below!
---
The above links are affiliate links. I receive a very small percentage from each item you purchase via these link, which is at no extra cost to you. If you are thinking about purchasing the book, please think about using one of the links. All money received goes back into the blog and helps to keep it running. Thank you.