Monty and the Ocean Rescue by M. T. Sanders – Book Review
Monty and the Ocean Rescue by M. T. Sanders – Book Review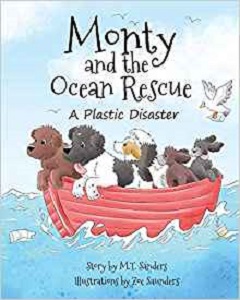 Monty and the Ocean Rescue
A Plastic Disaster
Author – M. T. Sanders
Publisher – 2QT Limited
Pages – 36
Released – 1st April 2019
ISBN-13 – 978-1913071134
Format – paperback
Reviewer – Stacey
Rating – 4.5 Stars
I received a free copy of this book.
This post contains affiliate links.
Monty, Cookie and the spangles are back at the beach.
When Cookie sees a splash in the water her newfydoof instinct to rescue takes over and she immediately heads out to help.
What follows is an adventure that could turn out to be their biggest, and most difficult so far.

Monty the Dog and his friends are back in another seaside adventure. After helping out the Poppit Dragon in their last book, the dogs were hoping for this visit to the beach to be a little less exciting. However, not long after arriving Cookie jumps into the water to help a Mermaid that has got caught in a fishing net and struggling to swim.
Now on land and untangle, the mermaid explains to the dogs that she was on her way to help a Blue Whale that had a rope stuck around it's tail. She's worried that she won't get there in time to save the whale after getting tangled herself.
The dogs decide to help her and with the aid of a small boat they all set off to find the Whale. Unfortunately, the whale isn't the only sea creature that has gotten stuck, others have become entangled in plastic that is floating in the seas and oceans and the dogs know that they must help them as well as save the whale.
Join Monty and his friends as they set out on their most daring rescue yet. You might also meet a popular face too.
Monty and the Ocean Rescue: A Plastic Disaster is a very poignant book for children as it highlights something that has been brought to the forefront of the media lately, plastic and rubbish in our oceans and seas which is killing sea creature and birds.
Figures show that around eight million separate pieces of plastic are enter the oceans every single day. The plastic comes from litter left on the beaches, overflowing bins by the seas/oceans, or blown from cities into the water, as well as industrial spills, cargo being lost at sea, things being flushed down the toilet, etc. Plastic also can take a very long time to breakdown, some take hundreds of years.
Every piece of plastic that ends up in the ocean is potentially deadly to our sea creatures and birds. That's why I believe that educating children at a very young age about what the plastic can and is doing to our animals is crucial and if author M.T. Sanders manages to educate just a handful of children via his latest rhyming book then I commend him for writing such a wonderful story that not only has an exciting plot, but also has a very important message too.
The only thing that I believe is missing from the book is a message to children about how they can help. The author does give free talks at schools about the plastic in our oceans and there are links to some places to get information on the internet, even so, I would have liked a little section at the back with some ways that children can help stop the plastic getting into the seas and oceans as not every child will get a class visit and not every child has access to the internet.
The whole book is completely stunning and educational. The illustrations are also first rate and make the story come alive. I can see this book becoming a firm favourite with children and adults too.
Book Reviewer – Stacey
---
Purchase online from:
---
About the Author
Monty is a Newfoundland dog who enjoys nothing more than writing books poetry and blogs helped by his hoomans. I'm not a Pandacow is the first in a series of books about Monty's adventures and has proved an instant hit. Apart from his literary skills Monty is an accomplished fundraiser for various charities and regularly visits schools and nursing homes.
MT Sanders the hooman author has now written three books with the help of his trusty sidekick, I'm not a Pandacow released in April 2017 and currently sold over 2000 copies. Monty and the Slobbernosserus was the very successful follow up and June 2018 sees the third book in the series Monty and Poppit Dragon.
There is also a new Christmas story featuring the dogs.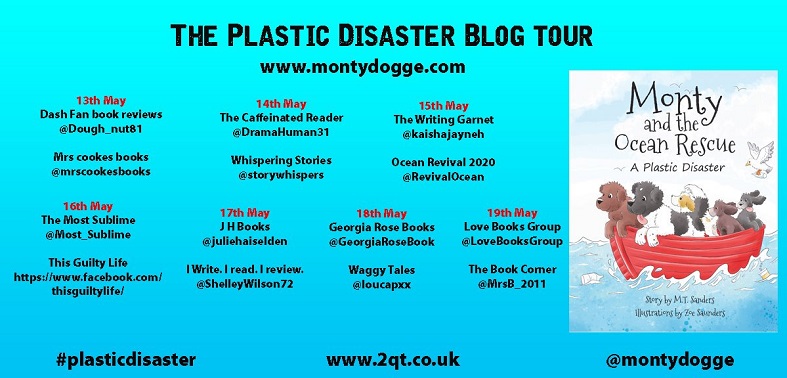 ---
Share your thoughts on our review of Monty and the Ocean Rescue in the comment section below!
---
The above links are affiliate links. I receive a very small percentage from each item you purchase via these link, which is at no extra cost to you. If you are thinking about purchasing the book, please think about using one of the links. All money received goes back into the blog and helps to keep it running. Thank you.