Lost and Found by Natalie Shampanier – Book Review
Lost and Found by Natalie Shampanier – Book Review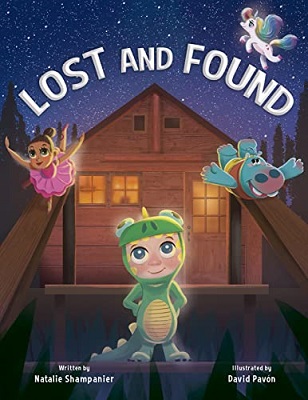 Lost and Found
Author – Natalie Shampanier
Illustrator – David Pavon
Publisher – Artichoke Heart Publishing
Release Date – 24th December 2022
Pages – 32
ISBN 13 – 979-8987503515
Format – ebook, paperback, hardcover
Star Rating – 4
I received a free copy of this book.
This post contains affiliate links.

Synopsis
Forgotten toys at a summer camp ground
Are tossed into the camp's Lost and Found.
But Dino Boy refuses to spend his days on a shelf
He sets out to escape and find a home for himself.
A ballerina, a hippo, and a mood ring tag along
On this great adventure to find where they belong.
Award-winning screenwriter and family therapist Natalie Shampanier draws from her experience with adopted children to create a poignant rhyming tale about determination, friendship and the search for love. This beautifully illustrated book is a perfect read-aloud for early readers and shared family story time!
Long before the Toy Story movies were made, children around the world would dream that once the humans weren't around that their toys would come to life. In Lost and Found Dino Boy, Hippo, Tina (musical ballerina), and Moody (unicorn mood ring) do just that when they find themselves on the shelves of the Lost and Found.
Not wanting to be left there Dino Boy sets out to escape and the others want him to take them with him. But will they all make it?
Lost and Found is a fun, engaging rhyming picture book that catches the imagination and has characters that you will adore and root for in just a few pages. Their friendships, even though they've just met, shine off the page and they know they have to stick together to get to their end goal.
The book is beautifully illustrated with eye-catching pictures that showcase the rhyming words perfectly and even those that are not yet readers would be able to work out the story and follow along with ease.
Lost and Found is both heart-warming and touching as well as filled with adventure. This is a book that would make any child smile and will make the perfect bedtime story.
Purchase Online:
Natalie Shampanier

Natalie has been rhyming ever since she was small, And she's still only pushing five feet tall. She couldn't keep rhyming while working as a shrink, Somehow patients prefer prose when they're feeling on the brink. She went on to write movies inspired by her childhood, In a little known town called Hollywood. Her last film, "Paper Spiders" was a critical success, But her kids are her greatest achievement nonetheless. Raising her three wildlings is always a riot, She enjoys absolutely no peace and quiet. Her nonverbal 10 year old who speaks only in signs. Inspired this picture book with limited lines. Thank you for giving Natalie's bio a look, Hope you enjoy reading her latest book.
Author Links:
---
The above links are affiliate links. I receive a very small percentage from each item you purchase via these links, which is at no extra cost to you. If you are thinking about purchasing the book, please think about using one of the links. All money received goes back into the blog and helps to keep it running. Thank you.