From Dusty With Love by Nina Whyle – Book Review
From Dusty With Love by Nina Whyle – Book Review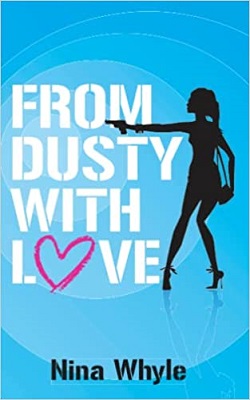 From Dusty With Love
Author – Nina Whyle
Release Date – 5th December 2022
Pages – 292
ISBN 13 – 978-1739219246
Format – ebook, paperback
Star Rating – 4
I received a free copy of this book.
This post contains affiliate links.

Synopsis
There's a new spy on the block and what she lacks in skills she makes up for with perky enthusiasm.
Out of work actress Dusty Hall, is recruited into His Majesty's Secret Service and this might be her best role yet! In training she meets Yazmin Khan, the epitome of a walking lethal weapon and a total badass. The two women couldn't be more different but together they make the perfect duo.
Ready or not, the duo are sent on their first undercover mission: to infiltrate a Moroccan hotelier and suspected arms smuggler, Ahmed Al Sahid. Except there's a snag, it falls on her sister Coco's hen weekend. As maid-of-honour it is Dusty's duty to ensure the bride-to-be has the best hen weekend ever! Coco is not someone you want to disappoint and is far scarier than any deadly, undercover operation. So, Dusty comes up with a cunning plan, to kill two birds with one stone, why not invite all the hens to Marrakech, job done. All she has to do is keep the two worlds apart – what could possibly go wrong?
At the beginning of From Dusty With Love we meet, sometimes an actress, Dusty Hall who has had many knockbacks and has recently been fired from her latest acting job. Just when she thinks things can't get any worse, she meets a man on a night out, having drunk far too much she wakes the next morning with no memory of the night before. Though she does find a card in her pocket with instructions for a job interview.
Thinking she may as well go to the interview as she has nothing to lose, Dusty attends thinking it's for a cleaning job. After meeting two men and answering some strange questions, she's sure she doesn't stand a chance of getting the job and is surprised when an offer is made as she is 'just what they are looking for'.
However, all is not as it first seemed when she realises the job is actually for His Majesty's Secret Service.
Dusty now has to work undercover. She still needs to please her friends and family, and when her sister Coco's hen do falls on the same weekend as her first mission abroad in Morocco, she has to come up with a pretty quick solution to partake in both.
Can Dusty do her job and keep herself safe, as well as keep her family happy or will she end up losing everything before it even started?
From Dusty With Love gripped me right from the first page. Dusty is such a fun character. She connects with you right from the start. I absolutely loved her especially as she kept me laughing throughout.
Nina Whyle has given us just enough to keep us engrossed in the story from beginning to end. With plenty of likeable characters and an entertaining plot, this is a book I couldn't put down. I hope to read more from Nina Whyle in the future now.
---
Purchase Online:
Nina Whyle
Nina Whyle is a writing duo made up of two best friends. They write easy-reading, comical adventures of young woman coming into their own, no matter how haphazardly. With a dash of romance, always guaranteed. Their newest book is a comedy espionage adventure with female friendships and family at its heart. Bursting with action, intrigue and bucket loads of glamour.
Author Links:
---
The above links are affiliate links. I receive a very small percentage from each item you purchase via these links, which is at no extra cost to you. If you are thinking about purchasing the book, please think about using one of the links. All money received goes back into the blog and helps to keep it running. Thank you.