The Day We Meet Again by Miranda Dickinson – Book Review
The Day We Meet Again by Miranda Dickinson – Book Review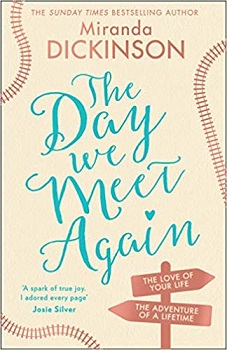 The Day We Meet Again
Author – Miranda Dickinson
Publisher – HQ
Pages – 384
Released – 5th September 2019
ISBN-13 – 978-0008323219
Format – ebook, paperback, audio
Review by – Stacey
Rating – 5 Stars
I received a free copy of this book.
This post contains affiliate links.
Their love story started with goodbye…
'We'll meet again at St Pancras station, a year from today. If we're meant to be together, we'll both be there. If we're not, it was never meant to be . . .'
Phoebe and Sam meet by chance at St Pancras station. Heading in opposite directions, both seeking their own adventures, meeting the love of their lives wasn't part of the plan. So they make a promise: to meet again in the same place in twelve months' time if they still want to be together.
But is life ever as simple as that?
This is a story of what-ifs and maybes – and how one decision can change your life forever…

Phoebe Jones is off on the trip of a lifetime, a year out travelling. Her friends don't think she will go through with it, heck, even Phoebe doesn't think she can go through with it, that's why she arrived stupidly early at St Pancras station to await her train to Paris, so nothing can make her change her mind.
She didn't expect there to be a delay with her train, well all trains heading from her station actually, a four-hour delay. This is not good, four hours gives Phoebe time to think and thinking is bad when you're not sure you can go through with your plans.
That is until she meets Sam. Sam is a musician on his way to Scotland. His train is delayed too and after a few joking moments between the pair, they settle in a cafe awaiting the trains to start running again. What they didn't expect was for fate to intervene and for them to fall for one another in just a few hours.
With plans already made, the pair decide that they both should continue on their journey's but if they believe the spark is real then they are to meet again in a one year back at the station. With twelve months to get through and plenty of travelling, will the two meet again or was this just a fleeting moment never to happen again?
The Day We Meet Again is a beautiful book told in the first person and dual narrative via alternative chapters, clearly labelled. I'm a believer in love comes when you least expect it, or when you are not looking for it and neither Phoebe or Sam were looking for love that fateful morning. They both were setting out on journey's of a life-time, Phoebe travelling and visiting places in her favourite book, Sam to discover more about his father who left when he was just a child.
The book was engaging and had me glued to the pages. Both of the main characters were likeable and interesting and their stories heartfelt, although I enjoyed Phoebe's chapters slightly more as I loved reading about the places she visited. Neither had a straightforward twelve months, there were plenty of hiccups within them and I was keeping everything crossed that they would meet up again as they seemed perfect together.
I was so engrossed in the story that I read it in just one sitting as I didn't want to put the book down, this certainly doesn't happen often to me. The Day We Meet Again is simply an amazing read and if you are a fan of romance novels then this is one to add to your list.
Book Reviewer – Stacey
---
Purchase online from:
---
About the Author
Miranda Dickinson has always had a head full of stories. Coming from a creative family where stories and songs were always present, it was perhaps inevitable that she would end up adoring words. A songwriter for over 15 years, Miranda has successfully penned over thirty songs, delivering both live and recorded performances in a range of venues across the UK and Europe. Her first solo project album, About Time is due for release this year. To hear her music, visit her website – and be sure to leave a message if you like it!
Miranda began writing in earnest four years ago with her first novel, Coffee at Kowalski's – a romantic comedy set in New York's Upper West Side. This was spotted on HarperCollins' site for unpublished authors, Authonomy.com at the end of 2008 and was released by Avon (part of HC) as Fairytale of New York on 12th November 2009. She has also written several short stories, scripts and novel excerpts, many of which are published on Helium.com. Miranda is also a regular contributor for www.myvillage.com writing a range of local interest articles for the Birmingham area and national film and festival reviews.





---
What did you think of The Day We Meet Again? Share your thoughts in the comment section below!
---
The above links are affiliate links. I receive a very small percentage from each item you purchase via these link, which is at no extra cost to you. If you are thinking about purchasing the book, please think about using one of the links. All money received goes back into the blog and helps to keep it running. Thank you.