When Darkness Descends by G. W. Lücke – Book Review
When Darkness Descends by G. W. Lücke – Book Review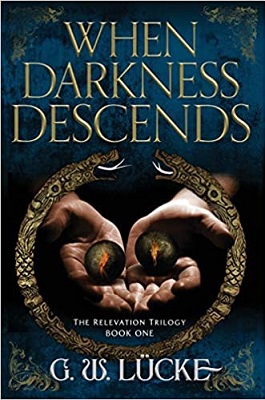 When Darkness Descends
The Relevation Trilogy Book One
Author – G. W. Lücke
Publisher – With Distinction Consultants
Pages – 392
Released – 9th July 2020
ISBN-13 – 978-0648820703
Format – ebook, paperback
Rating – 4 Stars
I received a free copy of this book.
This post contains affiliate links.


Synopsis
Five-year-old Tom Anderson cowered in fear while a mysterious stranger murdered his beloved grandmother, Jean Anderson, then disappeared. Now a young man crippled by guilt and anxiety, Tom's offered a chance for redemption, but it means leaving Earth behind.
Dark magic transports him to the shadowy land of Enthilen where he begins the hunt for Jean's killer. However, unbeknown to Tom, his arrival in Enthilen has been engineered by Malphas, a cruel, exiled ruler who needs to capture Tom to bring forth an endless tyranny. Tom is befriended by a giant stone-grell, Grin. They travel through treacherous lands seeking justice for Jean, but become entangled in the ongoing battle between Erstürmen rulers and Dobunni rebels for control of Enthilen.
With the help of rebels Jacob and Athalee, and a mouldewerp called Dwarrow, Tom fights to evade the pursuit of the merciless Malphas. Time is running out to find Jean's killer before Tom succumbs to nefarious forces. Will he deliver justice, or will the opportunity be lost forever? Set in a complex world of unique lands and creatures, When Darkness Descends blends mystery and adventure in a fast-paced, epic fantasy.
At just five years of age, Tom Anderson witnesses his Nanna being murdered by a bad man as he sat under the bed cowering. When the man wearing chain mail had finished he told Tom to keep the item safe that is in his and his Nanna's safe place, but the only item he can think of is a book.
Years later now a teenager, and after having numerous visits from his deceased Nanna, Tom meets a mysterious old woman who talks gibberish to him and gives him a black pebble which transports him to Enthilen, his storybook world, where it would appear the characters are real. Here he goes in search of his nanna's killer.
I found When Darkness Descends quite a difficult read. Not because of the writing which flowed with ease, or the world-building, which was amazing and very imaginatively created. But because I have trouble reading fantasy books as most of the plots tend to go over my head and I have a habit of losing my way which then makes me have to re-read sections.
I loved the build-up to the fantasy section and Tom was a wonderful character who was a little nervous and unsure of himself, mostly to be blamed on him witnessing his beloved Nanna be killed at such a young age and people, including his father, not believing the events that killed her.
I find that sometimes it is good to step outside your comfort zone and this is what I did with this book. The book was full-on and included numerous twists to the plot. There were some topics that you find in the world today that were interwoven in the story creating a deep and meaningful vibe to it.
Overall, I don't think this is a series that I will continue with due to having to re-read sections and concentrate so hard. It is, however, adventurous, mysterious, and fascinating and if you enjoy fantasy novels then this is certainly one to pick up.
Purchase Online From:
---
What did you think of 'When Darkness Descends'? Share your thoughts in the comment section below!
---
The above links are affiliate links. I receive a very small percentage from each item you purchase via these link, which is at no extra cost to you. If you are thinking about purchasing the book, please think about using one of the links. All money received goes back into the blog and helps to keep it running. Thank you.
Like us on Facebook – Tweet us on Twitter – Pin us on Pinterest