The Last House on Needless Street by Catriona Ward – Book Review
The Last House on Needless Street by Catriona Ward – Book Review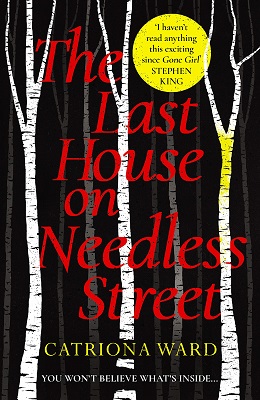 The Last House on Needless Street
Author – Catriona Ward
Publisher – Viper
Pages – 352
Released – 18th March 2021
ISBN-13 – 978-1788166164
Format – ebook, paperback, hardcover
Rating – 4 Stars
I received a free copy of this book.
This post contains affiliate links.


Synopsis
This is the story of a murderer. A stolen child. Revenge. This is the story of Ted, who lives with his daughter Lauren and his cat Olivia in an ordinary house at the end of an ordinary street.
All these things are true. And yet some of them are lies.
You think you know what's inside the last house on Needless Street. You think you've read this story before. In the dark forest at the end of Needless Street, something lies buried. But it's not what you think…
Told from various viewpoints, including a cat called Olivia, The Last House on Needless Street is a chilling and at times disturbing story of a recluse called Ted who has mental health issues and has periods of time he doesn't remember.
Ted lives alone in the house on Needless Street, except for his cat and when his daughter Lauren comes to visit. Lauren is like an explosion. She causes so much noise and mess and hates the cat, which in turn hates her too.
We also meet Dee whose younger sister Lulu went missing when she was a child from a day at the lakes. Not long after her disappearance Dee's mother left and then her father died and so she has been all alone since her teenage years. She is determined to find out who took Lulu and Ted was one of the original suspects, though his house was searched and nothing turned up and he had an alibi, but that won't stop her delving deeper.
The book has a gothic feel to it. The atmosphere radiates from the pages and the writing draws you into the strange and unusual life of Ted and yet it is so intriguing. I was a little surprised to see chapters from the POV of Ted's cat at the beginning and didn't think they would work in a book like this, but I was so wrong. The cat has plenty to say and is very wise.
The plot is very twisty and you have to stay with it. This is a book that is going to be a bit like marmite, you will either love the weirdness and mild horror/gothic thriller feel to it or you will think it is too out there and hate it. All I can say is that it is certainly captivating and the pieces of the puzzle fall into place the more you learn about the characters, though make sure you are paying attention as you just might miss some!
---
What did you think of 'The Last House on Needless Street'? Share your thoughts in the comment section below!
---
The above links are affiliate links. I receive a very small percentage from each item you purchase via these link, which is at no extra cost to you. If you are thinking about purchasing the book, please think about using one of the links. All money received goes back into the blog and helps to keep it running. Thank you.
Like us on Facebook – Tweet us on Twitter – Pin us on Pinterest