Of Ink, Wit and Intrigue by Susan Cooper-Bridgewater – Book Review
Of Ink, Wit and Intrigue by Susan Cooper-Bridgewater – Book Review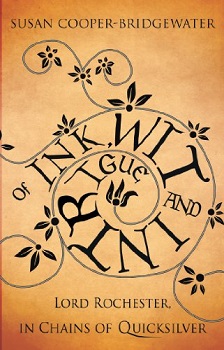 Of Ink, Wit and Intrigue
Lord Rochester, in Chains of Quicksilver
Author – Susan Cooper-Bridgewater
Publisher – Matador
Pages – 248
Release Date – 28th February 2016
Format – ebook, paperback
Reviewer – Stacey
I received a free copy of this book
Post Contains Affiliate Links

Of Ink, Wit and Intrigue is a quirky historical fiction, weaving known facts in the life of one of England's most notorious wastrels, wits, poets and libertines, John Wilmot, Second Earl of Rochester (1647-1680), with invented episodes, both bizarre and plausible.
The book characterises the life of this infamous and fantastical man, and those of his meritorious wife and beloved children, his friends and his enemies. It also portrays his romantic infatuation and adoration for his mistress, the celebrated actress Mrs. Elizabeth Barry.
Rochester vividly narrates the intimate events of his odd and audacious life, in England and abroad. His story reveals his associations with all ranks of people and all manner of places and buildings, including London, the idyllic Cotswolds of his birth, Dorset and Somerset. Many of the locations in his story are still evident today, wherein his extraordinary spirit lives on.
Of Ink, Wit and Intrigue is a unique novel, recounted with candour, that invites the reader into Rochester's inimitable life. It will appeal widely to anyone with either a passing or a keen interest in the infamous times of England's seventeenth century and its people – as well as fans of historical fiction in general.

The Earl of Rochester was an eccentric man who had an eye for the ladies, amongst many other things. He lived a very lavish, self-indulgent lifestyle, especially for the period. This book is his life.
The book reads like a diary, told by the Earl himself, from the day he was born to the day he died and beyond. The book also weaves together facts with fiction. There are many tales about the Earl's unconventional life that will have you dumbfounded, thinking that it most possibly couldn't be true, only to google about the Earl himself, and find that he actually really was that 'sort' of man.
The author has clearly spent a good many years doing her research for this book, and I commend her for her excellent knowledge base, and being able to create such a detailed book about one mans life.
Whilst intrigued by the book, and quite a lot of Rochester's life, I found I had a love-hate relationship with the man. He certainly gives us an entertaining story with his encounters and recklessness, whilst at the same time I found myself disgusted with his lifestyle, which even by today's standards would be heavily frowned upon. I also couldn't get that connection with him, like I do with the main character in most other books.
The book itself though is beautifully written, but I found it hard to read. There were a lot of the historical details that I struggled with, and I'm ashamed to say, that at times I did lose interest in the story, but this is down to me and not the great tale that the author has written. There are also a lot of secondary characters in the book. To help with remembering who is who, there is a list at the back of the book, along with a family tree.
Unfortunately I'm just not that interested in the history of that period, so I spent a long time reading it as I had to read small sections at a time.
If you love a good historical book, with an outlandish, yet fabulous character, then Of Ink, Wit and Intrigue is the book for you.
Book Reviewed by Stacey
Purchase Links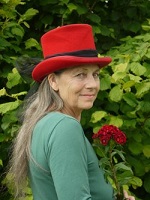 Susan Cooper-Bridgewater is Leicestershire born and bred, and that shire is still her home. At the age of 15, on leaving school, she was employed as a legal secretary in the City of Leicester. After a gap year as a groom in her 20s, (she loves animals, especially equines), Susan then continued in the legal profession for most of her working life.
She has for many years held a curiosity for England's colourful history, with particular emphasis on the Restoration period and its people. Her research into that era over many years culminated in her Lord Rochester novel, along with published articles. Her works appeared in 2011 and 2013 volumes of 'Oxford University Press Notes and Queries Journal', her subjects being the infamous Lord Rochester and the celebrated actress Anne Bracegirdle.
Susan also has unpublished pieces archived in Blenheim Palace at Woodstock, Magdalene College in Cambridge and in the Library Catalogue of Trinity College in Cambridge.
Author Links