The Exes in my Glass by Lisa Mattson – Book Review
The Exes in my Glass by Lisa Mattson – Book Review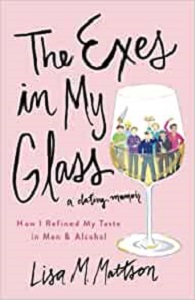 The Exes in my Glass
How I Refined My Taste in Men & Alcohol
Author – Lisa M. Mattson
Publisher – Pronoun
Pages – 256
Release Date – 7th January 2016
Format – ebook, paperback
Reviewer – Julie
I received a free copy of this book
Post Contains Affiliate Links

Lisa Mattson thought she'd grow up to acquire a taste for cheap beer and guys named Bubba—not spend her weekends cruising through Napa vineyards in a convertible. When she flees the rural Midwest for the big city in her twenties, she struggles with naivety, insecurity and the double standards of dating, falling for a mind-numbing string of ex-boyfriends that hone her palate and guide her destiny.
Grab a corkscrew and join Lisa on her not-so-straight-and-narrow road to a fabulous life in wine country where her glass—and her heart—are always full. The witty story of her raucous journey from lust to love and beer to wine, The Exes in My Glass: How I Refined My Taste in Men & Alcohol will leave you thirsty to uncork your true potential, too.
The Exes in My Glass: How I Refined My Taste in Men & Alcohol takes Lisa from rural Kansas to South Florida's beaches, the streets of New Orleans and the vineyards of Northern California, from naïve and love-lust while chasing pot-smoking scuba divers, waiters and models, to polished and savvy when pursued by winemakers and pro golfers.
These stories of her ex-boyfriends are about much more than a young woman thirsty for worldliness and starving for love. It's about how someone who had given up on the fairytale found the courage to face her mistakes and take a second chance at living her dreams.
____________________________________________________
This book is for women who have lost hope in the perfect man.
This book is for all the ladies who want to steer a different course.
This book is for survivors of college romance, divorce and the wine cooler era.
This book is for anyone who has struggled with dating judgement and sexual boundaries.
This book will show you the intoxicating power of learning to love yourself, embracing your baggage and never giving up on your dreams.

'The Exes in my Glass' is an autobiographical look at the world of dating by American author, Lisa M. Mattson.
The cover design is bright and cheerful. The title gives a strong hint as to the content and is quirky enough to attract the casual browser. I commend the author for a comprehensive synopsis. There can therefore be little excuse for buying it, if you're not a fan of autobiographical literature, albeit I suspect, with a touch of poet's licence.
We witness the bitter sweet dynamism of Lisa's relationships and can sympathise as each partner bites the dust for one reason or another. She has used the theme of alcohol as a linking device for her encounters and being teetotal, I found the concept quite educational.
The structure of the book allows us to dip into Lisa's life at various points during her transformation from college student to wine industry professional and each time we are treated to a brief résumé to bring us up-to-date regarding her current status. Some of her men seemed ideal husband material however knowing the book had several more chapters to run, a degree of predictability became inevitable.
Mattson is a skilful wordsmith who just about gets away with a repetitive theme by the use of colourful descriptions of her partners to keep her readers engaged. The flow is slightly hampered by the formulaic style and if you are looking for a story with twists, turns and intricacies of plot, this isn't it.
I would define this work as a humorous and at times self-deprecating, tongue-in-cheek chronological journal which would be ideal for a light-hearted holiday read. I found it quite entertaining and award 'The Exes in my Glass' three-and-a-half stars.
Book Reviewed by Julie
Purchase Links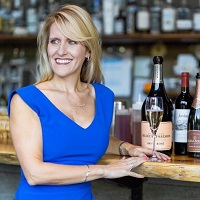 With a bachelor's degree in communications and a master's in heartache, Lisa Mattson's fate to author this book was sealed in elementary school when a snowball fight with her first boyfriend landed him in the hospital. He dumped her the following day.
Raised in rural Kansas, Mattson's childhood was filled with cheap beer and fried chicken—an ideal foundation for a career promoting prestige wineries. Many nights spent raccoon hunting also prepared Mattson for her first journalism job writing obituaries for a daily newspaper. She escaped to Florida during college, where she chased boys and caught rays while waiting tables. Not long after taking her first wine class at Florida International University, Mattson was sipping malbecs and editing stories for a wine magazine.
Twenty years and many ex-boyfriends later, Lisa Mattson is considered a thought leader in wine marketing, known for creating an award-winning winery blog, clever videos and compelling digital media content. Taking the not-so-straight-or-narrow road to finding her dream job and her dream guy was the most fulfilling—and humbling—journey of her life.
The Exes in My Glass: How I Refined My Taste in Men & Alcohol is her memoir. She resides in Sonoma County wine country with her husband, their Italian greyhound and a Champagne-centric wine collection.
Author Links
www.lisamattsonwine.com
@lisamattsonwine
Facebook
Instagram
Goodreads