The Writing Life of: Joy Mutter
Joy Mutter
This week on 'The Writing Life of:' I am thrilled to be interviewing author Joy Mutter. Joy will be sharing with us detail of her writing life, telling us all about her latest book 'The Hostile', which was released on 27th April 2016 and answering a few fun questions too. Post contains affiliate links.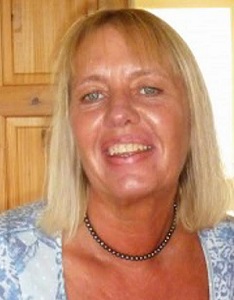 Joy Mutter grew up in Jersey in the Channel Islands. After gaining a graphic design degree, she moved to Kent, married and worked as a professional graphic designer for over twenty years until her divorce in 2002. She moved to Oldham in 2012 and has been writing full-time ever since.
Over the past few years, Joy has written, designed and published eight books; seven are fiction and one is non-fiction. All of her books are available on Amazon in paperback and Kindle editions.
The Hostile and Her demonic Angel and other short stories are also audiobooks, narrated by Joy. Actor Toby Van de Peer is currently working on narrating her favourite book, Random bullets so that it can also be released as an audiobook.
---
1) Do you remember the moment you decided that you would like to become a writer?
Young Joy yearned to be an author and wrote copious stories and poems. I read books way beyond my age and won the poetry cup at school. I have always had the desire to give readers as much pleasure as so many authors of different genres have given to me. I would dream of writing books full-time, yet never thought it would become a reality. I am still in shock at having achieved my ambition at the age of sixty.
2) How did you go about following your dream?
For decades I had no spare time to write, being too busy looking after my husband and daughter on a smallholding in Kent whilst running a graphic design business. I gave up graphic design in 2002 following my divorce. After a few crazy years reinventing myself, I knuckled down to write seriously in 2007. I have never stopped since and have no intention of doing so.
In my fifties, I worked in a call centre in Tunbridge Wells for five years, writing in my spare time. None of my books had as yet been published. In 2011, my back gave out. I was medically discharged from work after being told that my back condition was incurable. Never having claimed any benefits, I was not about to start. I opted to try to turn a negative into a positive. My daughter was working in Stockport, so I boldly decided to sell my terraced house in Kent and move north to Oldham to write, despite never having visited the area.
I am surviving solely on the financial difference between my old home in Kent and this cheaper, yet superior, house in Oldham. A change of job took my daughter back south a year later, so I am alone. Living alone in an unfamiliar place can be viewed as an advantage, because writing is an insular occupation.
I met Diane at a local writing group. She gave me the encouragement and confidence to self-publish. I enjoyed the Createspace and KDP process so much that to date I have self-published eight books on Amazon, all under my own name. Book nine is progressing well.
3) Is there a particular author that inspires you?
I have my own voice but that voice must have been subconsciously influenced by the multitude of other authors of most genres that I have enjoyed over the decades.
I have developed my own style through reading widely. I have never consciously tried to emulate any of them, nor would I ever wish to.
4) What is your average writing day like? Do you have any strange writing habits?
I like to write, edit, design, publish and market my books between 11 a.m. and 6 p.m. each day, including weekends and Bank Holidays. My evenings are often used for marketing. I have nothing to distract me from devoting my life to writing, which is how I have managed to publish eight books in a comparatively short space of time.
Marketing my books sucks up too much of the day, but it is a necessary evil due to the market being awash with authors. Making myself heard above the roar of so many authors trying to market their books is a gargantuan, frustrating task, as I have scant spare money or any outside help. The difference between book marketing and mowing the lawn is that I see results after mowing the grass and it's less tiring.
I aim to write 2,000 words a day on the first draft, but have been known to occasionally write up to 5,000. I have recently redesigned the covers of each book in all formats and republished all eight. Designing my book covers and interiors has been an enjoyable opportunity to utilise my twenty years working as a graphic designer.
As a comparatively unknown author, I currently give away more free Kindles, paperbacks in Goodreads Giveaways, free promo codes for my audiobooks, than I sell. It is early days as my first books were published in July 2015. Come what may, I am determined to carry on writing. It is in my blood.
5) Do you write Longhand, Type writer, Computer?
I prefer using a laptop because I often like to reorganise chunks of my books during edits. I edit each book at least four times and it is much easier to use a laptop. I made eight drafts of The Lying Scotsman.
I always carry a notebook to jot down ideas and there's one by my bed. I recently had to buy a new laptop, not before time. I was fed up with having to repeatedly hammer the 'p' key before it cooperated.
6) From all your books, do you have a favourite character?
It would have to be Edward in Random Bullets because I too know what it feels like to be disinherited by a parent. I hasten to add that I would never act the way he did in the book.
In February, I was interviewed for BBC Radio 4's 'Analysis' programme on the subject of 'Inheritance'. Two BBC producers travelled from London to Oldham to record the interview after hearing about why I had written Random Bullets. I think my #disinheritance tag on Twitter brought me to their attention. I was honoured to share the radio programme with our ex-Prime Minister, David Cameron, and Toby Young amongst several other celebrities.
7) Do you plot your books completely before hand or do you let your imagination flow whilst in the writing process?
My fiction work is often triggered by one central idea. The Hostile came about solely because of a strange object in my house. The prompt to write Random Bullets was a chance remark from my sister concerning our father's will.
I allow the characters to mostly dictate the ebb and flow of a book. I am usually as eager to know what will happen as the reader. So many of the most successful elements in my books come about by chance, through allowing the characters speak to me. I have a general, central idea but often the characters dictate the direction of the story as they develop during the writing. At times it has felt as though the characters are writing the book, not me. I am merely their portal and mouthpiece.
My memoirs in The Mug trilogy were different; I had to stick to facts and there was a predetermined plan. Living with Postcards is structured because it is non-fiction. If I ever decided to construct a hard and fast plan for a fiction book, I know that ideas would start firing off and take me into unexplored territory; the plan would end up in the bin.
Concerning your latest book: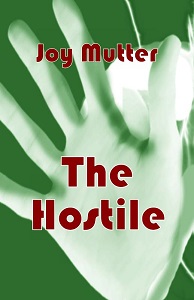 The Hostile
Author – Joy Mutter
Publisher – CreateSpace
Pages – 196
Release Date – 27th April 2016
Format – ebook, paperback, audio

In a rundown area of Manchester, inside a bathroom in a small terraced house overflowing with children and dysfunctional parents, an unfathomable, powerful entity befriends young Serena with disastrous effect.
The enigmatic force not only dramatically affects introverted Serena's life, but threatens the well-being of everyone she knows, especially those people who for some reason have earned the strange girl's displeasure. It soon becomes clear that nobody should ever upset Serena if they know what's good for them.
After reading The Hostile, you will never look at D.I.Y. in the same way again. The Hostile is an offbeat contemporary thriller with a sprinkling of paranormal.

8) How long did it take to get from the ideas stage, to the date of publication?
On average, it takes about six months for me to write and publish a book. I am usually thinking up ideas for the next book whilst finalising the WIP.
9) Did you suffer from writer's block at any stage? How did you overcome it?
I fortunately have never suffered from that problem. If I ever did, I would question whether the book I was writing was worth writing. If I found it too difficult to write, there's a chance the reader might not enjoy it. One of the main reasons for me writing is to transfer the thrill and enjoyment I experience through writing to the reader.
10) How did you come up with the name(s)for your lead character(s)?
The names seem to spring up in my brain to fit the character but I also research names on the internet if they are foreign.
11) If your book was made in to a film, who would you love to play the lead character(s)?
I think that James Nesbitt would make an excellent Keith in The Hostile, especially as Keith has Irish roots.
12) Did you get anyone in particular to read your work before sending it to the publisher i.e family member, friend etc?
My mother is my harshest critic and has been invaluable. I have taken many of her criticisms on board. My style has improved because of changes she has suggested.
My daughter is a deputy editor on a magazine and has been a journalist for years and has also been very useful throughout. Diane from my old writing group has been a huge help as she gave me the confidence to self-publish in the first place.
Author Links