Knives and Knightsticks by K. Lew & C.R. Lockhart – Book Review
Knives and Knightsticks by K. Lew & C.R. Lockhart – Book Review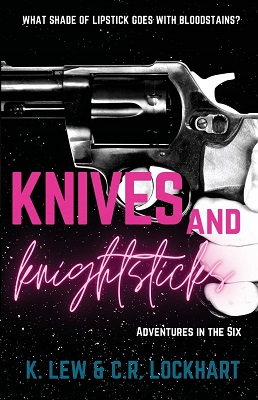 Knives and Knightsticks
Adventures in the Six Book One
Author – K. Lew & C.R. Lockhart
Pages – 269
Released – 19th March 2021
ISBN-13 – 978-1777616311
Format – ebook, paperback
Rating – 4 Stars
I received a free copy of this book.
This post contains affiliate links.


Synopsis
What shade of lipstick goes with bloodstains?
Sadie and Zoey, best friends and sharers of shoes, have both lost their jobs for Very Bad Reasons. Sadie ditched her lawyer boyfriend (who happened to be her boss) and Zoey followed her nose into a story that shattered her burgeoning career as a journalist.
When the story that destroyed Zoey's career lands her next to a dead body, Sadie's new job at the police station makes for the perfect spy. Unravelling the mystery proves to be more dangerous than expected, and the two find themselves wedged between romance, organized crime and deciding what shoes go best with a stakeout.
Knives and Knightsticks was so much fun to read, Sadie and Zoey are best friends that are all about loyalty, fun, romance and making terrible decisions.
Both of them are at a crossroads in their lives, Sadie has just broken up with her abusive boyfriend/boss and Zoey has found herself blacklisted as a journalist after a story she wrote ruffled some feathers.
One thing leads to another and Zoey ends up discovering a body which may be connected in some way to the story that ended her career. Instead of letting it go like a sane person, she runs headlong into danger in an effort to find out what's going on. Sadie doesn't stop her from pursuing her plan so much as temper her ideas into something a little safer, which is one of the sweetest things about this book. She knows that her best friend is a larger than life personality and loves her for it rather than despite of it.
They're both hilarious, very realistic characters, and their friendship is a goal!
The two best friends happen to fall for two incredibly hot cousins, which I didn't manage to enjoy fully because the story treads the line between cosy mystery and something darker so I couldn't fully root for the romance storyline without knowing how it was going to end, even if I was getting all kinds of fuzzy feelings watching the relationships develop.
This book ticked all the boxes I needed in a book right now – women saving the day, funny female friendships, and a good mobster mystery.
Purchase Online From:
---
What did you think of 'Knives and Knightsticks'? Share your thoughts in the comment section below!
---
The above links are affiliate links. I receive a very small percentage from each item you purchase via these links, which is at no extra cost to you. If you are thinking about purchasing the book, please think about using one of the links. All money received goes back into the blog and helps to keep it running. Thank you.
Like us on Facebook – Tweet us on Twitter – Pin us on Pinterest – Join us on Instagram