Maximum Rossi by Paul W. Papa – Book Review
Maximum Rossi by Paul W. Papa – Book Review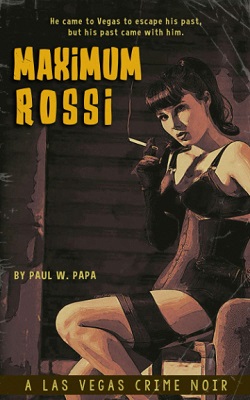 Maximum Rossi
A Las Vegas Crime Noir
Author – Paul W. Papa
Publisher – STACGroup llc
Pages – 233
Released – 24th January 2020
ISBN-13 – 978-1734405736
Format – ebook, paperback
Rating – 5 Stars
I received a free copy of this book.
This post contains affiliate links.


Synopsis
He tried to escape his past, but his past came with him.
When a game of high-stakes poker turns into a boxing match, Massimo "Max" Rossi, the son of mob "fixer" Boston Rossi, winds up with more than he bargained for. All eyes turn to him when the police find his opponent, a hitman from Chicago, dead. And if that isn't bad enough, his only alibi–the dead man's girlfriend–is missing.
Now, if the cops don't get him, the mob will!
Rossi is in the struggle of his life, where every turn brings him closer to an untimely end. He's got to find the girlfriend before his time runs out. But in fledgling Las Vegas, time is an abstract concept, and people can hide almost anywhere.
We all love the familiar and that is exactly what Paul W Papa has created with Maximum Rossi, a story of organised crime in Las Vegas written in a classic Crime Noir style. Although we are not told the time period involved, from the cars and music it would appear to be set in the mid-1950s.
As expected for the genre the story is narrated in the first person by the protagonist Max Rossi, the son of an Italian immigrant "fixer" who had a successful career tidying up after gangland murders in New York and Chicago. Max has moved to Las Vegas in an attempt to escape from a life linked to organised crime. Unfortunately for him the New York and Chicago mobs see Las Vegas, the growing gambling centre of the USA, as ripe for picking and rivalry is building over control of the casinos.
In true Crime Noir style Papa shows his skills by not just what he tells us but also what he does not tell us. Despite being constantly in Max's head there are several basic things that we never learn about him; maintaining the mystery and fascination. For example, how does he support himself and if he is so keen to live a quiet life why does he spend so much time in the casino?
I read Maximum Rossi in a matter of hours and despite the familiarity of the genre Papa kept me totally entranced. His writing style is comfortable, the various characters were a believable mix and the plot was intriguing. I picked up a bit of a clue as to the culprit but the denouement still included enough curve balls to make it all very interesting.
The end of the book hints at further adventures and I note that a second book, Rossi's Gamble was published in August 2020. It will be interesting to see if Paul W Papa can maintain the standard because I have awarded Maximum Rossi a maximum five stars.
Purchase Online From:
---
What did you think of 'Maximum Rossi'? Share your thoughts in the comment section below!
---
The above links are affiliate links. I receive a very small percentage from each item you purchase via these link, which is at no extra cost to you. If you are thinking about purchasing the book, please think about using one of the links. All money received goes back into the blog and helps to keep it running. Thank you.
Like us on Facebook – Tweet us on Twitter – Pin us on Pinterest – Join us on Instagram