Sugar and Snails by Anne Goodwin – Book Review
Sugar and Snails by Anne Goodwin – Book Review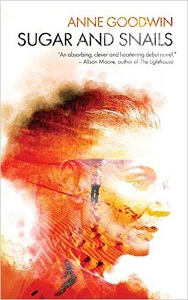 Sugar and Snails
Author – Anne Goodwin
Publisher – Inspired Quill
Pages – 330
Release Date – 23rd July 2015
Format – ebook, paperback
Reviewer – Marcia
I received a free copy of this book
Post Contains Affiliate Links

The past lingers on, etched beneath our skin … At fifteen, Diana Dodworth took the opportunity to radically alter the trajectory of her life, and escape the constraints of her small-town existence.
Thirty years on, she can't help scratching at her teenage decision like a scabbed wound. To safeguard her secret, she's kept other people at a distance… until Simon Jenkins sweeps in on a cloud of promise and possibility. But his work is taking him to Cairo, and he expects Di to fly out for a visit. She daren't return to the city that changed her life; nor can she tell Simon the reason why.
Sugar and Snails takes the reader on a poignant journey from Diana's misfit childhood, through tortured adolescence to a triumphant mid-life coming-of-age that challenges preconceptions about bridging the gap between who we are and who we feel we ought to be.

'Sugar and Snails' is quite an emotional book that deals with tough and often taboo subjects including self harm and psychological issues relating to gender.
It is the story of a one woman's forty five year journey to find, and make peace with herself.
Di is a lecturer in psychology at university. She is not comfortable in her own skin and only allows a select few to get reasonably close to her, while still keeping the biggest part of herself a secret.
The story switches back and forth between the present day and Di's past. I found the linking from the present to the past just right, and that the transition was mostly done seamlessly. There were enough past memories throughout the book to allow the reader to get a clear picture of why Di feels the way she does about herself.
This is an impressive début novel by Anne Goodwin. The pace of the book was just right and I found it easy to read as the words flowed naturally. I felt by the end of the book that I knew Di completely as she grew on me the more I learnt about her history.
All the characters were beautifully written and believable and I got a clear image of each of them in my head.
The story is told in such a way that I could not help but be self reflective and I certainly feel that I have learnt something about the issues addressed, despite it being as a work of fiction.
Sugar and Snails is a fantastic book that I'm sure you will love.
Book Reviewed by Marcia
Purchase Links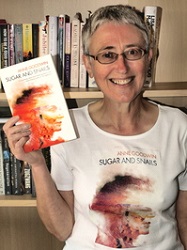 Anne Goodwin loves fiction for the freedom to contradict herself and has been scribbling stories ever since she could hold a pencil.
During her career as an NHS clinical psychologist her focus was on helping other people tell their neglected stories to themselves. Now that her short fiction publication count has overtaken her age, her ambition is to write and publish enough novels to match her shoe size.
Author Links