A Stolen Memory by David Beckler – Book Review
A Stolen Memory by David Beckler – Book Review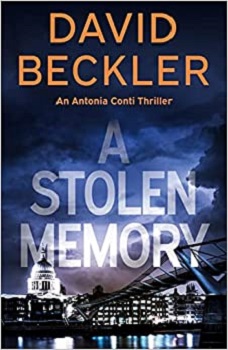 A Stolen Memory
Antonia Conti Book Two
Author – David Beckler
Publisher – Thomas & Mercer
Release Date – 19th January 2023
Pages – 447
ISBN 13 – 978-1542034708
Format – ebook, paperback, audio
Star Rating – 4.5
I received a free copy of this book.
This post contains affiliate links.

Synopsis
This time there's more at stake than just her life―now they want to take her past.
London, the near future. GRM, a shadowy company running private prisons, has introduced a programme to alter prisoners' memories, removing those that led to their criminal behaviour. When journalist Antonia Conti hears rumours that the technology has deadly side effects, she decides to investigate.
Antonia has looked into GRM's corrupt dealings with the government before, and when a stolen lorry ploughs into a whistle-blower's car, leaving him dead and her trapped in the burning vehicle, she's convinced GRM are responsible. Enlisting her old friend DI Russell Chapman to check out the supposed 'accident', she discovers that he's already investigating three other deaths that appear suspiciously linked to her own investigations.
The deeper Antonia probes, the more her friends and colleagues are at risk. Whatever sinister experiments GRM are conducting, they are determined to keep them secret. By any means necessary. Can Antonia and Chapman thwart them before anyone else loses their life? Or their mind?
A Stolen Memory is book two in the Antonia Conti series. Whilst some may say this can be read as a standalone, I disagree, to fully understand Antonia, her mission, the dystopian world she lives in, and who GRM are you need to read book one 'A Long Shadow'.
In this second book Journalist Antonia Conti is looking into GRM again, this time it is their experiments on prisoners that has been brought to her attention. It has been alleged that GRM is altering the prisoner's memories which in return stops their criminal behaviours – Sounds like a win, win for society until you realise that GRM is a shady company and altering the memories isn't where they are going to stop, not now they have the technology.
Just like in the first book, Antonia finds herself in hot water with GRM trying to stop her investigations, plus she is also back working with DS Chapman.
A Stolen Memory is an edge-of-your-seat drama. It has short chapters, which I love, and which quickens the pace of the book, making it fast-paced from beginning to end. The characters are likeable, stubborn, determined, and clearly have a death wish. Whilst most people would have walked away given how in danger their lives are not Antonia or Chapman.
The plot does cause some moral dilemmas in which you have to work out whether it is a good or bad thing for criminals to have their minds altered meaning they can't commit crimes again. Is this a good thing for society given it would mean less crowding in prisons and less reoffending or is this against a person's human rights? You get to decide that for yourself.
Another fabulous thriller from David Beckler. I now can't wait for book three, A Nuclear Reaction, due to be released in May.
---
Purchase Online:
David Beckler

I write fast-paced action thrillers populated with well-rounded characters.
Born in Addis Ababa in 1960, I spent my first eight years living on an agricultural college in rural Ethiopia where my love of reading developed. After dropping out of university I became a firefighter and served 19 years before leaving to start my own business.
I began writing in 2010 and use my work experiences to add realism to my fiction.
The Mason and Sterling series centre on two ex-Royal Marines, Byron who now runs a security company and Adam who is a firefighter. A strong cast of characters support my protagonists. Long Stop Books published Brotherhood, the first novel in the series, in September 2019 and the second, The Profit Motive, on December 16th 2019. The third, Unprotected, will come out in 2021. Brotherhood is set in Manchester and The Profit Motive in Manchester and Wenzhou, China.
I live in Manchester, my adopted home since 1984. In my spare time I try to keep fit—an increasingly difficult undertaking—listen to music, socialise and feed my voracious book habit.
Author Links:
---
The above links are affiliate links. I receive a very small percentage from each item you purchase via these links, which is at no extra cost to you. If you are thinking about purchasing the book, please think about using one of the links. All money received goes back into the blog and helps to keep it running. Thank you.