Not That Kind of Ever After by Luci Adams – Book Review
Not That Kind of Ever After by Luci Adams – Book Review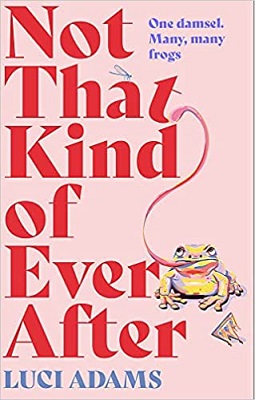 Not That Kind of Ever After
Author – Luci Adams
Publisher – Piatkus
Release Date – 16th February 2023
Pages – 464
ISBN 13 – 978-0349431130
Format – ebook, paperback, audio
Star Rating – 4
I received a free copy of this book.
This post contains affiliate links.

Synopsis
One damsel + one wolf + many, many, many frogs = DISTRESS
Gloriously fun, romantic and feel-good, discover a 21st century London fairytale with an unforgettable twist . . .
Bella Marble is a true, hopeless, despairing romantic. Above all things, even above her wish to be a writer, she wants love.
But when her beautiful best friend moves out of their flat share to live with the most boring ogre in history, and her perfectly paired parents tell her their own love story is coming to an end, Bella's illusions of a happily ever after start to shatter. If they can't find 'the one', what chance does she have?
Disenchanted, Bella throws herself into looking for love in all the wrong places. London may be fresh out of knights in shining Armani, but it's got a surplus of frogs – and as Bella learns, kissing frogs can be extremely fun.
But Bella is forgetting the essential rule of all fairytales.
There is nothing more powerful than a first kiss . . .
Bella Marble is set on finding her perfect match. She wants the fairy-tale romantic lifestyle and she is determined to make her dream come true, including taking desperate measures such as leaving a shoe on the dance floor hoping that Prince Charming will find it and once he has fitted it on her foot they will fall madly in love – The End!
Unfortunately, the world doesn't really work like that and Bella soon discovers that she is going to have to kiss a lot of frogs before her one true love comes along.
Not That Kind of Ever After is both amusing and touching at the same time. Bella is an interesting character. Late 20s, works for a publisher but dreams of being a writer. She writes short stories about her flings with men and gives them fairy-tale-ish titles. She lives in a house share with unusual residents including her best friend until she moved out and in with her ogre of a boyfriend who Bella hates and the feeling is mutual.
The book is quite surreal and certainly satirical. It is also very predictable. Did this stop me from loving it? No. I enjoyed every page. It had me giggling along at Bella's antics and her stories. It also gave me some good light relief. This is a book that once I started I didn't want to put down and I rushed through it.
---
Purchase Online:
Luci Adams
Leaving LAMDA for Leeds and graduating with a first class degree in Maths, Luci spent her early career torn between creativity and logic until she realised it's possible to do both.
She started out life in the tax world before swiftly seeing the light. She has since worked copywriting social posts for Apple Music, assisting with Amazon and BBC productions at Working Title Television and now works as an analyst at the Guardian by day whilst writing tales of heartbreak, adventure and truly terrible dates by night.
She lives in leafy St Albans and when she's not writing, she spends her time drawing, baking and exploring the countryside with her little puppy.
Author Links:
---
The above links are affiliate links. I receive a very small percentage from each item you purchase via these links, which is at no extra cost to you. If you are thinking about purchasing the book, please think about using one of the links. All money received goes back into the blog and helps to keep it running. Thank you.