The Continued Times of Isabella M Smugge by Ruth Leigh – Book Review
The Continued Times of Isabella M Smugge by Ruth Leigh – Book Review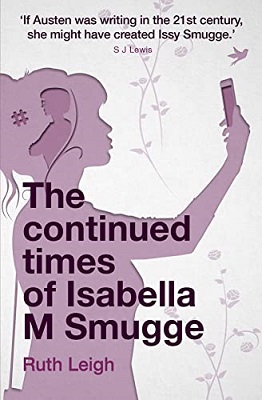 The Continued Times of Isabella M Smugge
Isabella M Smugge Book Three
Author – Ruth Leigh
Publisher – Instant Apostle
Release Date – 21st October 2022
Pages – 261
ISBN 13 – 978-1912726608
Format – ebook, paperback
Star Rating – 5
I received a free copy of this book.
This post contains affiliate links.

Synopsis
Now in her third year of living the rural dream, starry Instamum Issy Smugge is up against it. A single parent of four with an award-winning brand, a gin-swigging mother convalescing upstairs and a distraught relative craving a shoulder to cry on, her diary and listed Regency home are bursting at the seams!
Of course, she can count on lively support from the colourful playground mums – and then there's always Tom, the startlingly good-looking vicar, and his angelic wife, Claire.
But as pressure begins to mount, long-buried memories surface and difficult decisions need to be made. How will our heroine cope with painful emotions? (Clue: no filter!) And when the influencer needs influencing, who will show her the way?
'The Continued Times of Isabella M Smugge' is the third book in this series by British-based author, Ruth Leigh. This volume follows the same format as Issy Smugge's previous outings. She remains a successful influencer and continues to share lifestyle advice with her devoted followers.
We join Issy as she juggles a busy work schedule with being a single parent of four children as well as having her ailing mother living with her. Her popularity shows no sign of waning as her content continues to be relatable. As before, we spend just over a year with Issy and family with each month having its own chapter and no opportunity to use an appropriate hashtag is wasted.
I congratulate Ruth Leigh for managing to string together sufficient material to produce another entertaining read. I enjoyed Issy's continued exploration of spirituality and appreciated her attempts to reach a deeper empathy with friends and family. Inevitably, she
cannot resist the temptation to share detailed descriptions of every meal she makes and every product she uses or to remind us all how caring she can be. The irony certainly isn't subtle but it is highly amusing.
As this is the third book in the series, there is of course the danger of the concept becoming stale so I was pleased the author has introduced some new thought-provoking layers to her story. She plants Issy firmly in the sandwich generation with the mood swings of her
adolescent son to cope with, as well as managing the demands of her ultra-critical mother. The changing face of the family dynamic also makes Issy examine issues from her past and re-evaluate her future. I'm sure the bitter sweet scenes will strike a chord with many readers.
The author's ability to use some delightfully flowery prose to enhance her tale is enviable. I have enjoyed seeing how Issy's inner strength and independence have grown however, I'm not sure there is sufficient mileage in the concept to revisit The Old Rectory in the immediate future but I'll be very happy for the author to prove me wrong. I have no doubt this well-written book will be well received by Ruth Leigh fans and I award five stars.
---
Purchase Online:
Ruth Leigh

Ruth is a novelist and freelance writer who lives in beautiful East Suffolk along with three children, one husband, a kitten, two budgies, six chickens and two quail.
She's been writing content and blogs for charities and small Suffolk businesses for the last thirteen years and loves adding value with words. She published her first novel, The Diary of Isabella M Smugge, in February 2021.
Ruth learned to read aged four and hasn't stopped since. Her first piece of fiction was produced on sugar paper and written with crayons back in Class Three at primary school. She was surprised and pleased to be given a gold star for it and has hoped for more of the same ever since.
Ruth's freelance clients include several Christian charities, a radio station, a florist, an estate agent and a trainer. There's nothing she likes better than taking some raw data and turning it into a polished piece of prose. Her favourite ever compliment from a client is this. "You can throw Ruth a few bones and she'll produce a delicious bowl of soup."
Author Links:
---
The above links are affiliate links. I receive a very small percentage from each item you purchase via these links, which is at no extra cost to you. If you are thinking about purchasing the book, please think about using one of the links. All money received goes back into the blog and helps to keep it running. Thank you.