The Little Wedding Island by Jaimie Admans – Book Review
The Little Wedding Island by Jaimie Admans – Book Review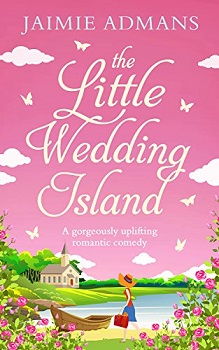 The Little Wedding Island
Author – Jaimie Admans
Publisher – HQ Digital
Pages – 384
Released – 2nd March 2018
Format – ebook
Reviewer – Stacey
Rating – 4 Stars
I received a free copy of this book
Post contains affiliate links.
'Will you… pretend to marry me?'
Bonnie Haskett loves everything about weddings. She loves her job at a national bridal magazine and even has a deposit down on her dream dress. The only problem? She doesn't have a fiancé!
So when Bonnie is sent to Edelweiss Island, known as 'The Little Wedding Island', it's a dream come true. She's heard the rumours, every wedding that takes place in the tiny chapel ends in a happy-ever-after.
But there's a catch! Investigating the story, Bonnie needs to pose as a blushing bride – and the only man up for posing as her groom is her arch rival (and far too handsome for his own good) journalist Rohan Carter…

Bonnie Haskett loves weddings, she even works for the publication 'Two Gold Rings', a magazine all about getting married.
Rohan Carter hates weddings, he works for 'The Man Land', a rival magazine to 'Two Gold Rings', writing under his alias, R.C. Art.
When Bonnie and Rohan have an online argument via Twitter, their bosses are none too happy with them. Their magazine readers are already in decline and their public spat has lost them a few more. To try to get some of their readers back each of their bosses has an idea, to send their reporters off to Edelweiss Island, off south coast UK, and investigate the claims that the church on the island has never married a couple who have gone on to get divorced.
However, the locals on the island have had enough of reporters sniffing around, so there is only one thing for it, the pair are going to have to pretend to be getting married to get the scoop. But is their love really just a pretence?
The Little Wedding Island, is an amusing, uplifting novel that had me smiling the whole way through. Both Bonnie and Rohan are both very likeable in their own way. Bonnie believes in Mr. Right, and love, whereas Rohan has obviously been hurt in the past and doesn't believe there is such a thing as love. Their characters work perfectly together and bounce off one another.
Jaimie Admans has written an amusing Rom-Com. The setting of Edelweiss Island was just gorgeous. The cliff-top views, the adorable B&B, the magnificent church and the 'wedding' street with all the shops you need to create the perfect wedding were so vibrant and written with enough detail that I could picture the island in all its glory.
The Little Wedding Island is just a beautiful book. I was held captivated by the story and once I'd started reading it, I didn't want it to end.
Reviewed by Stacey
---
Purchase online from:
---
About the Author

Hi. I'm Jaimie, I'm in my thirties, and I'm from South Wales, UK.
I write. Quite a lot. I started out self-publishing, but more recently I've been published by HQ Digital and will be querying agents with a YA project this year.
I enjoy writing, gardening, drinking tea, and watching horror movies. I love my Chihuahua – Bruiser, autumn and winter, and singing songs from musicals despite the fact I sound like a dying hyena. I hate spiders, hot weather, and cheese & onion crisps. I spend far too much time on Twitter and own too many pairs of boots.






---