The Never Hero by T. Ellery Hodges – Book Review
The Never Hero by T. Ellery Hodges – Book Review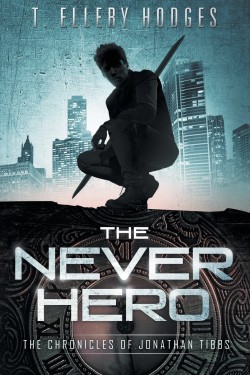 The Never Hero
Author – T. Ellery Hodges
Publisher – Foggy Night Publishing
Pages – 429
Release Date – 12th September 2014
Format – ebook, paperback, audio
Reviewer – Stacey
Rating – 5 Stars
I received a free copy of this book
Contains Affiliate Links

At the gates between worlds…
In a war outside of time…
He fights for us.
Reclusive college student Jonathan Tibbs wakes in a pool of blood, not a scratch on him. His life is about to undergo a massive shift. A violent and merciless otherworldly enemy unleashes slaughter in the streets, calling out in a language only he understands.
And it is seeking its challenger.
In order to defeat the threat, Jonathan must become a temporal weapon… while remaining completely anonymous. Unfortunately, harnessing off-world powers has its own special challenges…
The Never Hero is the first installment in The Chronicles of Jonathan Tibbs — a mind-bending, genre crossing, action-adventure trilogy.

Jonathan Tibbs is just an average, everyday college student studying biology. He lives in a house with three other students, mother-hen Paige, religious Hayden and super heroes-mad, Collin.
After arriving home alone one night, Jonathan is attacked and stabbed in the neck with a syringe by a strange blonde haired man wearing a Fedora, and found lying in a pool of his own blood by his friends.
This is the beginning of his new life, albeit, one that he hadn't chosen for himself, and given the choice, he never would have.
The book is set in the USA and starts off with a fight scene, then goes back in time 7 years to 1996, and then moves forward 9 years in time to 2005, which seems weird and doesn't make any sense, until right near to the end when you realise why.
The plot involves monsters called Ferox coming from another dimension looking for a challenger to fight and kill. There's only one problem with that. The chosen one is Jonathan. He was chosen before he was born, but he is weak and doesn't have any fighting skills, which may just be his downfall.
The book mainly focuses on Jonathan's quest to try to bulk up and learn how to fight and defend himself, whilst at the same time, try to overcome his fear of who and what his life has become. He also needs answers as to why he was selected, but the man – in the Fedora – Heyer, won't give them to him.
T. Ellery Hodges has created a remarkably likeable character in Jonathan. He's a very real young man, dealing with realistic problems, who then gets thrown into this strange and frightening situation. He is trying to deal with it in the best way he can, by keeping active and pushing himself to his limits.
The book makes many references to super heroes, comics and to heroes in films, but the book isn't about Jonathan becoming a super hero. It's about him becoming a stronger, faster, more able-bodied form of himself, in order to keep himself alive and defeat the Ferox, and to enable him to undertake a task that Heyer, has waiting for him.
The secondary characters, especially Hayden and Collin, made me laugh with their banter on "God v's Super heroes", and they even go as far as to create a comic book combining the two.
The Never Hero does have moments of action but I feel that this book is the opening, the back story and the getting to know and understand part of the series. I really did enjoy it and it kept me intrigued right through to the end. I now can't wait until the second book is released.
On a side-note, I was amused at the names that were given to the two Ferox that Jonathan has to fight, 'Sickens the Fever' and 'Dam the Gates'.
Book Reviewed by Stacey
Purchase Links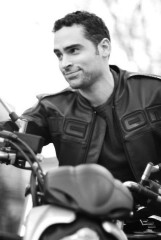 T. Ellery Hodges was born in Sacramento, Ca in 1981. He moved to Seattle at nineteen and received his Bachelors of Science from the University Of Washington.
Somewhere in high school and early college, he gravitated toward writing. Then he forced unsuspecting students, who had made the mistake of taking creative writing during the same period as him, to endure the reading of his short stories.
During his twenties he worked in a laboratory performing drug trials, travelled most of Washington State fixing computers for Apple, sold gym memberships, and helped manage an international supply chain for a chemical distributor. Yet, much like the rest of his generation, he found that he wasn't well suited to doing any type of work for long.
So, he brushed the metaphorical dust off the novel he'd been writing in his head for the last six years. Then, he looked up the definition of 'metaphorical', because he was pretty sure that people who called themselves 'writers' knew that one. He found that there was at least one thing he could endure doing for forty hours per week for the rest of his life.
There is a lesson in all that, about ignoring what you want to do for what you think you should, but this is a biography not a lecture.
Currently, he lives with his wife and son in Seattle. He has two dogs, a Border Collie and a Doberman, Darwin and Dharma, respectively.
Author Links
www.telleryhodges.com
@TElleryHodges
Facebook
Goodreads
Have a read of our interview with T.Ellery Hodges – 'The Writing Life of: T.Ellery Hodges'