Breaking all the Rules by Rachael Richey – Book Review
Breaking all the Rules by Rachael Richey – Book Review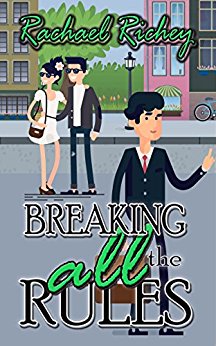 Breaking all the Rules
Author – Rachael Richey
Publisher – The Wild Rose Press
Pages – 316
Release Date – 5th May 2017
ISBN-13 – 978-1509213207
Format – ebook, paperback
Reviewer – Stacey
I received a free copy of this book
Post Contains Affiliate Links

Kate is getting married in a month. Richard, her fiancé, is a lawyer: rich, successful, and very good-looking. She's definitely in love with him. No doubt about that. So when Sam, a good friend and her high school crush, returns after eight years of travelling, she doesn't care. After all, he never actually asked her out, and then he went travelling without her, contrary to their plans.
She only agrees to go to dinner with him in order to hear all his news, so why doesn't she tell him she's getting married? And is he still bothered by the tragedy eight years ago? Sometimes life just gets too complicated, and Kate finds she keeps having Very Bad Ideas, which lead to even more complications. Just three days before her wedding, she finds herself in a situation that demands the biggest decision of her life.

Twenty-six-year-old Kate's marriage to Richard is in four weeks time, not the greatest moment for the man she loved as a teenager, Sam, to come waltzing back into her life.
Sam has been travelling for the last eight years, but has returned to settle down and find a job. The moment the two clasp eyes on one another a spark ignites, but can Kate put temptation and her feelings to the back of her mind, and marry Richard?
Breaking all the Rules, is a humorous chick-lit. It has characters that you will adore, and a flawless plot. Kate, or Katy as Sam calls her, knows that she shouldn't be thinking about her teenage crush the way that she does. She is determined not to let these feelings get in the way of her relationship with Richard. But Richard is so boring, and never around, and Sam is adventurous.
She hates her 'temporary' job, lives at home still, and gets treated like a little child by her mother. She is fed up with being bored! She dislikes her younger sister Vicky, who feels the same. Her best friend since school, Jen, is the voice of reason, a voice that Kate rarely listens too.
Richard is a little snooty, and puts his career as a lawyer first. He even says that he will not turn off his phone when they go away on their honeymoon, much to Kate's disapproval. His parents, his mother mainly, are very condescending, and don't feel that Kate fits in with their family.
Sam is the hunk of the book. He is the gorgeous, tanned man back from his travels around the world. He clearly loves Kate, and I feel that he always has, but something made him run away all those years ago, unfortunately not everything was how it seemed. When he finds out that Kate is getting married, he doesn't try to pursue her, as it is her choice to decide her own future, not his.
The book is warm and funny from the first page to the last, with lots of witty moments scattered throughout. There were some great twists in the book, and plenty of red-herrings to throw you off track. It is a light-hearted, easy read, but one you can really sink your teeth into. If you love chick-lit/romance books, then Breaking all the Rules will be the perfect book for you.
Book reviewed by Stacey
Purchase Links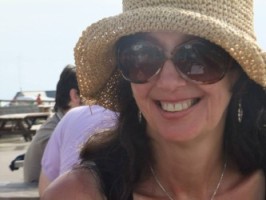 I was brought up in Hampshire, then lived on the Isle of Mull for fourteen years, during which time I met and married my husband David, and had two children.
In late 2000 the family moved to Cornwall where we have lived ever since.
I began writing stories at the age of seven, and have been obsessed with writing ever since.
My debut novel, Storm Rising, is the first in the NightHawk Series, closely followed by Rhythm of Deceit, Cobwebs in the Dark and The Girl in the Painting.
I have signed a publishing contract with the Wild Rose Press for the whole series and Storm Rising, Rhythm of Deceit and Cobwebs in the Dark, are now all available in both e-book and paperback format. The Girl in the Painting is on its way!
Author Links
www.rachaelricheybooks.weebly.com
@rachaelrbooks
Facebook
Instagram
Goodreads
You can find out more about Rachael by reading – 'The Writing Life of: Rachael Richey'.