The Writing Life of: Rachael Richey
Rachael Richey
This week on 'The Writing Life of:' I am thrilled to be interviewing author Rachael Richey. Rachael will be sharing with us detail of her writing life, telling us all about her latest book 'Rhythm of Deceit', which was released on 29th July 2015 and answering a few fun questions too. Post contains affiliate links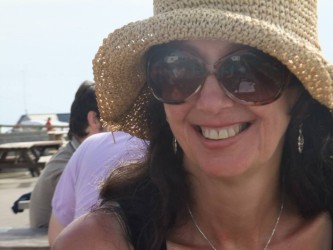 Rachael Richey lives in Cornwall with her husband and children. She writes Women's Fiction, and currently has two books published, Storm Rising the first book in the 'NightHawk Series' and Rhythm of Deceit, book two, released on the 29th July 2015. She has been writing since she was a child, starting with stories about her teddy bears and dolls.
She lived in the Hebrides for nearly fourteen years, having originally gone there to work for the summer season. She met and married her husband David whilst there, and had two children, before moving to Cornwall at the end of 2000.
There are currently four titles in the 'NightHawk Series'.
---
1) Do you remember the moment you decided that you would like to become a writer?
When I was about seven years old. I used to write stories about my dolls and teddies. Certainly by the time I was ten I was sure that was what I wanted to do.
2) How did you go about following your dream?
Throughout my teenage years I wrote reams an reams of stories – not very good ones, but lots of them!
Then other things got in the way and I didn't write much until my children were born, and then it took me quite a number of years before I finally finished a whole book.
3) Is there a particular author that inspires you?
I've always love Daphne du Maurier. I'm a very voracious reader and my taste is quite wide, but I think she will always be my favourite.
4) What is your average writing day like? Do you have any strange writing habits?
Hmm…. difficult one that. I wouldn't say I have an average writing day. I tend to have to fit it in around other things. If I get a day that I can totally commit to writing then I'm quite likely to keep going into the night. I've written some of my favourite scenes at four in the morning!
5) Do you write Longhand, Type writer, Computer?
Computer. Once I'd started using the computer I could never go back to longhand.
6) From all your books, do you have a favourite character?
I suppose Abi from Storm Rising (and its sequels) is probably my favourite, although it's a close run thing! I identify with her the best I guess.
7) Do you plot your books completely before hand or do you let your imagination flow whilst in the writing process?
Oh quite often things happen that I'm not expecting at all! I usually have a basic plan, but it's amazing just what the characters get up to when I'm not paying attention!
Concerning your latest book: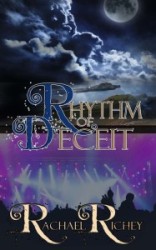 Rhythm of Deceit
NightHawk Series book Two
Author – Rachael Richey
Publisher – The Wild Rose Press, Inc
Pages – 428
Release Date – 29th July 2015
Format – ebook, paperback

Two years after finally being reunited, Abigail Thomson and Gideon Hawk are happily married and living in Cornwall with their children.
While Gideon is busy focusing his energies on his musical career, Abi makes an unexpected discovery of old diaries dating from 1950. As she and her daughter read through them, the reasons behind Abi's mother's destructive actions become much clearer, and they discover a shocking sixty-year-old deception.
Meanwhile, Simon Dean, the vengeful ex-drummer of Gideon's band NightHawk, is about to make life very difficult for them all—again—and he is prepared to go to desperate lengths to achieve his goals.
Have a read of our review of 'Rhythm of Deceit'

8) How long did it take to get from the ideas stage, to the date of publication?
I got the first ideas for the book just before I finished writing Storm Rising (the first in the series). It suddenly came to me that I didn't have to leave those characters after all, and that they had other stories to tell. So from initial idea to publication was about three years two months.
9) Did you suffer from writer's block at any stage? How did you overcome it?
No not really. I had some days that it came easier than others, but most of the time there was no problem. I wrote the whole book in four months so I didn't really have time to have writer's block!
10) How did you come up with the name(s)for your lead character(s)?
No idea, they just came to me. Can't actually remember having to think about it.
11) If your book was made in to a film, who would you love to play the lead character(s)?
Well I won't pretend I haven't thought about this! Aidan Turner would play Gideon and possibly Eleanor Tomlinson as Abi.
12) Did you get anyone in particular to read your work before sending it to the publisher i.e family member, friend etc?
My sister read it as I was writing it and gave me lots of feedback. She was quite critical actually, which was probably a good thing! A few friends and my daughter and husband also read it before publication.
Reviews of Rachael's other books – Storm Rising – Cobwebs in the Dark – The Girl in the Painting and Breaking all the Rules
Author Links
www.rachaelricheybooks.weebly.com
@rachaelrbooks
Facebook
Instagram
Goodreads