Dear Darling by Ellen Faith – Book Review
Dear Darling by Ellen Faith – Book Review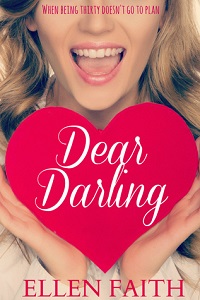 Dear Darling
Author – Ellen Faith
Publisher – CreateSpace
Pages – 386
Release Date – 29th July 2015
Format – ebook, paperback
Reviewer – Stacey
Rating – 5 Stars
I received a free copy of this book
Contains Affiliate Links

'I'm 30 years old and sat celebrating with a greasy pizza and a bottle of cheap plonk.'
On her 30th birthday, Ellie Darling decides that it's time to start a diary. Mainly as a reminder for when she's old and living with cats that she once had a life that wasn't all bad. Even if it was one where at 30 years of age, she still refused to spend that extra £3 on the good wine instead of chocolate.
But when the only proposal she gets from her boyfriend on Valentine's Day is that of a threesome, she decides that enough is enough!
With a new, improved job as Personal Assistant to one of the most feared Partners at her law firm – one that she doesn't seem to be able to stop dreaming about – Ellie decides that this will be her year. And if she has to run errands for her boss' neurotic Russian girlfriend or drag her best friend to a sponsored cycle with her now gay first love, then so be it.

What would you think if your boyfriend took you to your favourite restaurant for Valentines night, started telling you how much he loves you, how much you mean to him and that he wants to move the relationship on, and has a proposal for you?
Now, what would you do if that proposal wasn't one of marriage, but that he would like to have a threesome, and the 'other woman' is already on standby, just waiting for the nod and she will be in your bed?
Well, I'd probably do exactly what Ellie did; Knee him in the balls and call time on the relationship!
Dear Darling is a laugh-out-loud, get a tissue as your going to need it to wipe away those laughter tears kind of book.
Ellie is a remarkable woman who is very clever, apart from when she talks first, then puts her brain in gear, resulting in numerous embarrassing scenes. She works for the most obnoxious boss you can have, and is in an office with her colleague Sophie who will stop at nothing to get her job and her boyfriend.
When Sophie makes false accusations about Ellie bullying her, Catherine, her boss, finally has the opportunity to get rid of her, but it all backfires when Ellie is promoted and is offered the position of PA to Mr. Adam Donely, one of the law firms partners.
Adam is a hot, intelligent man who Ellie can't stop dreaming about, leading her to say stupid things in front of him, especially when Adam seems to be giving her the come-on. However Adam has a girlfriend – Barmy Russian Saskia, who is out to make Ellie's life a misery with her over the top demands.
Then we have Ellie's friends, Gina Curry her best friend and partner in crime, and Heather, her work colleague.
Gina's character is like watching a comedy genius. She is hilarious, and likes a drink at any occasion. Heather is more down to earth, voice of reason.
I thought the book was fantastic, and loved every minute of it. I immersed myself in the plot and felt like I was watching from the sidelines rather than reading about it.
Ellen Faith, has managed to combine romance, hot blokes, hilarity, wonderful characters and beautiful writing. The book is amazing and I enjoyed every moment of it.
Book Reviewed by Stacey
Purchase Links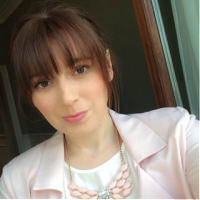 Ellen lives in the wonderful county of Yorkshire, England with her husband, where she spends most of her time with her nose in her laptop, a book or plate of food.
Legal secretary and daydreamer by day, writer and serial tweeter by night, Ellen finally decided to put all the magic in her head to some use one day and put finger to laptop where "The Story of Us" was born and became her début novel.
Four novels later, the daydreams are still going strong, thankfully!
She loves to travel and enjoys taking her readers on a journey to escape with her, in whatever country or village she decides on next.
Author Links