Things I Wish I Knew When I Started Writing by Patricia Furstenberg – Guest Post
Things I Wish I Knew When I Started Writing by Patricia Furstenberg – Guest Post
Today on the blog we welcome author Patricia Furstenberg, with her guest post 'Things I Wish I Knew When I Started Writing', as part of the blog tour for her new book 'As Good As Gold: A dog's life in poems', which is released today, 23rd May 2018. Post contains affiliate links.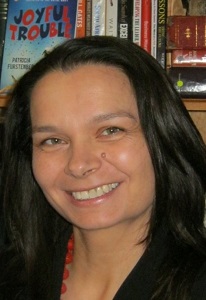 Patricia Furstenberg came to writing through reading. She always carries a notebook and a pen, although at times she jots down her ideas on the back of till slips or types them on her phone.
Patricia enjoys writing for children because she can take abstract, grown-up concepts and package them in humorous, child-friendly ideas while adding sensitivity and lots of love. What fuels her is an exhilarating need to write and… coffee: "How many cups have had this morning?"  "None."  "Plus?"  "Five cups."
Between her books you can find the beloved Joyful Trouble, The Cheetah and the Dog, Puppy, 12 Months of Rhymes and Smiles.
She is a Huffington Post contributor and pens the Sunday Column for MyPuppyclub.net as well as dabbing in freelancing.  After completing her Medical Degree in Romania she moved to South Africa where she now lives with her husband, children and their dogs.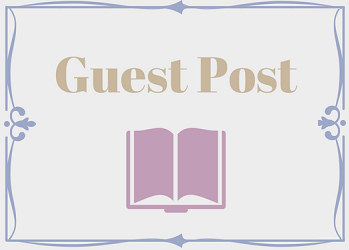 Things I Wish I Knew When I Started Writing
I always enjoyed writing and I could always tread words on a silky string (even though invisible), much like Ariadna's Thread. I was familiar with the writer's cramp, yet it never bothered me much as I always knew writing will be something I'd love doing – for ever and ever. Yet I never guessed how much more there is to it.
I never knew:
1 – How much I'll love it.  I never get bored of writing. Yes, I write myself in a corner and I need to step back and find a way out. Yes, I write myself numb, yes I am never bored. Should I have known, I would have started sooner.
2 – How much it will take over my mind and my life.  Most of the time I spend not writing I think of writing – ideas spin in my head and questions rise and fall. I even think of how I can squeeze 10 more minutes of writing between household chores and mommy-taxi trips. That's why I love queues – I can write.
3 – How much fun it is to stare into space, yet your mind spinning like the roulette.  Which number will win?  Which idea will prevail?  Time staring is never wasted.
4 – How sore my legs and my back will be and how much more physical exercise I'll be needing.  Did you know that siting results in a weak backside? "Siting is the new smoking", they say, as it causes muscle cells to disappear and fat cells to grow. *screams*
5 – How much I'd resent going to bed and how eager I'd be to wake up in the morning – am I in love with writing?  Shamelessly, yes.
6 – How lonely and discouraged I'd feel at times. Writing is a lonesome occupation – at least for me. I write best when I don't have my family around as I need to, emotionally, detach myself from reality. Speak to me while I write and you could wake the beast.
7 – How much I'd need to be part of a community, especially of fellow writers and book lovers who will, suddenly, understand me so much better than my old friends and even my family! I do apologise, but we do seem to be speaking the same language!
8 – How much harder I'll need to work to keep the ties with my old, non-writing friends and the special time I share with my loved ones.
9 – How many amazing people are there, especially on twitter – you knew that? 🙂
10 – How much fun I'll have being on my own – never a dull moment! Hey, give me back my pen and paper, will you?!
11 – How hard I'll push myself – as no one else will do it for me. And how much I'll value being myself. Writing in my own style feels comfortable, feels at home. But I have to give it 110%.
12 – How forgetful I'll become on non-writing and non-bookish related things. Sorry!
13 – How much I'll appreciate my bad writing days as I know, now, that they prepare me for my productive days.
14 – How me, the writer, and me, the author facing the world are two different people. I have to show emotion and feelings in my writing, yet need a thick enough skin to face the world.
15 – How writing is so much more than just sitting at a table and putting words on paper – it is editing, layout, cover design, marketing, blogging, promoting… Honestly? Yes!
16 – Angels do exists, disguised as book bloggers and reviewers!
17 – How much I'll need to believe in myself, day and night.
---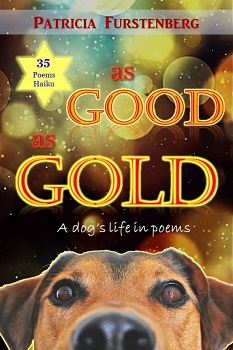 As Good As Gold


A dog's life in poems
Author – Patricia Furstenberg
Pages – 101
Release Date – 23rd May 2018
ISBN 13 – 978-1980748595
Format – ebook, paperback

As engaging as a tail wag.
Celebrating the simple things in life as seen through the eyes of our old time favorite furry friends, "As Good as Gold" is a volume of poetry revealing the talent and humor we always knew our dogs possessed.
Dogs are full of questions, yet they are famed sellers of innocence especially when it comes to explaining their mishaps and often foolish effervescence through such pondering as "Why IS a Cat Not Like a Dog", "As Brown as Chocolate", "Silver Stars and Puppy Tail" or, best yet, "Dog or Book?"
A book with an enormous heart for readers of all ages, it includes 35 poems and haiku accompanied by expressive portraits of our canine friends. The poems are grouped in: Questions, Colors, Musings and Haiku.
*Ideal to boost you up by reading one poem at a time,
* Great conversational piece to have around on a rainy day,
* Fantastic tool to discuss colors in nature and everyday questions with your little ones,
* A gentle way to introduce children to animals' feelings,
* Amazing picture to cheer you up.
* An ideal gift for any dog lovers!
As Good as Gold: A dog's life in poems
Purchase online from:
---
You can find out more about Patricia Furstenberg by visiting the website/social media sites below.
www.alluringcreations.co.za
@PatFurstenberg
Facebook
Pinterest
Goodreads