The New Beginnings Coffee Club by Samantha Tonge – Book Review
The New Beginnings Coffee Club by Samantha Tonge – Book Review
The New Beginnings Coffee Club
Author – Samantha Tonge
Publisher – HQ Digital
Pages – 384
Release Date – 5th May 2017
Format – ebook
Reviewer – Stacey
I received a free copy of this book
Post Contains Affiliate Links

Everyone deserves a second chance…don't they?
Jenny Masters finds herself living the modern dream. Wife to a millionaire, living in a mansion and mother to Kardashian-obsessed ten-year-old April, there isn't anything missing. Until, her whole world comes crashing down, forcing Jenny and April to leave behind their glittering life and start over with nothing.
With village gossip following her wherever she goes, she finds refuge and a job in the new coffee shop in town. As the days pass Jenny fears she doesn't have what it takes to pick herself back up and give April the life she always wanted to. But with the help of enigmatic new boss Noah, and housemate Elle, Jenny realises it's never too late to become the woman life really intended you to be!

Jenny Masters didn't grow up with a privileged lifestyle, she married into it.
But after years of being married to a millionaire, not needing to do anything for herself, and never having to go without, Jenny is kicked to the kerb by her cheating husband, Zachary.
Needing to leave their marital home, she and her daughter April are thrown a lifeline by coffee shop owners, Noah and Elle, who give them somewhere to live, and Jenny a job.
When you're at your lowest point, with no one to turn to, fate sometimes has other plans for you. For Jenny fate may of caused her heartache, but what she brings to the people she meets in the café, and to her daughter and bosses is something that money could never buy.
The New Beginnings Coffee Club may look, and sound like a chick-lit book, but this book goes much deeper and has you far more emotionally involved than a chick-lit book does.
The characters are all realistic and each has their own story to tell. Jenny is one resilient young woman. Her world may of come crashing down on her, but she gathered the strength to pick herself up, face her fears, and move on. Imagine after being married to a millionaire, attending fancy parties, having a cook and a cleaner, and being part of an exclusive club, having to go back to basics and work in a coffee shop!
It's not just about Jenny though, it's also about April, her daughter, Noah, Elle, and the coffee shop customers, who all have their own stories to share. The café is a place where people who have been through a tough time can come in, grab a brew, and feel the love.
At times the emotions ran high, and I felt myself getting pulled into a story of friendship and kindness, and how being there for one another really helps people cope with problems in their lives.
The New Beginnings Coffee Club is a feel good book, set in an idyllic little village, that gives you pure escapism. It's a wonderful, beautiful read with a few surprises along the way to keep you on your toes.
The perfect summer read, that won't let you down.
Book reviewed by Stacey
Purchase Links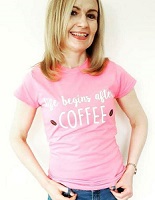 Samantha lives in Cheshire with her lovely family and a cat that thinks it's a dog. Along with writing, her days are spent willing cakes to rise and avoiding housework. A love of fiction developed as a child, when she was known for reading Enid Blyton books in the bath. Formally trained as a linguist, Samantha now likes nothing more than holing herself up in the spare room, in front of the keyboard. She has sold over 80 stories to women's magazines.
Her bestselling debut novel, "Doubting Abbey", was shortlisted for the Festival of Romantic Fiction best Ebook award in 2014. Game of Scones won the 2015 Love Stories Awards Best Romantic Ebook category and was a Top Ten Kindle UK bestseller, as was her 2016 novel Breakfast under a Cornish Sun, published by HQDigtial, HarperCollins .
Author Links