Summer at Conwenna Cove by Darcie Boleyn – Book Review
Summer at Conwenna Cove by Darcie Boleyn – Book Review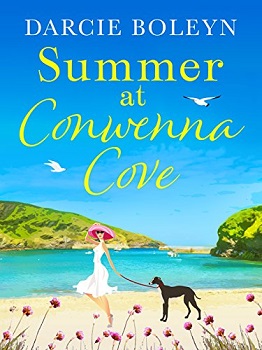 Summer at Conwenna Cove
Author – Darcie Boleyn
Publisher – Canelo
Pages – 286
Release Date – 15th May 2017
Format – ebook, paperback, audio
Reviewer – Stacey
I received a free copy of this book
Post Contains Affiliate Links

Eve has a glittering career, a loving husband and a future. But a terrible twist of fate means she loses it all, and with nowhere left to turn she flees to her Aunt Mary's home in Cornwall. The last thing on her mind is romance – until she meets Jack.
Jack has seen the worst things people can do to each other and realised he is better off alone. He settles in Conwenna Cove, and saves his affections for the rescue dogs he cares for. But when Eve arrives in the village he can't deny his attraction to her.
Eve and Jack are both scared to trust, but when they come together it's impossible for either to ignore their feelings. Can they put their fear aside and learn to love again?

When Eve has a serious anxiety attack whilst chairing a meeting at her school, the head teacher is mortified. She decides to take the advice of her friend, and have a well earned break.
Life has been hard for Eve. Her husband upped and left, she hasn't been eating, nor sleeping properly, and she has lost her spark for life. The one place that she knows she can get away from it all is at her Aunt Mary's home, in Cornwall.
However, not everyone is pleased to see her. Jack, who lives in the cottage next door, treats Mary like a mother figure and cares a lot about her. He feels that Eve has let her down badly by ignoring her calls, and now she turns up at her front door wanting to stay. What kind of woman would do that to her Aunt?
As time passes can Eve and Jack learn to get along?, especially when they are both carrying so much baggage from their past. It's time to move on for the both of them.
It has been many years since I have stepped foot in Cornwall, by Ms. Boleyn's descriptions of such a beautiful part of the UK had me visually standing in the heart of this scenic county.
All three main characters are incredibly authentic, and their individual personalities shone of the pages. Eve is quite a stubborn woman, one who has tried to deal with her issues by throwing herself into her job, and working all the hours she can. She's never known how to relax, and take it easy, but if she is to get back to her old self, she needs to learn to.
Jack is an ex soldier, and is suffering with an old injury. He works at a shelter for dogs, preferring the company of animals to women, and doesn't want to ever get romantically involved with a woman again.
Mary is such a lovable, ageing woman whose positive attitude to life will make your heart warm. She is one of life's optimists and can see, and know you better than yourself. She is a fabulous character, and one that I was sad to say goodbye to. She also had the most beautiful home.
This is one of those books that at times hits you right in the heart. It is written in a style that hold you captivated to the pages, and drags you into Conwenna Cove and the delights it has to offer, especially cake!!
At times it will have you feeling pity for both Eve and Jack. The raw emotions that both of them show will tug at your heart strings. There are also moments that will have you thinking about your own life.
Summer at Conwenna Cove is a perfect book, no matter the weather it will always have you basking in the sunshine!
Book reviewed by Stacey
Purchase Links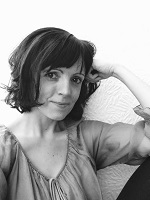 Darcie Boleyn has a huge heart and is a real softy. She never fails to cry at books and movies, whether the ending is happy or not. Darcie is in possession of an overactive imagination that often keeps her awake at night.
Her childhood dream was to become a Jedi but she hasn't yet found suitable transport to take her to a galaxy far, far away. She also has reservations about how she'd look in a gold bikini, as she rather enjoys red wine, cheese and loves anything with ginger or cherries in it – especially chocolate.
Darcie fell in love in New York, got married in the snow, rescues uncoordinated greyhounds and can usually be found reading or typing away on her laptop.
Author Links
www.darcieboleyn.wordpress.com
@darcieboleyn
Facebook
Instagram
Goodreads