A Vicarage Christmas by Kate Hewitt – Book Review
A Vicarage Christmas by Kate Hewitt – Book Review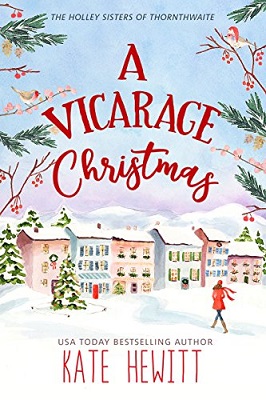 A Vicarage Christmas
The Holley Sisters of Thornthwaite Book One
Author – Kate Hewitt
Publisher – Tule Publishing
Pages – 121
Released – 12th October 2017
Format – ebook
Reviewer – Stacey
I received a free copy of this book
Post contains affiliate links.
Welcome to Thornwaite, a quaint village tucked up in England's beautiful but rainy Lake District… where homecomings happen and surprises are in store for the four Holley sisters…
Anna Holley, the third of four sisters, has always felt a little bit forgotten. A family tragedy when she was a child had her retreating deep into shyness, and social anxiety kept her on the fringes of the cozy chaos of the busy vicarage.
After several years away from home, Anna returns for Christmas… and an important announcement from her father. As much as she once loved the village, coming back is hard and puts Anna's social capabilities to the test.
Avoiding her sisters' bossy questions, she heads out to the local pub one night, and meets a handsome stranger nursing a pint. Somehow, unburdened by expectations, Simon seems like the perfect person to spill all her secrets to—including a hopeless, long-held crush on her sister's boyfriend. Confident she'll never see him again, Anna returns home… only to discover the next day that Simon is actually her father's new curate!
Anna is beyond mortified, but Simon won't let her retreat into her usual shyness—and for once Anna is forced to confront the past, and all the fears and feelings she'd tried so long to hide. But with his own heartache that needs to heal, can Simon help Anna to make this the most magical Christmas either of them have known?
Review
A Vicarage Christmas, is a novella of only 121 pages long and the first in a series of books about the Holley Sisters. In book one we meet Anna Holley, returning to her family home to Thornthwaite, Lake District, for 10 days over Christmas.
Anna is one of four daughters of Roger (local vicar), and Ruth Holley. She lives and works in Manchester and doesn't often return to Thornthwaite. The place makes her feel claustrophobic and relive painful memories of her brother Jamie's death, when they were children.
She also suffers from social anxiety, something that she tries to hide from her family, who are quite full on, and the vicarage is always full of people coming and going. It's one one of these days when the house is full that Anna feels she needs to get out for a while, where she meets stranger Simon. For some reason Anna opens her heart to him about her life and how she feels. Unfortunately, Simon turns out to be her father's new Curate.
With her social anxiety already taking over her, she feels even more inner turmoil when she realises that she is going to have to spend time with the one person who knows her secrets. Though Simon has had to deal with his own issues in his past he wants to help Anna, but will she let anyone in to help her?
Anna is a lovely young woman who has burdened herself with blame for her brother's death and believes that everyone else feels the same, including her family. It was after his death that she became withdrawn, shy and started stammering. Away from Thronthwaite she feels free as people don't know her, or her past, so returning to her family home is a big deal for her.
Simon is a man with a big heart. He didn't know who Anna was when she opened up to him, and when he finally made the connection it was too late. He felt awful for putting her in that situation and making her feel more anxious, but he also felt a pull towards her and wants to help her feel less alone.
A Vicarage Christmas is a sweet festive read. With it only being quite short the book jumps straight into the story and drags you into the Holley's lives. The whole family are lovely, though they also all seem to be hiding their own problems from one another. As this book is the first in a series, you know that each secret is going to be revealed over the course of time.
I can't wait to read book two, out in January, as I sat and read Anna's story in one sitting and I look forward to meeting her other sisters in more depth, and see what the future has in store for Anna too.
Reviewed by Stacey

---
About the Author

Kate is the USA Today-bestselling author of over 40 books of women's fiction and romance. She is the author of the Hartley-by-the-Sea series, set in England's Lake District and published by Penguin. She is also, under the name Katharine Swartz, the author of the Tales from Goswell books, a series of time-slip novels set in the village of Goswell. Other series include the Emigrants Trilogy, the Amherst Island Trilogy, and the Falling For The Freemans series.
She likes to read romance, mystery, the occasional straight historical and angsty women's fiction; she particularly enjoys reading about well-drawn characters and avoids high-concept plots.
Having lived in both New York City and a tiny village on the windswept northwest coast of England, she now resides in the English Cotswolds with her husband, five children, and an overly affectionate Golden Retriever.





---