Last Girls Alive by Jennifer Chase – Book Review
Last Girls Alive by Jennifer Chase – Book Review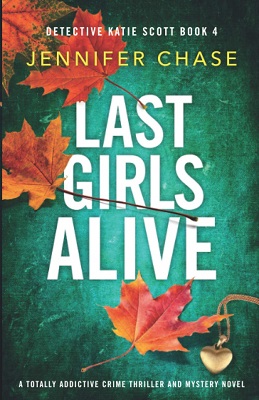 Last Girls Alive
Detective Katie Scott Book Four
Author – Jennifer Chase
Publisher – Bookouture
Pages – 364
Released – 7th October 2020
ISBN-13 – 978-1838888947
Format – ebook, paperback, audio
Review by – Stacey
Rating – 4 Stars
I received a free copy of this book.
This post contains affiliate links.


Half-buried in the muddy earth and surrounded by puddles of water lies the naked body of a beautiful young girl. Her pale skin looks like porcelain in the early morning light. Her fragile arms bent and crooked like a broken doll.
When Detective Katie Scott is called to the discovery of a young girl buried on the grounds of a former children's home in Pine Valley, California, she's hopeful it's the end to a devastating cold case she's been working on. No one has seen Candace Harlan since she ran away from Elm Hill Manor five years ago. Her death will be a tragedy, but it will also bring peace to those who miss her most. But the girl in the ground is not Candace.
The victim is almost identical to Candace in every way, but fear grips Katie as she takes in the black ink that decorates the girl's back—a terrifying message tattooed on her skin after she drew her last breath.
Forcing down traumatic memories of losing her own parents, Katie is certain someone mistook this poor soul for Candace, and that this crumbling home for lost girls is at the heart of this terrible crime. She sets to work digging into the tragic history of the owners who lost so many children of their own and tracking down the last six residents and the staff who cared for them— but no one wants to talk, let alone remember.
The next day, as second girl's body is found down by the creek at high water, the same words etched into her skin. Katie's worst fear is confirmed: someone is picking off the last of the Elm Hill girls one by one. But what does the tattoo mean? And what monster would target these innocent girls who have already been through so much?
Katie must dig deep to confront her own fears and protect the vulnerable—but as the body count rises further, will there be anyone left to save?

Cold-Case Detective Katie Scott is back in the fourth instalment of her series. This time a body of a young woman is found at the demolition site of an ex children's home. The girl looks identical to one of the residents who went missing five years ago. Etched into her skin are the words 'raccoglitorre di cacciatori' meaning 'hunter-gatherer in Italian. However, tests confirm that it isn't the missing girl but her sister.
Katie is sure that the young woman's body won't be the last and sure enough, another body is found with the same words etched into her skin. She is also an ex-resident of the children's home. Someone is picking off the girls one by one, but who would want to murder these girls who have been through so much in their short lives already?
Having read the first three books in the series and thoroughly enjoying them, I couldn't wait to start on this book. Detective Katie Scott is ex-army and saw a lot of deaths, including those close to her. As such she has been left suffering from PTSD which seems to have escalated in this story, possibly due to the events in her last book 'Flowers on Her Grave' which included her Aunt being murdered and her Uncle arrest for it.
Katie has some coping techniques as well as a wonderful partners McGaven. She has been warned though by powers higher up that this time she follows the rules and no going off on her own to solve the cases as she has done in the past.
What I love about this series is that you get to read chapters from the killer point of view and get an insight into why they kill. Being able to connect with the killer in my opinion always makes the chase and the case that bit more exciting.
The plot was well researched and executed. The pace felt fast throughout and I was left intrigued at the end of each chapter enough to want to continue onto the next. It was hard to put it down at times. Plus I'm a believer that short chapters heighten the atmosphere of thrillers.
Last Girls Alive was enjoyable, though I would have liked to have seen more Cisco (Katie's dog) and her Uncle. It is a fascinating police procedural novel that had me second-guessing every clue. It is suspenseful and exhilarating and I now can't wait for book five.
Book Reviewer – Stacey
---
Purchase online from:
---
About the Author

Jennifer Chase is a multi award-winning and best-selling crime fiction author, as well as a consulting criminologist. Jennifer holds a bachelor degree in police forensics and a master's degree in criminology & criminal justice. These academic pursuits developed out of her curiosity about the criminal mind as well as from her own experience with a violent psychopath, providing Jennifer with deep personal investment in every story she tells.
In addition, she holds certifications in serial crime and criminal profiling. She is an affiliate member of the International Association of Forensic Criminologists, and member of the International Thriller Writers.





---
What did you think of Last Girls Alive? Share your thoughts in the comment section below!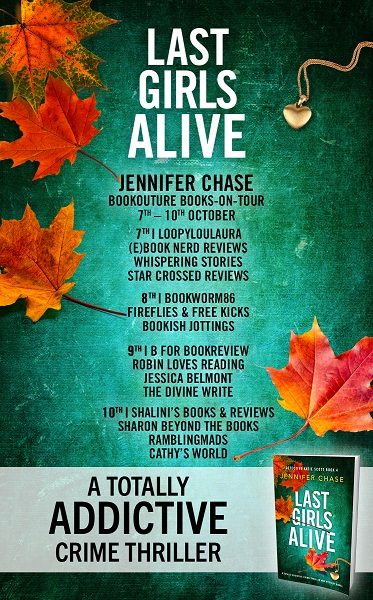 ---
The above links are affiliate links. I receive a very small percentage from each item you purchase via these link, which is at no extra cost to you. If you are thinking about purchasing the book, please think about using one of the links. All money received goes back into the blog and helps to keep it running. Thank you.
Like us on Facebook – Tweet us on Twitter – Pin us on Pinterest