Policeman Pete Book Three by Barbara Ann – Book Review
Policeman Pete Book Three Barbara Ann – Book Review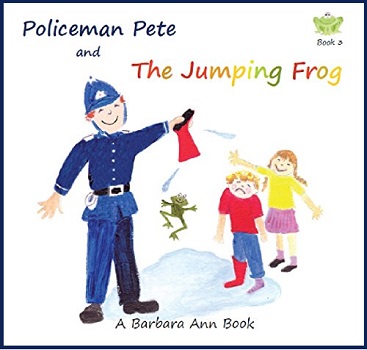 Policeman Pete and the Jumping Frog


Policeman Pete Book Three
Author – Barbara Ann
Publisher – Creative Locations Ltd
Pages – 28
Release Date – 1st July 2013
ISBN-13 – 978-0992607814
Format – ebook, paperback
Reviewer – Stacey
I received a free copy of this book
Post Contains Affiliate Links

This short story happened a few years ago to one of the farm labourers as he was working on repairing a dry stone wall. The frog actually jumped down the front of his shirt to the great amusement of his co-workers.
Review
One day after it had been raining heavily, Mr and Mrs Pollitt's stone front wall collapsed onto the pavement. Mr Pollitt range Policeman Pete to see if he knew what he should do.
Pete asked the farmer's nephew to remove the stones. In doing so he discovered that there was a spring running underneath it, leading to water pouring out.
The Pollitt's children were enjoying the water with Harry, their son, paddling in it. All of a sudden a frog jumped into one of his wellies. He may not of laughed, but everyone else did.
This is the third book in the Policeman Pete series, and the third that I have reviewed. The first two being, 'Policeman Pete and the Hungry Sheep', and 'Policeman Pete and the Orphan Duckling'.
All of the books are based on true stories, and this is what makes them so enjoyable, knowing that the events really took place.
They have an old traditional feel to them, with light-hearted plots, and childlike crayon drawings that are adorned throughout. They are also a pleasure to read.
At only 28 pages long, this book would be great for someone learning to read, or a new reader. The text is also larger than average, making the words stand out.
A fun story about one young boys encounter with a rather too friendly frog, which will have children laughing.
Book reviewed by Stacey
Purchase Links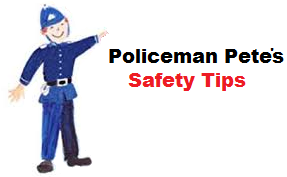 Policeman Pete's Home Safety Tips.
Policeman Pete says that it is very important that all children know how to make an emergency phone call by pressing 999 on the telephone key pad and asking for police, ambulance or fire brigade.
This can be easily practised by tapping the receiver button down in the cradle so as not to actually activate the call.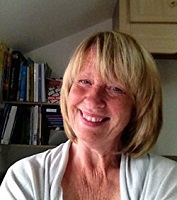 Brought up and schooled in Oldham, Greater Manchester, at the age of 17, Barbara decided on a nursing career.
Later, she set up her own day nursery which she ran for a few years before supporting her husband in his busy profession. Fast forward to 2013, Barbara started writing and illustrating the Policeman Pete series.
She currently lives at Brimmycroft Farm, in the small Saddleworth village of Denshaw, Oldham with her husband, horses, geese, ducks and cats.
She is an active participant in charities involving law enforcement, including the Blue Lamp Foundation. She has previously appeared on BBC Radio Manchester and been featured in the Oldham Advertiser and the Manchester Evening News.
Author Links