Ride the Wind by Nicola Davies – Book Review
Ride the Wind by Nicola Davies – Book Review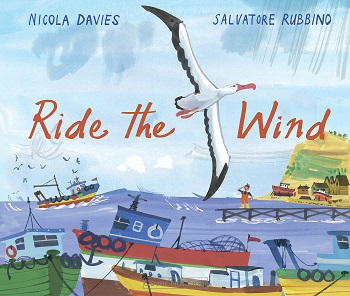 Ride the Wind
Author – Nicola Davies
Illustrator – Salvatore Rubbino
Publisher – Walker Books
Pages – 40
Released – 5th August 2021
ISBN-13 – 978-1406394580
Format – paperback, hardcover
Rating – 5 Stars
I received a free copy of this book.
This post contains affiliate links.


Synopsis
Javier has a secret. On one of his father's fishing trips, he finds an albatross caught on the hooks – alive, if only barely. Against his father's orders, Javier smuggles the bird to safety and begins nursing it back to health.
Every day the albatross accepts a little more food, but she shows no sign of wanting to use her wings. And if Javier's new friend refuses to fly, how will she ever find her way home? With words by award-winning author Nicola Davies and dramatic watercolours by Salvatore Rubbino, this is a beautiful story about the power of empathy.
One day whilst out fishing with his dad and uncle, Javier watches the pair catch an Albatross in their hook. They throw the bird to one side and leave it to die. Javier is upset and hides the bird, taking it home with him to nurse it back to health, hiding it in a store cupboard at the back of his house.
The bird grows stronger and stronger but refuses to fly. It isn't long before his father discovers the bird and tells Javier that he has until their next fishing trip to help the bird then he must take it out with them and release it whether it can fly or not.
Javier has an idea on how to help the bird to fly but when he returns home the bird has gone. Where is the bird and can Javier find it and help it to fly before something bad happens to it?
Ride the Wind is a stunning book that deals with the subject of empathy, love, and I suppose in a way grief. Javier's mother died not long ago and ever since his father has been quite cruel towards him. He wants Javier to be tough and brave like him, not the caring and kind lad that he is.
Via the power of an injured Albatross, Javier feels closer to his deceased mother. She was away when she took ill and died and he couldn't look after her but he can take care and nurse the bird back to health and help her be with her family again.
The story is really adorable and heartfelt. It felt uplifting and enjoyable too. You watch this young boy who has been in the shadow of his father for so long grow a voice and make himself heard and known. He stands up to his father who also learned that the day his wife died, the mother of his son also died, something he hadn't processed as he grieved.
The full-page illustrations bring the story to life and give you a visual representation of the bird getting stronger and the love Javier has for it. This is a remarkable, emotional story that is exceptionally poignant and beautiful. It was a joy to read and was touching too.
Purchase Online From:
---
What did you think of 'Ride the Wind'? Share your thoughts in the comment section below!
---
The above links are affiliate links. I receive a very small percentage from each item you purchase via these link, which is at no extra cost to you. If you are thinking about purchasing the book, please think about using one of the links. All money received goes back into the blog and helps to keep it running. Thank you.
Like us on Facebook – Tweet us on Twitter – Pin us on Pinterest – Join us on Instagram