Katheryn Howard, The Tainted Queen by Alison Weir – Book Review
Katheryn Howard, The Tainted Queen by Alison Weir – Book Review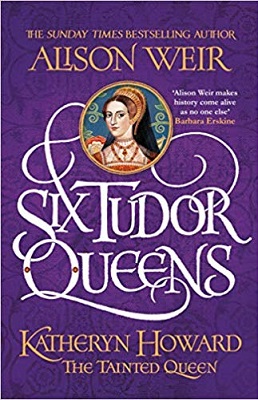 Katheryn Howard, The Tainted Queen
Six Tudor Queens Book Five
Author – Alison Weir
Publisher – Headline Review
Pages – 480
Released – 14th May 2020
ISBN-13 – 978-1472227775
Format – ebook, paperback, hardcover
Review by – Julie
Rating – 5 Stars
I received a free copy of this book.
This post contains affiliate links.


A NAIVE YOUNG WOMAN AT THE MERCY OF HER AMBITIOUS FAMILY.
At just nineteen, Katheryn Howard is quick to trust and fall in love. She comes to court. She sings, she dances. She captures the heart of the King.
Henry declares she is his rose without a thorn. But Katheryn has a past of which he knows nothing. It comes back increasingly to haunt her. For those who share her secrets are waiting in the shadows, whispering words of love… and blackmail.
KATHERYN HOWARD
THE FIFTH OF HENRY'S QUEENS.
HER STORY.
Acclaimed, bestselling historian Alison Weir draws on extensive research to recount one of the most tragic tales in English history – that of a lively, sweet but neglected girl, used by powerful men for their own gain.
History tells us she died too soon. This mesmerising novel brings her to life.

'Katheryn Howard – The Tainted Queen' is the latest book by best-selling author, Alison Weir. This tale is told through the eyes of Henry VIII's fifth wife, in the third person and the past tense.
Daughter of the hapless Sir Edmund Howard and Joyce Culpepper, we first meet Katheryn at the age of seven. Her childhood was marred, firstly by the death of her mother and then being sent away to be cared for by relatives. By fifteen she was living in the home of her paternal step-grandmother. It seemed discipline as well as moral conduct was lax and Katheryn soon fell under the spell of roguish young men considered unsuitable for someone of her aristocratic background.
Based on what was clearly a huge amount of painstaking research, Alison Weir lays before the reader a fictional account of what life could have been like for this diminutive, naïve and not overly academic girl. The absence of a virtuous and loving role model after her half-sister, Isabel, married seemed to have a profound effect. Katheryn believed that her conduct, whilst unbecoming for a virtuous young gentlewoman, would never come under scrutiny and perhaps that might have been the case, had it not been for the machinations of her ambitious relatives.
Katheryn catching the eye of the king was meticulously planned by those wishing to advance themselves and she becomes no more than a pawn in their craven desire to be close to the crown, with all the trappings of wealth and power that would come with it.
Weir paints a vivid picture of the court of King Henry and also incorporates the historic events which take place during Katheryn's short tenure as Henry's queen. We are given details of the minutiae of Katheryn's life from her love of clothes and jewels to the interactions with her friends and ladies-in-waiting.
None of the main players in the real life drama of Katheryn Howard come out of this episode with any glory and Weir's tale reflects this. Katheryn is a frivolous, vulnerable young woman, manipulated and seduced not only by unscrupulous men but by the thought of being queen.
We have a ratcheting up of tension as the queen realises she is now open to blackmail and fears for her future. We know by the clever use of foreshadowing, that those who rise the highest have the farthest to fall, often paying with their lives. As we see things only from Katheryn's perspective, the accusations against her come almost out of the blue and she is unsure who has betrayed her. We are spared the torture and execution of those accused of high treason but empathise with Katheryn's anguish when she is made aware of their fate.
I had an advanced reading copy of this book so the family trees, which will appear in the final version, were not included but there is a helpful who's-who at the back along with author's notes. Weir gives a sympathetic account of the short life and death of Katheryn Howard, which I enjoyed and I award five stars.
Book Reviewer – Julie
---
Purchase online from:
---
About the Author

Alison Weir is a British writer of history books for the general public, mostly in the form of biographies about British kings and queens, and of historical fiction. Before becoming an author, Weir worked as a teacher of children with special needs.
She received her formal training in history at teacher training college. She currently lives in Surrey, England, with her two children.




---
What did you think of Katheryn Howard, The Tainted Queen? Share your thoughts in the comment section below!
---
The above links are affiliate links. I receive a very small percentage from each item you purchase via these link, which is at no extra cost to you. If you are thinking about purchasing the book, please think about using one of the links. All money received goes back into the blog and helps to keep it running. Thank you.