Raven's Wand by Steve Hutton – Book Review
Raven's Wand by Steve Hutton – Book Review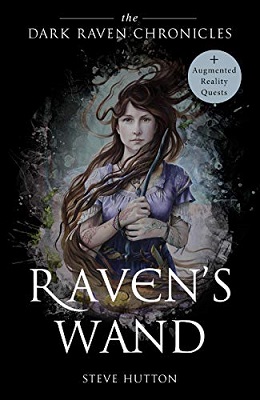 Raven's Wand
Dark Raven Chronicles Book One
Author – Steve Hutton
Publisher – Boddington & Royall Limited
Pages – 576
Released – 1st September 2018
ISBN-13 – 978-1916420304
Format – ebook, paperback
Review by – Stacey
Rating – 3.5 Stars
I received a free copy of this book.
This post contains affiliate links.


First book of the Dark Raven Chronicles trilogy.
Raven's Wand is about two opposing secret societies waging a war of belief behind the skin of Victorian Britain. One uses magic to heal the world, while the other twists it into abominations and war machines. Young Kolfinnia has a great task set before her and, with the aid of the Raven wand, she dares more than she ever dreamed possible.

Raven's Wand is the first book in the Dark Raven Chronicles by author Steve Hutton. It is a historical fantasy that is set in the Victorian era.
The plot surrounds the Illuminata attempts to eradicate witches and witchcraft from the Earth, attacking Covens. How hard can it be to wipe them out as witches never fight back they just flee and when they do they are easy prey, Or do they?
I have a fascination with books about witchcraft and also my favourite period in history is the Victorian era so I presumed that this book would be an easy read for me and I would fly through it. In all truthfulness, it took me a long time and at a very slow pace to get through Raven's Wand, especially as it is a big book too.
This wasn't anything to do with the writing, the pace, the characters, or the plot, it is just I'm not much of a fantasy genre fan and I presumed my love for the other two aspects would overrule this. As such, I struggled a bit and even had to re-read sections as my mind started to wander when I lost my concentration.
There is a lot of action and a few twists and turns to keep you on your toes and intrigued and I can see this being a big hit with fantasy lovers. Especially with the good vs evil aspect, but which is which? Plus, all the mysteries within and mythology as well. If you look at the undertones of the book you can see some of it in today's society too.
Unfortunately, for me whilst it was a pleasant read and I managed to read it slowly over a few months, it isn't something I would revisit, nor would I continue the story, shame as I so wanted to love. If you love this genre then please give it a read as it is an outstanding piece of fantasy work.
Book Reviewer – Stacey
---
Purchase online from:
---
About the Author
Since attaining first a BA, then later a MA, in Illustration, Hutton has illustrated for educational publishing as well as running illustration workshops in schools up and down the country. Working as a freelance illustrator he has worked with the National Trust and created character concepts for film and TV (notably 'The Golden Compass').
Since 2007 he's been focusing on the Wildwood Witches; a story he has written and illustrated. Peter Pan is his latest project. His detailed and charming illustrations have brought life to this story that is loved the world over.
---
What did you think of Raven's Wand? Share your thoughts in the comment section below!
---
The above links are affiliate links. I receive a very small percentage from each item you purchase via these link, which is at no extra cost to you. If you are thinking about purchasing the book, please think about using one of the links. All money received goes back into the blog and helps to keep it running. Thank you.
Like us on Facebook – Tweet us on Twitter – Pin us on Pinterest