Belle Vue by C. S. Alleyne – Book Review
Belle Vue by C. S. Alleyne – Book Review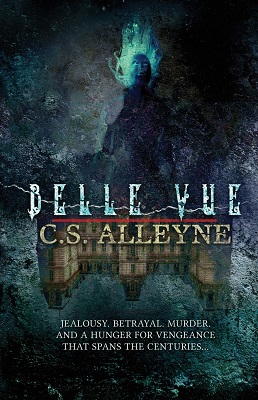 Belle Vue
Author – C. S. Alleyne
Publisher – Crystal Lake Publishing
Pages – 350
Released – 25th August 2020
ISBN-13 – 978-1646693115
Format – paperback
Review by – Nia
Rating – 4 Stars
I received a free copy of this book.
This post contains affiliate links.


Jealousy. Betrayal. Murder. And a hunger for vengeance that spans the centuries…
History student Alex Palmer is thrilled when his girlfriend, Claire Ryan, buys an apartment in Belle Vue Manor, formerly a Victorian lunatic asylum.
But as Alex begins to discover the dark truth about the asylum's past, he, Claire, and their friend Marianne find themselves on a nightmarish journey. Each will face the deadly consequences of the evil that began with the construction of the first Belle Vue Manor by an aristocratic French émigré in 1789, as well as the cruelty and satanic practices that continued when it became an asylum for the insane.
As the two strands—past and present—unfold, Alex uncovers a supernatural mystery where revenge is paramount and innocence irrelevant—without being aware of the price he, and those around him, will pay.

The prologue to this book sets the tone of the story very well, it's shocking and gritty without being gory and lets you know exactly what to expect from the book.
I've found that the majority of ghost stories take a long while to build up to the full level of violence and gore, which can lead to disappointment if you get halfway through and it's not what you were expecting but this one set the tone right at the beginning so I knew that I was in for a treat.
This wasn't the only pleasant surprise from the author, there were a few unexpected twists that I've never encountered before in the genre and I absolutely adore the fresh approach. These twists are used throughout the book, taking it in unexpected directions.
The story is set in both the present day and the late 1800s events in the Belle-Vue asylum, which has since been turned into apartments. The chapters alternate between these timelines and a variety of characters which builds a compelling picture of the occult, haunting and human betrayal.
The only downside that I found is that I couldn't really connect with any of the characters; none of them particularly appealed to me (though I didn't hate them!) and I was glad that the story was strong enough to hold my attention instead.
I would recommend this to fans of Gothic horror, it covers both a nasty paranormal element but also the horrible truths about how people were treated in mental institutions in the 19th century and how easy it was for someone to be committed. The story takes this classic trope in some unexpected directions and is well worth the read.
Book Reviewer – Nia
---
Purchase online from:
---
About the Author

C. S. Alleyne grew up in Australia and originally trained as a hotel manager in the UK. After several postings in the Caribbean she changed tack and completed her MBA followed several years later by a PhD in Information Systems. She is a management consultant and also lectures in several universities.
With a lifelong love of reading, anything historical and a fascination with the supernatural and death, her vacations usually include visits to such places as the Pere La Chaise cemetery and the catacombs in Paris, the tombs in Egypt, the Popes' crypts in the Vatican and any church yard with gravestones – you get the picture…
Cheryl was inspired to write Belle Vue by her daily journey past a block of luxury apartments that had been converted from an old asylum. Like her protagonist, Alex Palmer, she started to investigate its past and learnt that one of the inmates was murdered there in the late 19th century. The victim's sister was hung for the crime. Cheryl was also thrilled to discover the asylum's overgrown cemetery in her explorations of the area!
Belle Vue is her first, full length novel. Jonathan Myerson (Oscar nominated, Bafta and 4 Time Emmy winner) says he is 'blown away' by Belle Vue – 'I am hugely impressed by this novel – it's ambitious and daring and amazingly imaginative'.
Cheryl has a daughter and son-in-law who live nearby and a partner who, since reading Belle Vue, says he now sleeps with one eye open.
She is represented by Gandolfo Helin and Fountain Literary and Dramatic Rights Management.




---
What did you think of Belle Vue? Share your thoughts in the comment section below!
---
The above links are affiliate links. I receive a very small percentage from each item you purchase via these link, which is at no extra cost to you. If you are thinking about purchasing the book, please think about using one of the links. All money received goes back into the blog and helps to keep it running. Thank you.
Like us on Facebook – Tweet us on Twitter – Pin us on Pinterest