Payback by R.C. Bridgestock – Book Review
Payback by R.C. Bridgestock – Book Review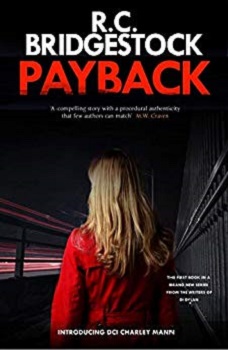 Payback
A DI Charley Mann Novel
Author – R.C. Bridgestock
Publisher – The Dome Press
Pages – 320
Released – 9th January 2020
ISBN-13 – 978-1912534173
Format – ebook, paperback
Review by – Stacey
Rating – 4.5 Stars
I received a free copy of this book.
This post contains affiliate links.


Charley Mann left Yorkshire for the Met and a fast-track career – but now she's back, she's in charge and the area's first young, female DI. Her hometown, the Yorkshire countryside, and her old friends all seem unchanged, but appearances can be deceptive.
When a brutal murder is discovered, Charley is forced to question everything, and the interest of her ex – reporter Danny Ray – doesn't make it easier.

This is the first book by authors R.C. Bridgestock that I have read, in fact, I'll be honest I hadn't heard of the husband and wife team until I was asked If I would like an early copy of Payback and to join the blog tour.
Whilst the book is truly amazing, what I really liked above everything else is how normal Detective Charley Mann is. She is a young woman behaving like one, she will tell you herself how much she enjoys her fizz and with having a father who could have been a pro-boxer she was brought up to be able to defend herself and that she most definitely can do.
The book was a little slow to get going which I expected given that it is the first in a new series and we need to get to know the characters, their backstories and the location the book is set in before we can move onto the more gritty part of the plot, although there is still plenty to learn about our protagonist which is drip-fed throughout the book, especially her life with an ex who is a reporter.
Charley Mann started as a young rookie in Yorkshire before being shifted off to the 'Big Smoke' as she calls it – London. Whilst there she gained promotion and is now back at her old station but no longer a rookie, she is the new Detective Inspector for the CID department.
Charley is good at her job. She detests crime and is all for bringing the culprits to justice, no matter whose toes she treads on. As she states herself she isn't there to be liked. Her first case actually occurs on her first day in the job and she has to lead a team she has never met before, including both seasoned detectives and newbies, on the hunt for a killer. You can certainly tell from the way the book has been written and how much detail the authors go into about the way the police work that they have plenty of experience in that department.
This is one of those books that once the action gets going you find yourself hoping even for just the odd few minutes to continue the story. There is plenty of tension within the pages and enough twists to keep you guessing. I'm now looking forward to the next in the series as well as hopefully picking up the authors DI Jack Dylann series which has rave reviews.
Book Reviewer – Stacey
---
Purchase online from:
---
About the Author

RC Bridgestock is the name that husband and wife co-authors Robert (Bob) and Carol Bridgestock write under. Between them they have nearly 50 years of police experience, offering an authentic edge to their stories. The writing duo created the character DI Jack Dylan, a down-to- earth detective, written with warmth and humour.
Bob was a highly commended career detective of 30 years, retiring at the rank of Detective Superintendent. As a police civilian supervisor Carol also received a Chief Constable's commendation for outstanding work.
The couple are the storyline consultants on BAFTA winning BBC One police drama Happy Valley and series 3 of ITV's Scott & Bailey.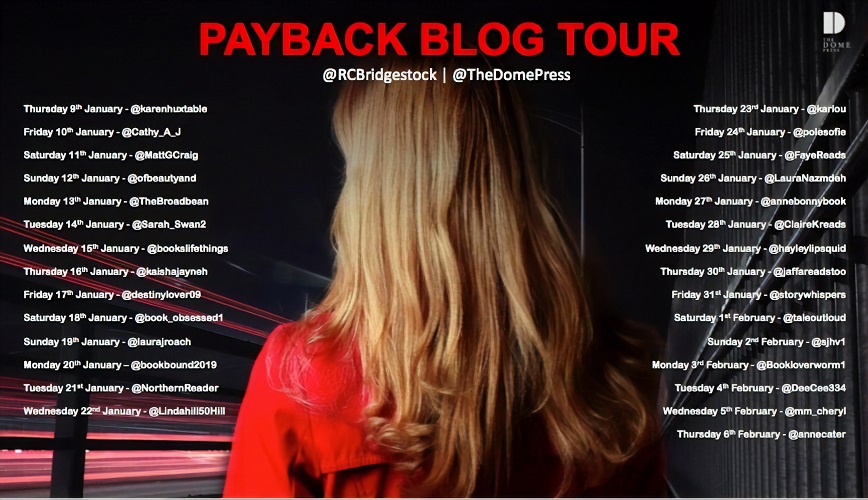 ---
What did you think of Payback? Share your thoughts in the comment section below!
---
The above links are affiliate links. I receive a very small percentage from each item you purchase via these link, which is at no extra cost to you. If you are thinking about purchasing the book, please think about using one of the links. All money received goes back into the blog and helps to keep it running. Thank you.