By The Feet of Men by Grant Price – Book Review
By The Feet of Men by Grant Price – Book Review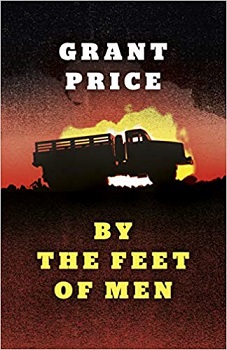 By The Feet of Men
Author – Grant Price
Publisher – Cosmic Egg Books
Pages – 344
Released – 30th August 2019
ISBN-13 – 978-1789041453
Format – ebook, paperback
Review by – Julie
Rating – 4.5 Stars
I received a free copy of this book.
This post contains affiliate links.
WANTED: Men and women willing to drive through the valley of the shadow of death.
The world's population has been decimated by the Change, a chain reaction of events triggered by global warming. In Europe, governments have fallen, cities have crumbled and the wheels of production have ground to a halt. The Alps region, containing most of the continents remaining fresh water, has become a closed state with heavily fortified borders. Survivors cling on by trading through the Runners, truck drivers who deliver cargo and take a percentage.
Amid the ruins of central Germany, two Runners, Cassady and Ghazi, are called on to deliver medical supplies to a research base deep in the Italian desert, where scientists claim to be building a machine that could reverse the effects of the Change. Joining the pair are a ragtag collection of drivers, all of whom have something to prove. Standing in their way are starving nomads, crumbling cities, hostile weather and a rogue state hell-bent on the convoy's destruction. And there's another problem: Cassady is close to losing his nerve.
'By the Feet of Men' is the second novel from British-German author, Grant Price. This futuristic dystopian tale is set in Europe at a time when the human race has abused the planet's eco system to the point where the infrastructure of society has broken down and life is about little more than a quest for survival, with water becoming the most precious commodity. Nature has found a way to adapt and re-establish itself but can the population do the same?
Barter is the mechanism of exchange, so Cassady and his mechanic, Ghazi, make a living by transporting goods from one destination to another, with the knowledge that they may get killed in the process. They ply their trade in Warspite, their five ton armoured vehicle, affectionately referred to as the 'Old Lady'.
We join them as they are contemplating their next destination, having got themselves into a confrontational situation in a settlement from which they need to make a speedy get-away. They decide to make for Prestige, a city which had somehow survived the Change and represents a semblance of order and normality.
'There was a rule against cannibalism in Prestige, but it didn't apply in the slums.' This sentence sums up just how hard-hitting the storyline is going to be. It becomes quite clear from the beginning that this book isn't for the faint-hearted. Their next delivery seems straightforward but they soon find there is more to it than meets the eye and their ensuing mission sees them lead a disparate team who have formed an uneasy alliance, deep into the Italian desert.
It seems the fragile dynamic is never far from boiling over as the enormity of the task at hand hits home. As if the extreme climatic heat wasn't enough, we find that there are malevolent powers at work with the team facing danger at every turn in their perilous journey.
The author develops and illustrates his tale with vivid gritty descriptions and a liberal use of similes, metaphors and pathos to paint an earthy picture of life lived on the edge. His three dimensional lead characters are ably assisted by sturdy foils and, as a counter balance to the rapid pace, we see Cassady's hard, careworn, battle scarred exterior give way to self-doubt, soul-searching, introspection and anxiety.
Assuming the destruction of the world as we know it took place over many years, I'm unclear as to the time-frame and the date in which the book is set. I did wonder about the efficacy of the potential solution to earth's woes but of course every tale needs its players to have a little hope. We cannot fail to be moved by the relationship between our two main protagonists as they carry the uncomplicated, yet highly entertaining, plot to its conclusion. Fans of this genre will doubtless find this book well-conceived and absorbing. I award four-and-a-half stars.
Book Reviewer – Julie
---
Purchase online from:
---
About the Author

Grant Price (b. 1987) is a British-German author currently living in Berlin, Germany. After spending too many years translating and writing copy, he started writing fiction full time in 2015.
His first novel, Static Age, appeared on Kindle in 2016. His second novel, By the Feet of Men, was published by Cosmic Egg Books in September 2019. His work has appeared in The Daily Telegraph and a number of magazines and journals. He has taught writing at the University of Gießen in Germany.




---
What did you think of By The Feet of Men? Share your thoughts in the comment section below!
---
The above links are affiliate links. I receive a very small percentage from each item you purchase via these link, which is at no extra cost to you. If you are thinking about purchasing the book, please think about using one of the links. All money received goes back into the blog and helps to keep it running. Thank you.
Like us on Facebook – Tweet us on Twitter – Pin us on Pinterest