The Greek Tapestry by Anthea Syrokou – Book Review
The Greek Tapestry by Anthea Syrokou – Book Review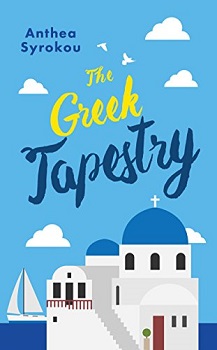 The Greek Tapestry
Julie & Friends Book Two
Author – Anthea Syrokou
Pages – 338
Released – 4th April 2018
ISBN-13 – 978-0648157434
Format – ebook, paperback
Reviewer – Selina
Rating – 5 Stars
I received a free copy of this book
Post contains affiliate links.
Maria and her sister, Nicki, were childhood friends with the girl across the street, Dimity. Growing up in Sydney, they even came first in an art project — a tapestry depicting island life in Greece. Nothing would separate them — but nothing is a tall order. When Nicki and Maria temporarily move to Greece, leaving Dimity behind, they discover that even the strongest friendships can disintegrate.
Now Dimity is all grown up; living in a designer house with her sexy industrial designer husband, Malcolm, and their two daughters. However, Dimity is tired of playing the accommodating mother, wife, and daughter-in-law, and sets off to Greece.
Maria has had enough of her mother's interference. She has the career and the family, but she still feels the need to prove herself to her mother. After stumbling on invitations for her cousin's wedding in Greece that her mother hid from them, she searches for answers and also takes off to Greece.
Meanwhile, Nicki also has a successful career, but she and her husband, Marco, could never have what they really wanted — a child. She follows her sister to Greece, and stays in a peaceful, historic village, outside the town of Ioannina.
Will Greece fill Nicki's heart with light and hope again?
As Maria, Nicki, and Dimity each try to untangle their complex lives, will they find their way home and weave their own beautiful reality?
The Greek Tapestry (Julie & Friends, Book 2) can be read as a standalone or as part of a series, following on from the delightful 'Eventually Julie' (Julie & Friends, Book 1). In this latest book, it's Maria's turn to take centre stage. Joining her are many exciting new characters, as well as some familiar and popular faces from Book 1.
Fasten your seat belts and get ready to join the fun in magical Greece!

I really enjoyed the first book in this series title Eventually Julie, so I was pleased that we were back with the girls and this time focusing on Dimity, Maria and Nicki.
These girls to me are like friends and as I started reading I knew I was in for another treat and felt I was already connected from the first page.
Dimity is married to Malcolm with two daughters, she is always struggling to please Malcolm's mother and feels she is at times left behind and has to raise her girls and put her career as a designer on hold while Malcolm goes and makes a name for himself. She goes to surprise him while he is on a works trip and things don't quiet go to plan leaving her running back to the airport and jumping on a plane to Greece.
Maria and Nicki are sisters and while Maria has life sorted with husband Antonio and their son, Nicki is trying for a child with Marco but it isn't happening.
Maria and Antonio head off to Greece looking for some answers where Maria finds her mum has hidden invitations to her Greek families wedding and christenings. Nicki takes some time out from Marco and goes to stay with Maria, but as Maria flies off to Greece will her sister be far behind?
While these three friends who sadly once lost touch their life paths now bring them back together.
The Greek Tapestry is a very detailed journey of love, friendship, emotions and strong women who fight for what they want. With beautiful vivid descriptions of Greece you feel like you are right there sitting in the thick of the action. Once again Anthea Syrokou delivers a beautiful story and one that will stay with me for a long time to come.
Reviewed by Selina
---
Purchase online from:
---
About the Author

Anthea Syrokou is an author who grew up and resides in Sydney, Australia. Her love for writing was planted at a young age when she studied Greek mythology. Anthea's love for literature continued well into her teenage years when she enjoyed reading novels by many of the great English writers.
As a young adult, she immersed herself in reading women's contemporary fiction and writing about topics, that many could relate to, in a witty, light-hearted way, which became a passion — one that she takes very seriously.
Anthea has a BA degree, majoring in psychology and industrial relations, and a diploma in counselling. She also studied Greek literature at university and has worked in direct marketing, and insurance and investments.
Anthea is currently working on her new novel, and is also writing articles and posts on everyday issues.
When she isn't writing or reading, Anthea enjoys travelling, yoga, spending time with her family, and escaping to the vineyards. A quiet house with some jazz playing in the background, surrounded by a few lit scented candles is her idea of relaxation. Even though Anthea dreams about hosting the "perfect" dinner party, she is more likely to be found at a cosy, candlelit restaurant. She lives with her husband and their two sons, and often jokes that she may be the only writer who doesn't own a cat.
Anthea is also a member of the Australian Society of Authors.