In the Shadow of the Assassin by JW Coleman – Book Review
In the Shadow of the Assassin by JW Coleman – Book Review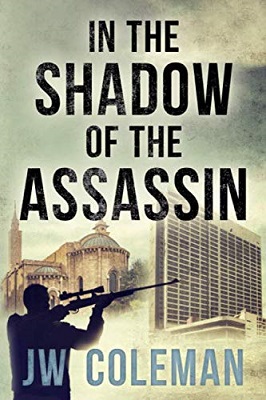 In the Shadow of the Assassin
Author – JW Coleman
Pages – 135
Released – 25th June 2020
ISBN-13 – 979-8656902366
Format – ebook, paperback
Review by – Clive
Rating – 3.5 Stars
I received a free copy of this book.
This post contains affiliate links.


March 1975, King Faisal of Saudi Arabia is assassinated. The killer has been disarmed and apprehended, but did he act alone? Was anyone else involved in this despicable act?
Glen MacDonald and two military colleagues, fresh from the combat zone of the Sultanate of Oman's Dhofar region, are in Riyadh to train a National Guard hostage rescue team. Their presence complicates matters, with overzealous Interior Ministry officers, responsible for national security, monitoring them closely.
Then, when a Libyan agent, with close links to a CIA Special Operations Group, arrives in Riyadh and takes a distinct interest them, life begins to get problematic. But MacDonald has a powerful friend, Colonel Kassem, Faisal's head of security, who seeks his assistance in uncovering the truth about his king's assassination.
The search for justice takes MacDonald to Lebanon, a country on the verge of civil war, where he is immersed immediately in the beauty and turbulence of Beirut.

The Synopsis of In the Shadow of the Assassin drew me in from the outset as it was set in the middle east in the 1970s, locations and times that are written about less frequently. For most of my lifetime that area has been one of tension with Arab/Israeli conflicts and more recently wars in Yemen, Iraq and Syria. JW Coleman's selected time period was particularly important as the action takes place just before the start of the Lebanon Civil War that lasted from 1975 until 1990, causing severe damage to the country.
The author has clearly drawn on his own personal experiences as a soldier in that area during that time. His short biography on the back cover states that he worked for various organisations, presumably in training or personal security work. This experience shows in the enthusiasm with which he writes.
The action keeps moving and I found the various plots easy to follow. The leading characters are a bit "blokey" as is some of the dialogue. There were also a few passages and events that seemed a bit unreal with these hardened professionals doing what seem to be rather foolish things.
The book is a fairly modest 135 pages long but that's the length of the story and I would rather have a short read than something that has blatantly been padded out.
My paperback copy had been printed using the Amazon Fulfilment process which is a wonderful tool for new writers to sell their books without risking a large capital outlay. JW Coleman, or his helpers, could use this to better effect. For example, my copy would have been more appealing if the text had been justified, if there had been a half line space or an indent between paragraphs and page numbers, which are always useful for a reviewer.
In the Shadow of the Assassin may not be the best book you will read this year but it is a work of fiction set in a less common background and it has been written by someone who was there. I have awarded it 3.5 stars.
Book Reviewer – Clive
---
Purchase online from:
---
About the Author

John grew up on the edge of Dartmoor with a taste for adventure. Widely travelled, he served as a soldier and worked for various organisations in the Middle East. Subsequently, he lived in London, forging a career in a TV News Agency until retiring to the Norfolk countryside with his wife several years ago. His interest include walking, writing and photography.

---
What did you think of In the Shadow of the Assassin? Share your thoughts in the comment section below!
---
The above links are affiliate links. I receive a very small percentage from each item you purchase via these link, which is at no extra cost to you. If you are thinking about purchasing the book, please think about using one of the links. All money received goes back into the blog and helps to keep it running. Thank you.
Like us on Facebook – Tweet us on Twitter – Pin us on Pinterest