The Teenager Who Came to Tea by Josie Lloyd & Emlyn Rees – Book Review
The Teenager Who Came to Tea by Josie Lloyd & Emlyn Rees – Book Review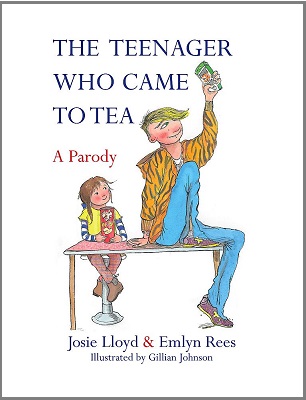 The Teenager Who Came to Tea
Author – Josie Lloyd & Emlyn Rees
Illustrator – Gillian Johnson
Publisher – Constable
Pages – 32
Released – 5th November 2015
ISBN-13 – 978-1472121769
Format – ebook, hardcover
Review by – Stacey
Rating – 3.5 Stars
This post contains affiliate links.


But the teenager didn't take just one Pringle. He took a selfie of himself pouring a whole tube of them into his mouth, before sending it to his best mate, along with the letters LOL!
The bestselling authors of We're Going on a Bar Hunt and The Very Hungover Caterpillar bring you another hilarious parody of a much-loved children's book, this time turning the spotlight not only on modern teens, but firmly on their parents too.
When the doorbell rings, just as Sophie and her Dad are sitting down for their tea, they're half-expecting a visit from a tiger, but what slouches in through their doorway is even more curious than that… a teenager.
A perfect read for anyone who remembers the original, or has ever been a teenager or is the parent of a teenager today.

The Teenager Who Came to Tea for anyone who hasn't noticed is a spoof book for adults based on Judith Kerr's children's book 'The Tiger Who Came to Tea. In this story, the doorbell rings and Sophie and Daddy wonder who it is, maybe it's a tiger. Alas no, just Sophie's big teenage brother who is hungry.
For anyone who may have read The Tiger who Came to Tea over and over again to their children or for those of you that have teenagers, this book is for you. Although being the mum of two teenagers (and another who has been through the teenage years), I'm just glad mine haven't ever eaten the way this lad does, nor ever left the bathroom in the state he did. I think I must be very lucky!
The book was a lot of fun to read but I stopped short at laughing-out-loud. It was a short, enjoyable read with some fab illustrations, I liked the teenager's tiger jacket and teeth. The book is complete buffoonery and light entertainment. It will take you all of five minutes to read it. It is the type of book that you would buy relatives with teenagers for their birthday or Christmas to make them smile, maybe even a Secret Santa Present!!
Overall, if you like parody books then this will be right up your street.
Book Reviewer – Stacey
---
Purchase online from:
---
About the Author
Josie Lloyd & Emlyn Rees are the bestselling authors of Switch It Off!, Come Together, A Twist of Fate, Hunted and many more. They're married and live in Brighton with their three children.


---
What did you think of The Teenager Who Came to Tea? Share your thoughts in the comment section below!
---
The above links are affiliate links. I receive a very small percentage from each item you purchase via these link, which is at no extra cost to you. If you are thinking about purchasing the book, please think about using one of the links. All money received goes back into the blog and helps to keep it running. Thank you.
Like us on Facebook – Tweet us on Twitter – Pin us on Pinterest