Christmas Spirit by Nicola May – Book Review
Christmas Spirit by Nicola May – Book Review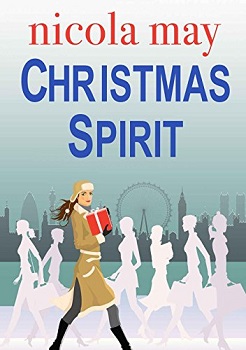 Christmas Spirit
Author – Nicola May
Publisher – Nowell Publishing
Pages – 76
Released – 4th November 2013
ISBN-13 – 978-0956832344
Format – ebook, paperback
Reviewer – Stacey
Rating – 5 Stars
I received a free copy of this book
It's two days before Christmas – and Evie Harris finds herself both manless and jobless. After a chance encounter with handsome Greg (and egged on by her toy-boy-eating friend, Bea) she agrees to work at a homeless shelter on Christmas Day.
Striking up an unlikely friendship with homeless Yves, Evie begins an unwitting journey of spiritual awakening, all set against the sparkling winter backdrop of London landmarks.
A New Year's Eve revelation is on its way . . . but will it leave Evie with a happy heart, or will she allow the pre-Christmas past to dictate her future?
Evie, with an E, has just been dumped by her boyfriend on Christmas Eve after he announced he was moving in with his secretary. She has also just lost her job. Feeling down, hurt and angry she makes arrangements to drown her sorrows with her best friend Bea at the local pub.
Whilst having a conversation about her life to Bea and what she is going to do on Christmas Day, a man, introduces himself as Greg and tells Evie that she could always help at the homeless shelter he runs. Evie decides to take him up on his offer, well the man was quite cute!
The next day Evie is handing out lunch to the homeless when she suddenly becomes all upset and heads outside where she meets Yves, with a Y! Yves has plenty of words of comfort for her and makes her feel special, so special that when he hands her a card with a time and date on for her to meet him, she does so.
Who is this homeless man who Evie has taken a shine too and why is it that no-one else knows or remembers him?
This book may only be 76 pages long but it certainly packs a punch. It is just perfect and a must read for the festive season. It doesn't surprise me one bit that it won 'Best Short Story Award'at the Festival of Romance.
I just adore festive books and especially novella's as they are not only quick to read but are very often fast-paced and filled to the brim with heartwarming moments and this one is no exception. I just couldn't put it down and read it in one sitting.
The book is the perfect pick-me-up read as it is so uplifting and has a wonderful message running through it. This is one Christmas book you don't want to miss.
Reviewed by Stacey
---
Purchase online from:
---
About the Author

Award winning author Nicola May lives in Ascot in Berkshire with her rescue cat Stanley. Her hobbies include watching films that involve a lot of swooning, crabbing in South Devon, eating flapjacks and enjoying a flutter on the horses.
Nicola likes to write about love, life and friendship in a realistic way, describing her novels as 'chicklit with a kick'. She has written eight novels, with Christmas Spirit being her first novella.






---

Giveaway – Win 5 x PDF copies of Christmas Spirit (Open Internationally)
*Terms and Conditions –Worldwide entries welcome. Please enter using the Rafflecopter box below. The winner will be selected at random via Rafflecopter from all valid entries and will be notified by Twitter and/or email. If no response is received within 7 days then I reserve the right to select an alternative winner. Open to all entrants aged 18 or over. Any personal data given as part of the competition entry is used for this purpose only and will not be shared with third parties, with the exception of the winners' information. This will passed to the giveaway organiser and used only for fulfilment of the prize, after which time I will delete the data. I am not responsible for dispatch or delivery of the prize.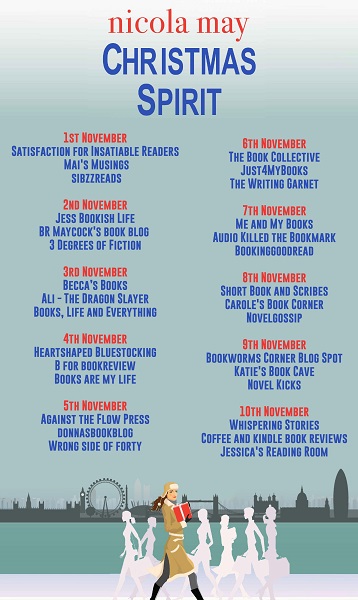 Blog posts straight to email via Bloglovin – Like us on Facebook – Follow us on Twitter