The Writing Life of: Catherine Armstrong
Catherine Armstrong
This week on 'The Writing Life of:' I am thrilled to be interviewing author Catherine Armstrong. Catherine will be sharing with us detail of her writing life, telling us all about her latest book 'The Edge of Nowhere', which was released on 19th January 2016, and answering a few fun questions too. This post contains affiliate links.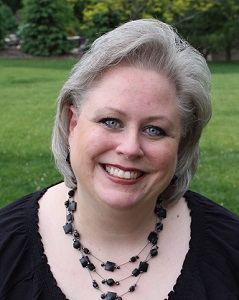 I am an Oklahoma-native transplanted in Minnesota for 23 years, and am the author of The Edge of Nowhere.
A 1992 graduation of the University of Oklahoma, I am a rabid Oklahoma Sooner Football Fan. On most Saturdays from September through January, you can find me propped in front of the TV watching Sooner Football, or studying my smartphone for mobile updates from ESPN that give the current score of whomever OU is playing.
I'm a life-long lover of books and vehemently outspoken about banning and challenging books.
---
1) Do you remember the moment you decided that you would like to become a writer?
I've always written, so I can't remember a time when I actually made a conscious decision to "be" a writer. To be honest, writing was always the one thing I felt confident doing.
I was mediocre at sports, passably decent at music, terrible at science and math, but always felt confident in my ability to translate thoughts to words.
When it came time to decide my adult career path, it was less a decision as it was just a natural progression of the next step in my life.
2) How did you go about following your dream?
As stupid as this is sure to sound, I finally just made a decision to pursue it.
Becoming a published author had always been in the back of my head, but it's not something I ever thought I would become…so it's certainly not a dream I shared with others. In 2001, my husband's grandmother (who had been a grandmother to me in every way) was placed on hospice care as a result of advanced COPD. Naturally, we all rushed back to Oklahoma to spend our last moments with her, and it was during this trip that she made me promise to write a novel.
I'd never written a word of fiction, but she wouldn't rest until she'd wrestled that promise from me. I remember giving her that promise, and knowing that I would eventually have to make good on it, but not having any real clue how I would make that happen. After all, I'd never written fiction; and I wasn't really an authority on anything to write non-fiction.
A dozen or more years passed and that promise weighed heavily on me until I began to stress about the "lie" I'd given to my husband's grandmother. Finally, in November of 2014, I met and became great friends with Abbie Williams (author of "Heart of a Dove").
In our first meeting, she encouraged me to just sit down and start writing. With nothing else to lose – and a story of my own grandmother's life in my mind for many years – I finally took Abbie's advice and sat down to write the first words of "The Edge of Nowhere." In the back of my mind, I was thinking that I could at least say I tried to write something…thus fulfilling at least the intent of my promise.
At about half-way through, though, I started to think that other people might be interested in my story, so I began writing with enthusiasm and an active intent to finally follow through on that promise I'd made so many years before.
3) Is there a particular author that inspires you?
I'm not sure there's one author in particular that "inspires" me per se, but there are several published authors who've provided guidance and encouragement along the way.
Among those authors are Cathy Lamb, Tracey Garvis Graves, Lorna Landvik, Abbie Williams, Rachel Scheiffelbein…I could go on. I've found the writing community to be endlessly supportive, and I'm grateful for every word of encouragement these amazing women have provided to me along the way.
4) What is your average writing day like? Do you have any strange writing habits?
Unlike many authors, I'm not one who schedules writing time and knocks out 2500 words every day. I wish I could do that, but my life doesn't always allow for it.
However, when I get a story idea in my head I become hyper-focused until it's the only thing I can think about and the entire thing is committed to a Word Doc. When that happens, I wake up in the morning around 7:30, get my son off to school, then sit down to write. Before I know it, six or seven (or more) hours have passed, I'm still in my PJs, missed breakfast and lunch, and it's almost time for my son and husband to come home from school and work.
I'll usually take a short break just before they get home to shower, then help with homework and start dinner, then I'm back into writing mode when my son heads up to shower before bed.
Sometimes I get so focused that the next time I look at the clock it's 3AM. Other times, I might get to bed by midnight, only to toss and turn because the stories are demanding to be committed to the manuscript. So I'll get back up and write for a couple more hours before dropping back into bed for maybe 3 or 4 hours of sleep before staring my day over again.
5) Do you write Longhand, Type writer, Computer?
Always on the computer. For me, it's easier on my hands; but it also allows for me to quickly correct mistakes.
6) From all your books, do you have a favourite character?
Oh gosh…this is actually hard. While I've only published one book, I have another that an agent is trying to place, and a couple of others in the early stages. But, for my current title – "The Edge of Nowhere" – I'd have to say my favorite character is Will (the first husband of the main character, Victoria).
Will is meant to represent my grandfather, who I knew nothing at all about before writing the novel. He's a combination of who I hoped my grandfather would've been, a bit of my own husband, and a little bit of Rhett Butler from Margaret Mitchell's "Gone with the Wind." He's funny, patient, kind, intuitive, and clearly loves the main character, Victoria.
7) Do you plot your books completely before hand or do you let your imagination flow whilst in the writing process?
I actually do a combination. Before I sit down to write, I have the major plot points figured out and I use a system of "ordered bullets" to guide my writing process. But, once I start writing, I allow my characters to take over the telling of the story.
Without fail, they add quite a bit to the plot but almost always stay within the main story that I had outlined in my head. With that said, if my characters ever went completely on a tangent of their own, I'd likely follow their lead just to see where it goes.
Concerning your latest book: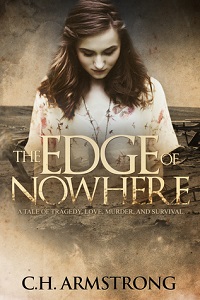 The Edge of Nowhere
Author – C.H Armstrong
Publisher – Penner Publishing
Release Date – 19th January 2016
Format – ebook, paperback, audio

The year is 1992 and Victoria Hastings Harrison Greene—reviled matriarch of a sprawling family—is dying.
After surviving the Oklahoma Dust Bowl and the Great Depression, Victoria refuses to leave this earth before revealing the secrets she's carried for decades.
Once the child of a loving family during peaceful times, a shocking death shattered her life. Victoria had to come face to face with the harshness of the world. As the warm days of childhood receded to distant memory, Victoria learns to survive.
No matter what it takes.
To keep her family alive in an Oklahoma blighted by dust storms and poverty, Victoria makes choices—harsh ones, desperate ones. Ones that eventually made her into the woman her grandchildren fear and whisper about. Ones that kept them all alive. Hers is a tale of tragedy, love, murder, and above all, the conviction to never stop fighting.

8) How long did it take to get from the ideas stage, to the date of publication?
My experience was crazy-fast, and I feel truly blessed. I began writing "The Edge of Nowhere" during the first week of January 2015. It took roughly five weeks to finish the first draft, and I began querying for an agent or publishing house (probably a bit prematurely) by the end of February.
I was VERY lucky to get some wonderful feedback from a couple of agents and a small publishing house who pointed out issues requiring revisions. I quickly made revisions and continued the query process.
In mid-May – roughly 90 days after I began the query process – I received an offer of publication from Penner Publishing, at the same time that another small publishing house made noises of interest contingent on changes I wasn't sure I could make without compromising the integrity of the story.
At the end of May, I signed with Penner Publishing and "The Edge of Nowhere" was published in January. So from beginning to end was almost exactly one year.
9) Did you suffer from writer's block at any stage? How did you overcome it?
Not really writer's block per se, but there were a couple of times where I was momentarily stumped and not sure how to continue.
When that happened, I walked away entirely and did something else. As crazy as this sounds, my characters refused to be ignored and I'd wake up in the middle of the night with "the answer" to whatever the problem was.
10) How did you come up with the name(s)for your lead character(s)?
The story is written in first person point of view by Victoria Hastings Harrison Greene. Her first name was really hard, and early drafts of this novel showed her with different names.
I finally sat down with a baby-naming book and decided on Victoria because it implied "Victory," which is how I saw the main character's journey. The rest of her name used the same first letters of my own grandmother's real name. Hall became Hastings, Hedrick became Harrison, and Golden became Greene. So my grandmother, Edna Hall Hedrick Golden, was the prototype for Victoria Hastings Harrison Greene.
The other main characters, mostly the four children that are seen throughout the book, were inspired by my father and four of his siblings. To keep them straight, I used the first letter of their real names and made new names to coincide. So, for example, the character inspired by my father (Edward) is Ethan. Ethan's sister, Grace, was inspired by my Aunt Gerry.
11) If your book was made in to a film, who would you love to play the lead character(s)?
Deborah Ann Wohl would be perfect for the role of Victoria. I've seen her go from a naïve young girl to a hard-as-nails woman when she portrayed Jessica Hamby in the HBO series, "True Blood," and I think she'd be perfect. Not only that, she looks like the character, which is a bonus.
12) Did you get anyone in particular to read your work before sending it to the publisher i.e family member, friend etc?
Absolutely. And, honestly, I have to credit my beta readers for their honesty, which made for a much better story overall. One in particular said of my original character depiction for Victoria's second husband, "I'm not buying it." When I questioned her further, she gave me a detailed explanation for why what I'd written wasn't working, so I took her advice and made revisions then sent it back to her. Her response was, "Bingo! That's it!" I'm endlessly grateful to her, in particular, for her honesty.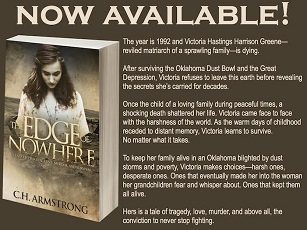 Author links
www.charmstrongbooks.com
@C_H_Armstrong
LinkedIn
Blog posts straight to email via Bloglovin – Like us on Facebook – Follow us on Twitter