In the Blood by R.L. Martinez – Book Review
In the Blood by R.L. Martinez – Book Review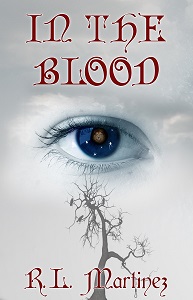 In the Blood
The Witchbreed Series Book One
Author – R.L. Martinez
Publisher – Lakewater Press
Pages – 356
Release Date – 21st March 2016
Format – paperback
Reviewer – Julie
I received a free copy of this book
Post Contains Affiliate Links

The Warrior
The war may have ended, but a new battle begins for disgraced prisoner-of-war, Ottilde Dominax. Dreams of her witchbreed twin are visions of death and betrayal. Driven by their grim warning, she escapes her captors and races across nations to save her sister.
But she may arrive too late…
The Witch
Lady Oriabel Dominax has kept her healing magic secret while she cares for her family's struggling estate. But the arrival of a new lord hiding secrets of his own, the discovery of a dark and addictive magic and threats from a cruel blackmailer push her closer to disaster.
Through it all, the Witch's Tree calls…

'In the Blood' by American author, R L Martinez is a fantasy novel set in a fictitious pre-industrial civilisation where superstition and fear are prevalent. The story alternates between twin sisters who have lived apart for many years.
The pace is well-balanced, giving the reader a contrast between the action-packed adventures of Ottilde, the warrior, and the threatening menace that surrounds her sister Oriabel, the witch.
The witch's tree is a sinister ever-present symbol of impending doom, should Oriabel's secret powers be discovered.
The underlying theme is the unconditional love between the twins and Martinez has cleverly woven in a supporting cast, or foils, for each sister with a variety of twists, turns and surprises along the way.
Her descriptive passages work well and I particularly liked: 'The approaching winter had half-undressed the trees and bushes of their leaves'.
Whilst there is some violence, it is not excessive and remains relevant to the plot. The alchemy is fascinating and used as a device to allow the author licence to make extraordinary concepts plausible within the context of the story.
This work has been well-conceived but I struggled a bit at the beginning with the unfamiliar names and took a while to differentiate between the various characters and their roles, so I re-read the first few chapters. After this, I was able to suspend reality and became totally immersed in the imaginary world created by Martinez.
I thoroughly recommend 'In the Blood' to anyone who enjoys light-hearted fantasy and award it a richly-deserved five stars.
Book Reviewed by Julie
Purchase Links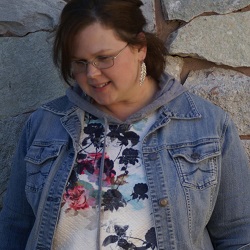 By day I am a stay-at-home-mom. And I have to say that this is probably the hardest job I've ever had. My house is never clean! No matter how many dishes I do or toys I pick up, my two little ones come right behind me and make a whole new mess. Anyway, this is the first time I have not had some sort of job outside the home since I was 15. Kinda scary!
By night, I am… anything I want to be as I fling myself into the stories that constantly swirl inside my head. One of the main reasons I write is to read the stories that I wish other people were writing.
I live in Oklahoma with my husband, two small sons, two naughty puppies, and a mouse-killing cat. Now you know why I write FANTASY.
Author Links
Blog posts straight to email via Bloglovin – Like us on Facebook – Follow us on Twitter