The Shelf by Helly Acton – Book Review
The Shelf by Helly Acton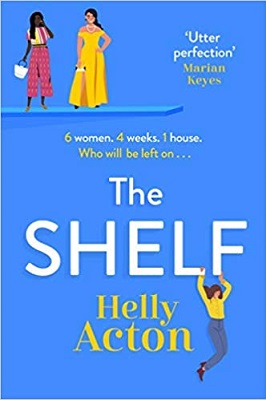 The Shelf
Author – Helly Acton
Publisher – Zaffre
Pages – 416
Released – 9th July 2020
ISBN-13 – 978-1838770877
Format – ebook, paperback, hardcover, audio
Review by – Stacey
Rating – 5 Stars
I received a free copy of this book.
This post contains affiliate links.


Ever feel like you're losing a race you never signed up for?
Everyone in Amy's life seems to be getting married, having children and settling down (or so Instagram tells her), and she feels like she's falling behind.
So, when her long-term boyfriend surprises her with a dream holiday, she thinks he's going to finally pop the Big Question. But the dream turns into a nightmare when, instead, she finds herself on the set of a Big Brother-style reality television show, The Shelf.
Along with five other women, Amy is brutally dumped live on TV and must compete in a series of humiliating and obnoxious tasks in the hope of being crowned 'The Keeper'.
While inside the house, will Amy learn that there are worse things than being 'left on the shelf'?

Thirty-two-year-old Amy Wright has been dating her boyfriend Jamie for the last two years. When Jamie announces he is whisking her away, she packs for an exotic holiday in the sun, where she ends up is a completely different story.
Jamie takes Amy to a TV studio where a new reality show is being filmed. The show is called 'The Shelf' and it would seem that Jamie has decided to dump Amy on national TV and submit her for the new show which is to teach women how to be 'A Keeper'. The show lasts four weeks with the public having the ability to vote the women off each week. The winner will be crowned 'The Keeper' (the woman most men would like to have as a partner in a relationship) and awarded one million pounds.
Six contestants alongside Amy have entered the house, including Jackie, who is described as selfish. Gemma, as distant. Kathy, as Bitter. Hattie as Boring. Lauren as Easy, and latecomer Flick, who is still in a relationship and just wants to improve herself for her partner.
The woman as subject to tasks, votes, and seeing a councillor about how they can become a better partner but the show may not go according to how the producers would have liked it!
OMG, The Shelf is one of the funniest books I have ever read. Set in the world of reality TV, we get to see how the contestants on these shows truly feel about their life and the show.
I admit to hating some reality TV but having seeing snippets of Big Brother over the years it definitely had a Big Brother vibe to 'The Shelf', with a large house, a back yard with pool and bar, and tasks along the way.
Talking of the tasks, talk about trying to make women behave as if they were in some kind of 1950s marriage with challenges such as to throw the perfect tea-party and then they were marked on their choice of food, their manners, behaviours, even their outfit. Feminists beware this book will have you seething!
As well as being a truly amazing read and one if you are anything like me you won't want to put down. This book also felt like a self-help book. I really do hope those women who are in a relationship that isn't going anywhere and yet they have been wearing blinkers for so long can have their eyes opened by this story. It is also a book to help you understand that being in a relationship is wonderful but so is being single. It's about self-love.
It was an uplifting book that had me giggling and frowning at the plot. I believe there is a sequel coming out next year and I can't wait to get my hands on it.
Book Reviewer – Stacey
---
Purchase online from:
---
About the Author

Helly Acton is a copywriter from London with past lives in Zimbabwe, the Middle East and Australia. She studied Law at King's College London before following a more creative path into advertising. At 26, Helly took a career break to travel in Africa and Asia, before landing in Sydney. Six years and one life-affirming break up later, she returned home and threw herself into online dating in the city.
Helly uses this experience as a single woman in her early thirties – torn between settling down and savouring her independence – as a source of inspiration.
Helly currently lives in London with her husband, Chris, and their dog child Milo.

---
What did you think of The Shelf? Share your thoughts in the comment section below!
---
The above links are affiliate links. I receive a very small percentage from each item you purchase via these link, which is at no extra cost to you. If you are thinking about purchasing the book, please think about using one of the links. All money received goes back into the blog and helps to keep it running. Thank you.
Like us on Facebook – Tweet us on Twitter – Pin us on Pinterest