My Sister And I by Sean-Paul Thomas – Book Review
My Sister And I by Sean-Paul Thomas – Book Review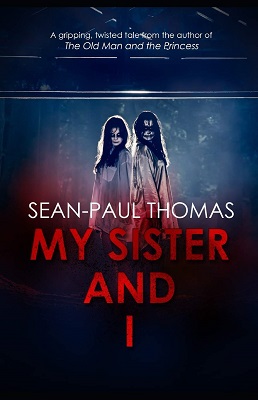 My Sister And I
Author – Sean-Paul Thomas
Pages – 188
Released – 30th August 2018
ISBN-13 – 978-1719987356
Format – ebook, paperback
Review by – Nia
Rating – 5 Stars
I received a free copy of this book.
This post contains affiliate links.


**WARNING** 18+ Readers Only. Graphic content and subject matter.
Two teenage sisters, both raised in solitude in the harsh Scottish Highland wilderness by their strict, survivalist, tyrant father, begin to question his twisted and sinister ways after they find chilling evidence to suggest that their estranged mother might not have abandoned them at birth after all.

This book was so much darker than I expected and I loved it for it, however I would like to issue all manner of content warnings for this book: child abuse, sexual assault, murder, violence and general darkness. I don't make those warnings lightly either, this book is horrific.
Now that you've been duly warned, I can say that this book is excellently written. It's written in the first person from the perspective of a 13 year old girl who has been raised alongside her twin sister by her psychotic, doomsday prepping father. He's taken the girls off the grid and is determined to prepare them to survive the end of the world, as his father taught him, through a strict regimen of abuse and neglect.
Seeing this from the perspective of the daughter is harrowing, she's never known anything different but she feels that this isn't right. Her sister is the only constant in her life that she isn't afraid of and their bond is truly unique, though we only see it from the one side.
The author has a visceral writing style which left me feeling physically ill in places due to the gore (seriously, it was graphic and nasty!) and also the heightened emotions from the perspective of an abused child. It's the strength of the girl's personality that breaks through and makes the narrative bearable.
I found myself entranced by all of the characters, good and bad, they all play their roles to perfection and I found myself totally invested in their fates. The story is set in the very north of Scotland and the geography is used to the fullest extent to set the scene; coupled with the father's Scots dialect, it gave the story a distinctly regional feel that I enjoyed.
I did feel like the very end of the book was a little rushed and wish that there had been either a little more to it or it had ended a chapter earlier, but the main conclusion was satisfying for all characters involved. If you're a fan of dark thrillers with strong characters and horrific violence – this book is going to blow your socks off.
Book Reviewer – Nia
---
Purchase online from:
---
About the Author
Sean is an author from Edinburgh in Scotland. He spent most of his childhood and teenage years on the move with his Scottish and Irish Parents (No, they weren't bank robbers ) growing up in the likes of Cyprus, Germany, Wales and England, as an army brat.
With a keen interest in both reading and writing, he was diagnosed with the travel and writing bugs very early on in life. Now, writing, travelling, reading, cinema and Scottish football (Supporting the mighty Hibernian FC for his sins) are his main passions in life, along with cooking, yoga, meditation and health, and fitness.
His main inspiration for writing today comes from living in such a beautiful, charming and hauntingly, Gothic city, such as Edinburgh. An awe-inspiring wee city that has given Sean so much amazing inspiration to write the more time he spends there.
At this moment Sean is working on a couple of screenplays adaptations of his books. one of which 'The Old Man and The Princess' made the final of the Nashville Film Festival Screenwriting Competition 2018 and has since been optioned by an award-winning Director /Producer team.
So far Sean has 14 self-published works of fiction


---
What did you think of My Sister And I? Share your thoughts in the comment section below!
---
The above links are affiliate links. I receive a very small percentage from each item you purchase via these link, which is at no extra cost to you. If you are thinking about purchasing the book, please think about using one of the links. All money received goes back into the blog and helps to keep it running. Thank you.
Like us on Facebook – Tweet us on Twitter – Pin us on Pinterest