Miss Aldridge Regrets by Louise Hare – Book Review
Miss Aldridge Regrets by Louise Hare – Book Review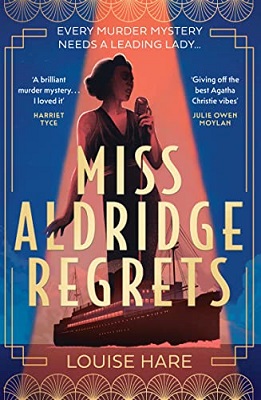 Miss Aldridge Regrets
Author – Louise Hare
Publisher – HQ
Release Date – 28th April 2022
Pages – 432
ISBN 13 – 978-0008332617
Format – ebook, paperback, hardcover, audio
Star Rating – 4
I received a free copy of this book.
This post contains affiliate links.

Synopsis
London, 1936
Lena Aldridge is wondering if life has passed her by. The dazzling theatre career she hoped for hasn't worked out. Instead, she's stuck singing in a sticky-floored basement club in Soho, and her married lover has just left her. She has nothing to look forward to until a stranger offers her the chance of a lifetime: a starring role on Broadway and a first-class ticket on the Queen Mary bound for New York.
After a murder at the club, the timing couldn't be better and Lena jumps at the chance to escape England. Until death follows her onto the ship and she realises that her greatest performance has already begun.
Because someone is making manoeuvres behind the scenes, and there's only one thing on their mind….
Murder
1936, mixed-raced Lena Aldridge is a showgirl at a club in Soho, London. One night the boss (and her best friend's husband) is poisoned and dies whilst in the audience. Lena may have had a hand in the murder and tries to keep her head down. It's not long though before a theatre producer who knew her deceased father gets in touch and wants her to appear in his new show on Broadway.
Knowing that she needs to leave London and that it is an opportunity of a lifetime, she accepts and travels in comfort to New York on the Queen Mary. However, someone on board is wanting to make her life hell, and what better way than framing her for murder. But who and why would someone go to the trouble of following her onto the ship to stage the elaborate plot?
Miss Aldridge Regrets is a relaxing read, given the plot. It makes you feel like you are in calmer times and definitely back in time to 1936. The book is split into two different periods, the ship crossing and 2 weeks previously and the lead up to the murder. Plus, a fewflash backs to Lena's childhood.
Her new theatre boss wants her to make herself known on the crossing and to get to know the wealthy passengers, but Lena feels out of her depth. She isn't used to a life of luxury or hobnobbing with the rich but she soon realises that the rich are not that much different from everyone else and some are not to be trusted.
The book was engaging and it held my attention throughout. I was eager to find out who had it in for Lena and why. The plot certainly has a murder-mystery feel to it.
A fabulous historical crime mystery that was decently paced and kept me guessing for most of the book. I enjoyed it from beginning to end.
---
Purchase Online:
Louise Hare

Louise Hare is a London-based writer and has an MA in Creative Writing from Birkbeck, University of London. Originally from Warrington, the capital is the inspiration for much of her work, including This Lovely City, which began life after a trip into the deep level shelter below Clapham Common.
Author Links:
---
The above links are affiliate links. I receive a very small percentage from each item you purchase via these links, which is at no extra cost to you. If you are thinking about purchasing the book, please think about using one of the links. All money received goes back into the blog and helps to keep it running. Thank you.