They're Closing the Lamb and Musket By Richard Cunliffe – Book Review
They're Closing the Lamb and Musket By Richard Cunliffe – Book Review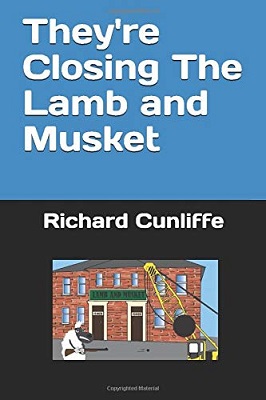 They're Closing the Lamb and Musket By – Book Review
Author – Richard Cunliffe
Pages – 398
Released – 3rd November 2019
ISBN-13 – 978-1704962221
Format – ebook, paperback
Review by – Clive
Rating – 4.5 Stars
I received a free copy of this book.
This post contains affiliate links.


The Lamb and Musket is earmarked for closure, with a supermarket to be built in its place. Worn out by their efforts at keeping the old place open, The Lamb's regulars are running out of steam, and so the pub's fate appears to be sealed. Even though Gareth, the campaign group's ringleader, plans a final throw of the dice, he needs the full support of his fellow drinkers, and at the moment they're far too distracted to offer him the backing he needs.
Ricky, for one, is planning the next of his many extra-marital affairs, whereas Patrick views Ricky's promiscuity as good enough reason to make a move on the man's wife. Nor would Mel be averse to some romantic congress, but has more urgent priorities, not least finding a new job for when her work behind The Lamb's bar is at an end. As if all this weren't bad enough, Gareth then makes a clownish, catastrophic fundraising mistake which is likely to leave him behind bars.
Can anyone save The Lamb and Musket? Can anyone keep the bulldozers away? And at the end of all this, what are the chances that this eclectic group of desperadoes can resist the urge to murder each other?

I understand that Richard Cunliffe has already published a car buyer's guide and two previous novels drawing on his life spent in the North-West and Midlands of England. Although They're Closing the Lamb and Musket is not a sequel to the previous books, I understand it to be in a similar setting.
From the synopsis and the cartoon on the cover I was expecting this to be a comedy with a cheesy plot about saving a pub but I was wrong. Yes, there is humour and yes, the pub is closing but its demise is the setting for the story rather than the central plot. The book's true story is of a group of everyday working class British people rubbing along together through good and bad.
The story follows several people linked to the pub as the inevitable day approaches. I was tempted to write that Richard Cunliffe has created some excellent characters to follow during this period but I suspect that he has drawn them from people that he has actually known as they all seem so true to life. Most readers will recognise many of them including the "happily married" man who cannot resist other women, the hard working but stuck in a rut middle aged single mother, the earnest nerd who dedicates all his spare time to local causes with little recognition and the young lady who is convinced that her married lover will keep his promise to leave his wife and children.
The action centres around the pub and the day to day activities of Patrick the plumber, Ricky his lifelong friend, Mel the barmaid and Gareth who is organising the resistance against the closure. Much of the narrative is slanted towards the chaps' activities so it may be appreciated by male readers more than females. In particular there is a fairly lengthy passage detailing a round of golf which I enjoyed but which non-players may not appreciate. That said, there is also much for female readers who may recognise the storylines of Caroline, Yasmin and especially Mel.
My paperback may have been an advance copy as it contained a number of grammatical errors, none vital to the story but sufficient to worry a pedant like me. Also, somewhat unusually, there were no page numbers which did not aid my note taking.
As the closing date approaches the various storylines climax with some lovely twists. I very much enjoyed They're Closing the Lamb and Musket and I have awarded it with a nearly perfect 4.5 stars.
Book Reviewer – Clive
---
Purchase online from:
---
About the Author

Richard Cunliffe was born Whitworth, Lancashire, in January 1968. Exiled from the north west at the age of two, he grew up and went to school in Leamington Spa, and later gained a degree in business administration from the University of Coventry.
He has since lived in various locations throughout the UK and Ireland, moving home many times due to work commitments. Nowadays, however, he is pretty settled in north-east Derbyshire.
An avid reader and keen writer, one of Richard's earliest (and favourite) writing memories is of winning a national competition for creating a Doctor Who adventure. He was around eight years old at the time (Richard, not the Doctor), and although it took another four decades for him to publish his debut novel, "All These Nearly Fights", he published its sequel, "Fault on Both Sides", within the following few months. Both books have received widespread acclaim.
Richard's very latest work is called: "They're Closing the Lamb and Musket". Published in November 2019, it's a comedic drama concerning the impending closure of a much-loved pub, and the struggles of its customers to keep the place open even as their personal lives descend into chaos.
Meanwhile, Richard's non-fiction work, "How to Buy a Car", is exactly that. It's a book about how to buy a car, and draws on his several years of experience as a car salesman, enabling readers not only to choose the right car for them, but also to negotiate a great deal.
Richard would be absolutely thrilled if you'd take the time to read his books.


---
What did you think of 'They're Closing the Lamb and Musket'? Share your thoughts in the comment section below!
---
The above links are affiliate links. I receive a very small percentage from each item you purchase via these link, which is at no extra cost to you. If you are thinking about purchasing the book, please think about using one of the links. All money received goes back into the blog and helps to keep it running. Thank you.
Like us on Facebook – Tweet us on Twitter – Pin us on Pinterest